These aren't the same Blue Jays of Opening Days past. Remember last year, when Jason Johnson --
Jason Johnson!
-- outpitched Roy Halladay?
Or the Derek Jeter Affair in 2003? These were sad, sad days in the Greater Toronto Area, my loyal and loving readers. Oh, not Jeter getting hurt, the loss. The loss was sad.
But those sad days are gone! Like Robbie Alomar homering off Eck in 1992, yesterday's game was a turning point for this franchise.
Who am I kidding? It's only one game.
However, since sabermetrics have not yet reached the analysis of television broadcasting, there is no such thing as small sample size when it comes to Sportsnet. So I shall share with you my thoughts on the look, feel, sound, taste and smell of the Toronto Blue Jays 2005 on Rogers Sportsnet!
I have mixed feelings on the Monday Night Football-like introduction. It's too subdued. They need to let Orlando Hudson freestyle his intro. None of this name, number, position, hometown stuff. Just tell him he has five seconds to make the viewers laugh and hilarity will grow from within.
I do not like, under any circumstances, the Tim Horton's GuyLogical ads in the middle of the inning. If they want to push that website on us, have Tim's sponsor the pitching changes.
Poster Justin mentioned I wish that they'd replace "hits" with "slugging", but that's a minor quibble. I agree here. Hits follows AVG and OBP, and dropping SLG in there would be very handy to those of us watching. Nobody really cares about the number of hits for anyone not named Ichiro!, am I right? HR and RBI are there as counting stats anyway.
I taped the game, fast-forwarded through all nine innings, and I never saw a pitch speed on the screen. No radar gun? What's going on?
Finally, I like the 7th inning summary because they added the pitcher's stats to the bottom. It works better than showing the line scores for each starter side by side at some arbitrary point in the game.
I hope the television broadcasts continue to be as good as they were yesterday, because I don't want to listen to the radio this year. It's too bad, because I know I'll miss Jerry in about two weeks.
Some highlights from yesterday:
Chuck: The heckler is a pathetic waste of life with a small child's need for attention.
Chuck, again: Shouldn't the TB players be made to wear white belts and white shoes? Isn't that what old people wear after they retire and move to Florida? And what's with a 4:00 start time when dinner is meant to be eaten at 4:30?
dp: Alex Gonzalez is an amazing player, in that his complete lack of development has to be historically uncommon. I mean, he failed to have one "complete outlier", failed to hone any one aspect of his game, and succeeded in holding a starting job.
Pat Tabler calling Russ Adams Russ Jackson. I can't get it out of my head. How in the world does Tabler know who Russ Jackson is? Why would he say Russ Jackson? Saying Russ Johnson makes more sense; there was a Johnson in left field at the time and Russ Johnson is an actual player.
Therefore, I award the picture of this creepy laughing British guy to Chuck Van Den Corput, since making fun of the elderly never gets old. Am I right, Magpie?

Moving on, I see our nicknames are coming along nicely. I am happy to see The Dude mesh with Hinske. Games Where Hinske Is Not The Dude: Hinske sucks. Games Where Hinske Is The Dude: Hinske homers. Works for me! We might have a new one for Scott Schoeneweis -- does anyone care to take a ride on the "S.S. LOOGY"?
So...did I forget anything? Oh, of course! You can't have a Rob-written Game Report without one of these! It's a pretty bland one today, as Doc was more or less solid throughout the game.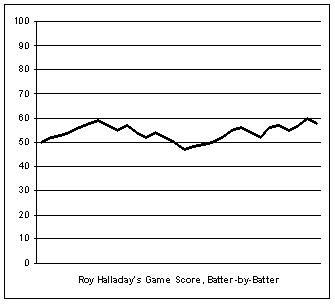 And here are your articles of note:
Fordin: Jays back Halladay with the bats
The Baseball Guys: Free For All: How Many Wins in 2005?
Schwarz: Setting the record straight
Chastain: Brazelton hangs tough in Rays' loss

Does anyone have anything else read-worthy?