There's one reason, and one reason only, to ever check out the
New York Post
. The
Post
has headlines, both on the front page and the dedicated-to-sports back page, down to an absolute science.
And that's the basis for our latest contest!
For example, after the Yankees won their first two games against the Mariners before dropping the third: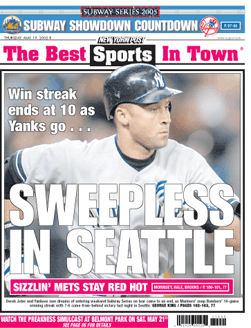 Similarly, the Yankees' poor play in their May 5 loss to Tampa Bay earned them the headline
STINKO DE MAYO
, while the game against Oakland in which Jason Giambi was doused with beer was dubbed
BREW-HA-HA
.
Your challenge, inspired by the
Post
and by Rob's superb
Don't Be Kurt With Me, That's Just The Tip Of The Isenberg
headline, is as follows:
Write a NY Post-worthy headline for any one of the following ten historical ballgames.
The Jays win their first-ever regular season game in snowy Exhibition Stadium.

Tippy Martinez picks off three Blue Jays in the same inning.

The Jays hit ten homers, three by Ernie Whitt, en route to defeating the Orioles 18-3 in 1987.

The Jays come back against Dennis Eckersley in the 1992 ALCS.

The Jays come back against Mitch Williams in Game Four of the 1993 World Series to win 15-14.

Dave Winfield kills a seagull at the Ex with a thrown ball.

George Bell charges the mound and karate-kicks Bruce Kison.

Jim Traber breaks up Dave Stieb's no-hitter with two outs in the ninth, in Stieb's first start since having a no-hitter broken up by Julio Franco with two outs in the ninth.

Dock Ellis claims to be under the influence of LSD while pitching a no-hitter.

Randall Simon clubs a sausage racer in Milwaukee.

There are only two rules:
1. The headline can be edgy, but it cannot be profane. It must be lawful for publication.
2. The headline is limited to 30 characters, including spaces. That should be more than enough.
The prize will be a pair of 2005 Cheer Club tickets at a game related to the winning entry. Entries will be judged on originality, wit and relevance to the underlying ballgame. Authors and members alike are eligible. If the winner is not planning on being in the Toronto area this season, I will arrange for a prize of equivalent value to be sent to you.
Good luck!