Now that's a bit more like it.
A few hits, several walks, some production with runners in scoring position and a two inning save and Bob's your uncle. Another loss yesterday would not have been a nice way to start a series with the teams Bete Noire.
David Selig
has the recap at mlb.com. Where is Fordin slacking off to anyway ?
The O-Dog had a couple of homers, Miguel Batista had an excellent two innings, but it wasn't the most exciting of games. Eric Hinske's strikeout troubles continue, he had another 3 Ks early on (he's third in the AL now), and had 6 Left on Base. He came through in the late rally though with a run and an rbi.
Rob has been making great use of the Game Score in his game reports, and as I am always all for jumping on any passing bandwagons, I have some Game Score data and graphs for you today. Prior to the game I shoved Chacin's scores for all his appearances into a spreadsheet, to see if I could spot any trend in his starts to date. It all looked a bit random though, and he hasn't made many starts. So I tried the same thing with the other starters, for all their starts last year and this year.
For comparison here are some of the leaders and stragglers in Average Game Score amongst starters for 2005.

Clemens 	67
Halladay 	64
Willis 		63
Rogers 		56
Nomo 		41
Lima 		37
Milton 		36

Here are the numbers for the Jays main starters for the year.
Chacin
average: 48
standard deviation: 17.15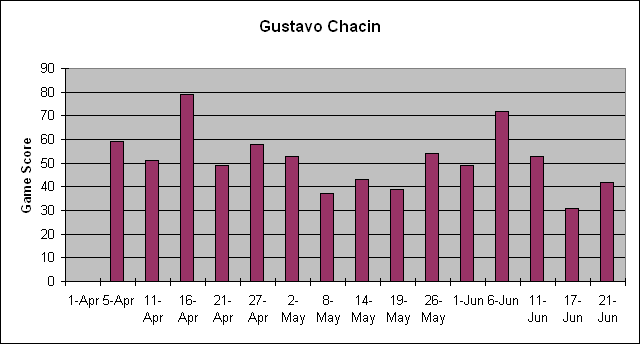 Halladay
average: 56.52
standard deviation: 18.40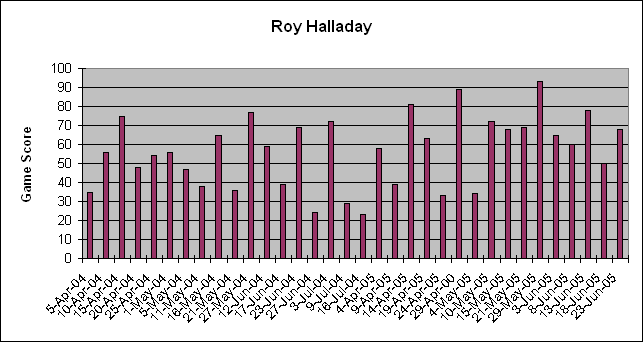 Lilly
average: 50.15
standard deviation: 16.4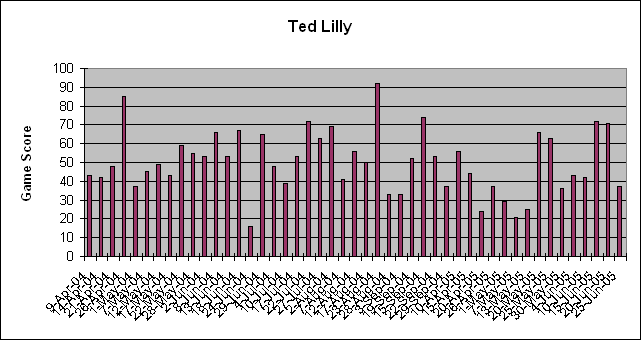 Towers
average: 45
standard deviation: 17.8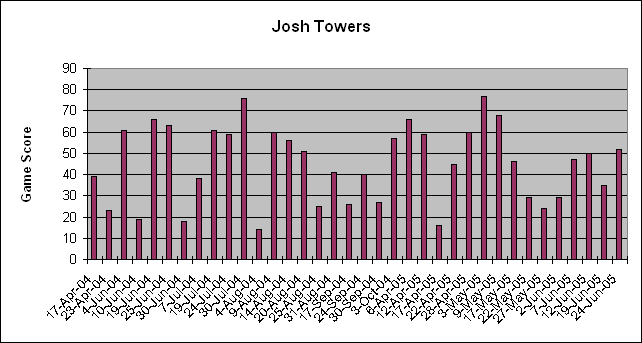 Bush
average: 50
standard deviation: 17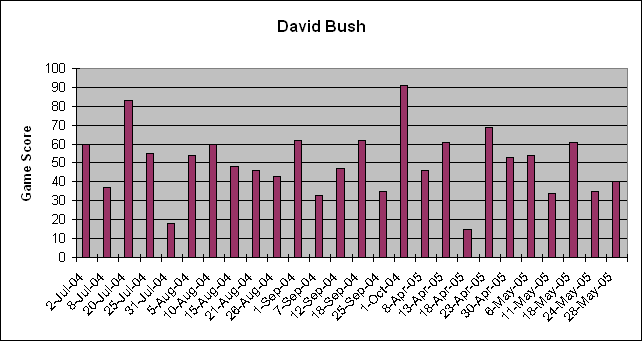 The drawing of conclusions on this data I will largely leave as an exercise for the reader, because frankly I've probably had a few more cold beers this afternoon in the hot sun than might have been strictly good for me.
It should be noted that this isn't the most sophisticated of statistics, but are there any trends or conclusions to be spotted here, or is it just noise? Tower's chart was the most unlike I expected it to be, decent and poor performances I was ready to see mixed in, but I was quite surprised to see he has often managed to put together three good starts in a bunch, when the quality of his performances had always seemed to be almost completely random. Bush's starts in May this year, which got him demoted, don't seem to be particularly worse than those he was producing in Sptember.
Links
Peter Gammons latest, about the slow trade market." In Boston and New York, there's the attitude that because their teams want and need someone, that the Pirates, Tigers, Brewers, Athletics and Blue Jays should give them up. Think again." And an interesting Ted Lilly rumour.
Ken Rosenthal reports A.J.Burnett might be on his way to the AL East
This is a weird one, the Jays are playing in a furniture store this week.
The Yankees want to make some trades. The question is what do they have to offer a prospective trade partner beyond the ability to take on bad salaries ?
Richard Griffin claims Vernon Wells is not making a big enough contribution.
Game Day
The good guys travel to Tampa Bay. Pete Walker is set to start against Hideo Nomo.