Some sightings and mentions of ex-Jays, Mark "Craig" Buehrle shuts down the current Jays, and some updates on things I've been following for my own personal amusement are all coming at you today in This Day...well, These [Past Few] Days In Baseball.
Star of the Game:
Mark Buehrle, obviously. Aside from Alex Rios' first AB, he got 24 outs with just six baserunners allowed, and he had four three-up, three-down innings out of his eight. Great night for the lefthanded Roy Halladay. And I swear I said the "lefthanded Roy Halladay" just because he's a workhorse ace who isn't a crazy strikeout guy, not because he's Doc's #1 Most Similar Player at Baseball-Reference, which I did not know until I looked it up after writing the previous sentence. Honourable mention to Paul Konerko, since the score was really PK 4, TOR 2.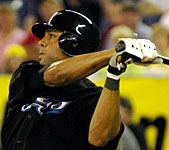 For The Jays:
Alex Rios, I suppose. Even though Buehrle basically gave him that HR with his cookie of a pitch. I actually don't think A.J. Burnett was very good yesterday, even if you throw out Konerko's ABs. He wasn't hitting his spots enough for my liking, though I might just be picky about my preferences for $55 million starters.
Defensive Play of the Game:
Tadahito Iguchi in the ninth. I know Bengie Molina is slow, but that was still tremendous. If you don't like that choice, take one of Joe Crede's stops earlier in the game.
Defensive Misplay of the Game:
Sure, Aaron Hill didn't pick up that one ball, but he did get to the other one that Shea Hillenbrand just messed up and dropped in the dirt. It's easy to complain about a player when he's off to a slow start, so I won't. However, that doesn't compare to Russ Adams' "throw" in the bottom of the fifth. I'm not sure where that one was going.

Where's Jordan Bastian?
Right
here
.
Shad Fullenbrand:
Hillenbrand somehow reminded both Jamie Campbell and Darrin Fletcher of Brad Fullmer. Except that Hillenbrand won't hit 32 homers, nor will he mysteriously fall off the map at age 29 (well, Shea turns 30 soon, but you get the point). The only similarity I can think between these hitters is their tendency to avoid a smile at all costs --
most of the time, anyway
.
Rios (4), Konerko 2 (4), Fletcher (1):
Darrin Fletcher had his first homer moment of the season, as he talked about Russ Adams and Aaron Hill as "our middle infielders." He also said "Fullmer had some good years here in Toronto." I suppose it's to be expected, as he was a Blue Jay very recently. More recently than the other colour guys, at least.
But Seriously, Folks:
Fletcher continued his fine commentary by being one of the few colour men who says "I think this will be a significant inning/at-bat/part of the game here" rather than "Looking back, that homer in the fifth really was the turning point." He did it in the top of the fifth: "I think this particular point in the ballgame is key." And wouldn't you know it, just as Konerko was stepping in, Fletcher then said, "This is the at bat right here, in my opinion, that says is it going to be a positive start or is it going to be a negative start." 34 seconds later, it was 4-2.
Save, Save, SAVE ME!:
I've been tracking the different types of save leaders so far in the American League, using the old STATS Inc. definition of a save type: easy if the first batter isn't the tying run and the pitcher goes one inning or less, tough if the pitcher enters with the tying run on base, and regular for any other save opportunity. After the first few games, your AL leader in Saves Above Average (adjusted for how likely it is to save each type of save opportunity) is Jon Papelbon. It's not just because he has the most saves, period -- he's saved three regular and two easy saves, and nobody else has more than two regular ones.
What About B.J.?
B.J. Ryan is at the 0.0 baseline: all of his saves have been easy and all easy saves around the league have been converted, meaning his expected number of saves given three chances is three...which he did. And as we all remember, three minus three gives you zero.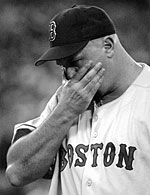 Wells, That Was Quick:
Bad news for Yankees and Blue Jays fans as Boomer is
back on the DL
.
You're Still Around?
Scott Cassidy (yes, that Scott Cassidy) relieved Jake Peavy in the Braves'
2-0 win
over the Padres. Peavy's on my fantasy team and I was following the start, only to see "Cassidy" show up in CBS Sportsline's boxscore.
Couldn't be him
, I thought. I was wrong.
This Eight-Year-Old Quote Will Make Craig Burley Cry:
While unpacking and sorting out my stuff, I found a baseball preview magazine from just before the 1998 season. One certain team's preview begins with the following: "The Expos have a plan, a bold plan. They say it will result in a championship team by the time they move into their new stadium in 2001."
David Bush Update:
The second start of the season wasn't
as good for Bush
, as he gave up eight runs in six innings: two each in the second and third, then four in the fifth. Why did they leave him in for those four after he already gave up four, you ask? Well, the bases were loaded, Jim Edmonds hit a double that Geoff Jenkins misplayed (so the third runner scored) and then Rickie Weeks relayed it past Corey Koskie and into the dugout for the fourth run of the play. A Game Score of 28 means Bush's average GS is now at 51. If there's anything good about this start, it's that he only gave up one extra-base hit, as seven of the eight hits were singles, Edmonds' shot being the odd one out.