Yesterday's game never happened.
Star Of The Game That Never Happened:
Mimbo Johnny Damon had a couple of homers and scored five times. (In fact, all five homers hit yesterday were by guys with a "J" first name. How's that for useless trivia?)
Unsung Hero In The Game That Never Happened:
Home plate umpire Bruce Dreckman for calling obvious balls as strikes in the ninth to get that one over with. But, the ninth inning never happened, so he's not that unsung after all.
Defensive Play Of The Game That Never Happened:
Jorge Posada's part in the 2-3 putout in the fifth, which never happened. He backhanded it to first and fell down awkwardly on his knee.
Defensive Misplay Of The Game That Never Happened:
I don't have enough time to list all of the candidates.
For The Jays:
If the game actually happened, then Reed Johnson would have reached three times after being hit by a pitch.
Boxscore:
There Is No Boxscore
.
Today's Game:
Gustavo Chacin vs. Mike Mussina
, 1:05. Both teams are now 12-10, one game behind Boston and a half game ahead of the O's. If the Jays keep giving Chacin ridiculous run support, he could join Greg Maddux and Pedro Martinez as the only 5-0 starters in 2006.
Maybe Being The DH Isn't So Bad After All:
Shea Hillenbrand
had to leave the game
after colliding with Gary Sheffield at first base. Sheffield appeared to get the worst of it, landing on his shoulder and eventually being diagnosed with a couple of contusions. My scoresheet note (yes, I scored the whole ugly game) has "knee GS -> head SH" so I'm not surprised Hillenbrand was a bit dizzy.
Wacky Early-Season Note Of The Day:
Tampa Bay's 10-14 record would be second in the N.L. East, behind...the Mets?? That can't be right.
Bad Starts For Some:
Without looking, name the two teams that are already 10 games (or more) behind their respective division leaders.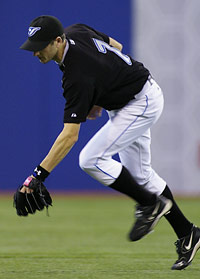 Wait, That Shot Of Towers Can't Be From A Game:
You're right. Towers is shown fielding a ground ball while playing second base during batting practice. Good eye.
The Curse Of The Magpie:
He
recalled
that one year ago yesterday, we saw "one of 2005's most memorable games" as Roy Halladay shut down the Yankees in the Bronx. The difference between Roy Halladay's and Josh Towers' Game Scores in these two games would be a very high number -- if the 17-6 game actually happened, which it didn't.
David Bush Update:
In a rare game that did happen this week, Bush gave up five runs and ten hits as the Brewers lost to the Cubs 6-2. Of course, Bush was going up against
a guy
who's been dominating this year. This Game Score was 35, bringing Bush's average down to 54, which is still higher than -- to pick a starter at random -- Josh Towers.
David Bush Reminder:
Now seems like a good time to recall that Dave Bush was sent to AAA last year despite pitching way, way better than Towers has in 2006. The Jays can't send Towers down (out of options, I think) but it's worth pointing out that this team
has demoted a winless starter who did well the previous year
and
they have demoted a pitcher stinking it up in April
. Towers fits both of those categories.