That's where you put baked beans on your ice cream, right?
This is my first series report of the year -- it's odd to think the season has been going for a month and I haven't written anything; at least Photo of the Day is batting .714, wih an OBP of .777, four runs scored, three RBIs and one home run in the early going.
The first of the two in Beantown was lovely, despite a very mortal Roy Halladay. There's nothing like a rousing comeback win in a game with a bunch of lead changes to keep the ol' blood pumping.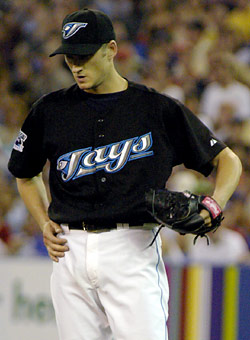 Not so much in game two -- The Red Sox took the lead early and never gave it back. Even though Josh Towers had four very solid innings in between giving up five runs and then another two runs, I lost interest in the game by the fifth inning. Usually I'm optimistic enough to keep watching and hoping and rooting, but for some reason I just couldn't pay attention anymore. My mind wandered. I gave up on the game.
Of course, the Jays didn't, and they brought the tying run to the plate in the ninth. Still, I didn't get excited. Weird, huh? The game lost me and never got me back.
Too bad, too -- I had pulled out an extra-good mojo prop from the closet that hadn't yet made an appearance this year, to hopefully reverse Josh Towers' fortunes. Yes, it was the Al Leiter batting practice jersey that I got on eBay. Now, I have no idea of why someone would have purchased an Al Leiter batting practice jersey in the first place, or why they would sour on it enough to ditch it for five bucks plus postage, but it's mine now, baby. Sadly, the cheap replica did not bring Josh the kind of mojo he so clearly needed, unless you count those middle innings. While things were turning from bad to terrible in the bottom of the first inning, I seriously considered pulling the cursed hat out of it's super-secure hiding place and attempting to invoke its dark power, but I realized it would probably do what it did the last time I brought it out.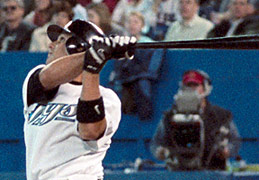 (In case you missed the story, I found an unworn 1985 Jays cap at the back of my old closet at my parents' house while I was visiting them -- I thought it would be good luck, since I had never worn it before because my head was too small for it in 1985. I wore it a bunch, and I had it in my bag when Coach was interviewing Kevin Cash, and my bag was sitting on the dugout bench beside Cash. Kevin started to hit up a storm, and the entire rest of the team tanked and led us directly into the Season From Hell. I blame the cursed cap. However, I also credit this 2006 fortune reversal to my figurin' out exactly how to store the cap to negate its evil powers. I couldn't afford a lead box, but what I have it in now is close enough.)
So now the Jays are one and a half games out of first in the AL East, with the Yankees and Red Sox tied in front of them. With finally a stretch coming up in which the three beasts of the east won't spend all their time beating up on each other, there's a chance that one of these three (or even four, if you count Baltimore at just another game and a half back of the Jays) could actually start to build some kind of lead. Yeah, it's early to be watching the standings. I promise not to go on any holidays this year -- in 2003, the Jays stepped into first place and I went on a two week trip to Trinidad and Tobago. When I found an internet cafe in Tobago (and when i say "internet cafe", I mean a shed with a tin roof on the beach with two blueberry iMacs sharing a dialup connection -- they also sold candy and rented dive gear), I was horrified to see that the Jays had been swept by the Tigers, the horrible 2003 Tigers, and I vowed to myself to never go on a vacation when the Jays were in first place ever again.
That little tangent made me think fondly of De Maximum, the internet cafe in Charlotteville, Tobago -- a quick Google search reveals they have a
website
! Now I want to go back there... but I promise,
not while the team is in first place
.