When you have more than one Molina brother, you know what you're going to get in terms of Jays-Angels coverage: Jobu. Somewhat relieved that he didn't have to write about a Roy Halladay no-hitter (or a Jeff Weaver no-no), here's Mr. Buscemi himself with another one of his articles:
---
This report isn't my fault, I SWEAR!
This isn't my A-game; for that I must apologize. This is more like Al Pacino in
Two For the Money
. I mean, sure there's a scene where he STARTS YELLING, BUT KEEPS PEFERCT INTONATION IN HIS VOICE, but it's not his A-game. I'm Frank Menechino pitching. On Friday, Rob asks me if I can write up a report on the Angles series. I tell Rob I really have no time, Saturday and Sunday are devoted to my one year anniversary celebrations with Lady Jobu (I know, I know, I can't believe she put up with me this long either) and Monday I'll be sleeping in and then putting in a half day at work. But what pretty much happened is the roster reached the bottom of the barrel, lifted it up, and then found me napping under there with Corey Feldman and told me I was all they had left. So here I am.
I think I partly brought this on myself though, by creating the WILDLY POPULAR (in my mind) Too Many Molinas! Show.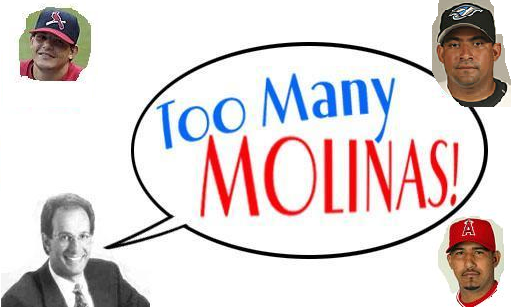 So Rob told me to just whip one of those up with the MOST gracious help of NFH who lent me some of his fantastic photography. So, who am I to not give the people what they want? But like any good artist, I'm going to make people wait for the classics they want to see and show some self-gratifying new stuff. Allow me to introduce my loser sidekick Rick: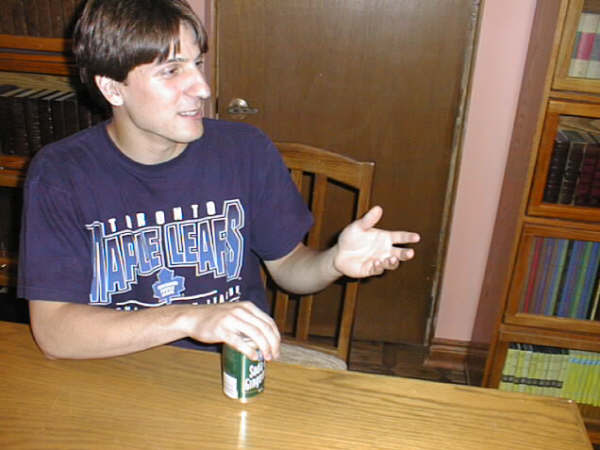 Rick and I tend to make what normal people would call, stupid compulsive bets with one another. Nothing as respectable as "I can hit 4 free throws in a row for 100 bucks." No, we deal in things out of our control, and we always use our favourite currency: Hamburgers. I can't remember them all, but I remember some of the better ones such as Rick betting Larry Walker would hit 30 HR in 2005 and me betting he wouldn't with a burger on the line (15 homeruns later, I'm a happy guy). Or my favourite, how I bet him at the START of the 2004 NHL season that my favourite team, the Tampa Bay Lighting, would win the Stanley Cup that season to the tune of 5 hamburger COMBOS (I ate well that week). Well, while pulling out my hair thinking of something quick to write for this report, I accidentaly came across an old folded piece of paper that I wrote on while Rick and I were driving down to the Dome on July 30, 2005 to see Dustin McGowan's MLB debut against the Texas Rangers. We made these bets on the way down, but one thing I must ask you to remember while you read them is we take these bets deadly SERIOUSLY. We pick fairly unlikely things but by god, if one of them happened I swear to you we would make due on the wager. So with that out of the way, see how close we came to ruining our lives:
-If Dustin McGowan throws a no-hitter or a shutout: Rick buys himself a McGowan jersey
-If Dustin McGowan throws a perfect game: Rick buys a 94 Devil Rays jersey, puts MCGOWAN on the back and gives it to Joe
-If the not-scheduled-to-pitch Gustavo Chacin throws a no hitter: Rick buys Joe In The Action season tickets for one year
-If Ken Huckaby plays the infield or an infielder plays the outfield: Rick buys a Rush CD but can only listen to it in his car
-If Ken Huckaby hit for the cycle: Joe buys home/away/alternate Ken Huckaby jerseys
-If John Wasdin hits a homerun: Rick takes himself and Joe to spring training next year
-If Reed Johnson hits a homerun: Rick buys Joe a pitcher of beer
-If Gregg Zaun hits a homerun: Joe buys Joe a pitcher of beer
-If Joe winds up on Conan again: Joe gets to go up to Rick's parents cottage for a week
-If Joe winds up on the Jon Stewart show: Rick buys 100 level season tickets for Joe
-If hoops/yo-yo say Happy Birthday Rick: Rick buys Joe a 100 level ticket (I so could have rigged that one)
-If a bench fight breaks out: Rick buys one of those "challenge steaks" at Lone Star
-If a Blue Jay batter is forced to pitch this game: Rick buys a Ron Gardenhire jersey
-If Ken Huckaby pitches: Joe buys a Roberto Alomar Tampa Bay Devil Rays jersey
-If the game is cancelled for any reason: Rick quits computer science and devotes his life to becoming a police officer
-If we meet a former Blue Jay: Rick can chose any profession he wants, but must make a serious attempt to moonlight as a magician
And now... a very special episode of:
TOO MANY MOLINAS! (Starring Dan Shulman as "Dad")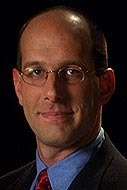 The series began innocently enough. Bengie was excited to play against his brother Jose for the first time. It was a big step for Bengie to be away from his brother, but Dad assured him he would take good care of Jose. Yadier was on his way over from St. Louis but he watched the game in a very clever disguise...


That game couldn't have gone any better for Bengie and his new friends the Blue Jays. They won huge and there were high fives all around to celebrate.

But Jose was mad at Bengie! He said:

"How could you do that to me Bengie? You know I am trying hard to live up to YOUR legacy and you embarrass me and my team like this? I should have know, dad always liked YOU best! Look at J.C.... he won't even talk to anyone!"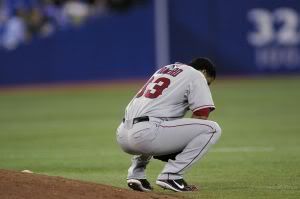 Bengie got very mad at his brother and said many things he never would have normally said. He said "it's not MY fault my team's so good and yours is so bad! Maybe if you could hit I wouldn't sleep through half the game!"
And despite Jamie Campbell's best efforts...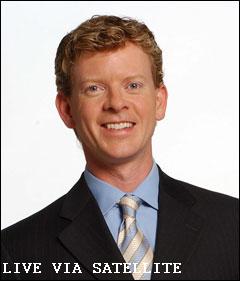 ...the two brothers went to be that night very angry with each other, and with Dad calling the San Fran game, there was no one to mediate. The next day Bengie and Jose weren't even speaking to each other.
Everyone noticed Bengie's bad mood the next day at the ballpark. Reed Johnson called over to him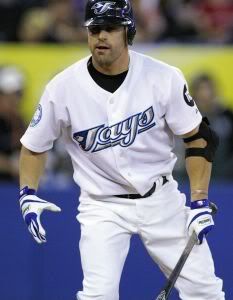 "Yo BENGIE!" said Reed. "Feeling a little down? If it will cheer you up, I'll do my wicked awesome robot dance next time I'm up to bat!" But it didn't work, Bengie bummed everyone out and the Blue Jays were shut out. Bengie was getting REALLY frustrated.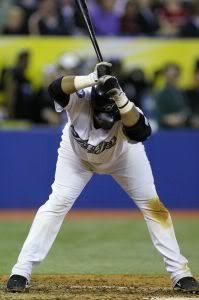 "WHY CAN'T WE GET ANY FREAKING RUNS!?!?!?"
They didn't really have their eyes on the prize either. Reed was true to his word and showed Bengie his wicked awesome robot dance in the game.
It didn't cheer him up, but Johnny Mac was AMAZED
Adam Kennedy was a little TOO impressed with Reed's dance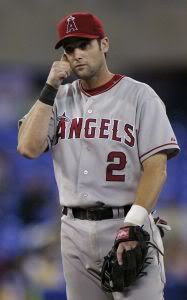 "Call me??"
Dad called up Bengie that night after he saw the boxscore. "What's wrong Bengie? Jose told me you're mad at him, are my boys fighting again?" Bengie explained to Dad how Jose was always jealous of Bengie and it was starting to frustrate him. "Don't you see Bengie?" explained Dad. "Jose just gets jealous because he tries to hard to be just like you! He really looks up to you!" This made Bengie feel so much better! And sure enough, Jose came by Bengie's room and brought Bengie his favourite videogame in the world that he left back in Cali.
The two brothers played Captain Skyhawk well into the night. Bengie let Jose win but they felt much better. The next day Bengie was confident enough to give Janssen super pitching powers.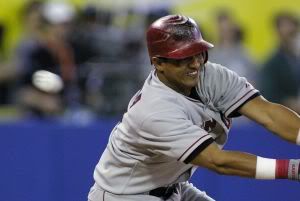 The next game was just as good as Bengie helped his good friend Roy Halladay throw a gem of a game, hit himself a homerun, and Jose was happy with his double. But the important thing is Bengie learned the importance of being a role model and Bengie inspired his friend Jamie Campbell of living out his dream and becoming a major league pitcher.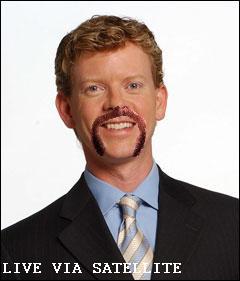 Jamie Campbell 0-22, 16.37 ERA, 4.44 WHIP, 0.01 K/9

THE END

Special thanks to NFH for his great pics and Rob for all his help.

PS. Please do two things for me:

Write in ALEX RIOS for the all star game! He deserves it (for real) and most people outside of Toronto would have voted for him if his name was on the ballot.

Sing the Baby Balooga song, but replace it with Bengie Molina.
---
Thanks once again to Jobu.