It was a tough week to have the out of town series report, especially when you have a seventeen-month-old baby who likes to get up at the crack of dawn and start the day at full speed. But it's all about you, dear reader, so I'm drinkin' extra coffee and pushin' on through.
I have an affliction
I'm addicted to the standings. I cannot help myself -- on day two of the season, I actually care about how many games out of first place the team is. Yeah, I know, early in the season it's meaningless. I know that in my head, but in my heart I still care.
As a hardcore follower of the standings, I have to say that it's tremendously gratifying to see the Jays just one game out of first despite the challenges faced by their pitchers -- Burnett, obviously, has barely played (making my
Opening Day prediction
look pretty terrible in hindsight -- but hey, as a photographer who is known primarily for yelling really loud and having outrageous hair, I'm entitled to be really, radically wrong on the radio when I pretend to be an analyst); Towers was miserable for his first five starts; Chulk and Frasor, two solid components of last year's stellar pen, have both spent time in AAA trying to figure out what's going wrong for them; Halladay has missed a couple of starts with a minor injury, and now Gustavo Chacin looks like he'll miss one or two.
But for all this adversity, the team is still just one game out of first, and that can only be a good thing.
The best baseball website ever
I am not a big fan of MLB.com -- it's cluttered, slow to load and full of flashy things that make my not very old, not very slow computer choke. When a production machine that handles 600mb image files with ease cannot smoothly or easily display your website, you're doing something wrong.
So it is with great pleasure that I tell you about the total opposite to MLB.com -- MLB.com Mobile. I have a Palm TX, a cute little device that has taken over most of the duties that my laptop used to perform. I'm writing this game report on it right now. The web browser, called Blazer, is designed to read regular sites as well as sites optimized for phones or other similar devices -- MLB.com Mobile is one that's optimized for phones.
It's simple, clearly laid out, and filled with tons of easy-to-access content including a stripped-down variant of GameDay. If you surf the net on your phone or other mobile device, I highly recommend it.
The Jamie and Rance show
I have more happy Blue Jays memories of Rance Mullinicks than I do of Pat Tabler, and maybe that's why I prefer Mullinicks to Tabler as the colour guy on Jays broadcasts. That's me trying to be objective, folks -- enjoy it while you can, it don't come around that often.
Really, though, I think I prefer Mullinicks despite Tabler's more polished delivery because he seems to gel so well with Jamie Campbell. Campbell is a real fan of baseball, and when he's in the booth with any of the rotating colour men he tries to pick their brains about subjects that seem to flow out of the game at hand. He has an engaging curiosity, and doesn't try to sound authoritative -- he lets the colour guy, who is the baseball expert, do that. I don't know how many of the questions are planned out in advance, but they sound natural. I find it appealing because I would just love to be able to sit at a game with, say, Rance Mullinicks, and ask him these questions.
Unfortunately, this approach doesn't seem to work half as well with Tabler. I don't know exactly why this is, and I can't speculate on it. But Jamie, Rance and this broadcast approach are a winning combination. I'm hoping that in the future we'll get more Mullinicks, because there's some real magic going on in those games, and it can only get better as the guys get more comfortable with each other.
Meanwhile, how's Warren Sawkiw doing?
I'd like to relate a story that I heard Lyle Lovett tell on Letterman about ten years ago -- he said that whenever he called his mother to tell her that he'd won a Grammy or that he got another gold record, she'd say, "That's nice son, when are you going to cut your hair?" He'd reply that a lot of people have told him that they like his hair, and his mother would say, "Sometimes people will say they like your hair when they have nothing else nice to say."
Then he went on to sing the immortal Creeps Like Me, which has the verse
And I keep my Uncle Leon
In my closet
In my closet
And don't nobody know

Just me and Uncle Leon
And my closet
And they wonder
'Where'd that old man go?'
Just what am I trying to say here? I'm not entirely sure myself.
I heard that a team called the Toronto Blue Jays played some games against the Angels and that maybe you were supposed to be writing about them

I take it you're not a Lyle Lovett fan.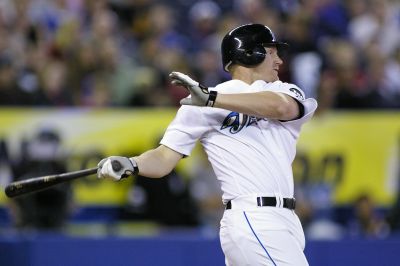 Baseball games fade quickly from my memory, at least the ones that I don't attend in person. As I'm writing this, I'm sitting on the couch watching Lyle Overbay bat in the sixth inning -- Halladay had a rough inning just a bit ago and the Jays are down by a couple, but I don't feel that dire 2004 hopelessness -- two runs are nothin' for the New, Scarier Jays. And as I typed that, Lyle smacked a ball into the gap to drive in Glaus, cutting the Angels' lead to one and bringing up the mighty Alex Rios. And as I typed THAT, Rios doubled to the same gap to drive in Overbay and tie the game. See what I mean?

Okay, how about some more Lyle Lovett then
I met this pretty girl once
She was eighteen... maybe
Well, what's a year or two

And one day when she asked me
If I loved her
I said "Baby,
What's it worth to you?"
It's not even midnight -- I'm going to get another cup of coffee.
It's so much better when it's the other team
First, Donnelly and Quinlan got crossed up at first, allowing Vernon Wells to get on base safely, then Vladimir Guererro let a shallow fly ball clang off of his glove, allowing the go-ahead run to score.
Cheap? Sure. And I could try to justify feeling good about it by saying the Jays were pressuring the Angels or something like that... but I really feel good about it because it happens to the Jays, too -- it's nice to see it happen to someone else.
But now they're showing close-ups of a sad Vladimir Guererro. Man, I can't deal with sad players on the opposition, especially players I like. They're not human beings with feelings, they are EVIL ROBOTS. THE JAYS MUST DEFEAT THE EVIL ROBOTS.
Okay, I feel better.

It's J.C. Romero -- get that picture ready
Says Rance, as Romero enters the game, "J.C. Romero has struggled so far this season... struggled with command of his fastball, which he can't throw for strikes."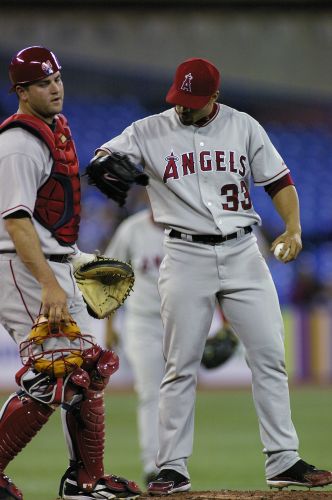 NAPOLI
: Dude,
throw strikes
.
ROMERO
: Shut up and get off my mound!
I've been saving that one.
Of course, Romero gets the out and Napoli hits a solo homer off of Halladay to tie the game as I was writing that. Karma. Bah!
Why the hell does that guy have a radio strobe on his camera
Vlad has just been intentionally walked to load up the bases with two outs, as Halladay tries to work his way out of a jam; Tim Salmon pops one foul on the first base side, and as Overbay runs for it, a press photographer gets out of the way. The guy has a radio transmitter used for triggering a remote flash on his camera -- what the hell is he doing with that? I don't care how powerful your strobe is, a baseball stadium is too big to light that way -- and if you had enough powerful strobes to light the place, the players would kill you because all they'd see for the next week would be blue dots.
I'd say he just came from a hockey game (the NHL allows remote strobes, which are usually in the rafters at NHL arenas), but the Ducks are already through to the next round. Is there any basketball going on out Anaheim way?
Yeah, these are things I notice and obsess about. I remember I was in the middle of practical exams at Sheridan, and I went to see the movie Absolute Power to take a break. There was this magnificent shot of Clint Eastwood in the rain, standing under an umbrella. I looked at it for a moment and then said "There's a reflector inside the umbrella". Everyone with me, who were all in the same program, groaned -- once you see it, you can't un-see it.
Speaking of un-seeing it
Dear Everyone: The DaVinci Code is
NOT A DOCUMENTARY
. The events in it are no more real than those depicted in your average Road Runner cartoon. Otherwise reasonable grown-ups are reacting to this movie as if it were one of those idiotic NASA-faked-the-moon-landing videos. Just stop it, before I kill one of you.
It was more fun when it was the other team
Dear Karma: please stop hurting me. Vernon Wells just muffed a ball in centre to allow Alfonzo to get to third.
That's better
Napoli popped the ensuing bunt up, leading to an inning-ending double play to preserve the tie.
One way or the other, the end of this game will pain me
I have K-Rod on my fantasy team -- he's in to face the Jays in a tie game in the ninth.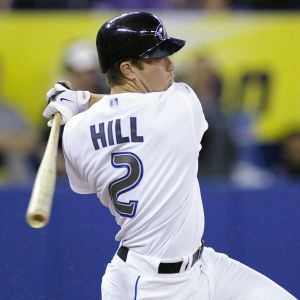 Two flashbacks, both alike in dignity
Frasor, with men on second and third, intentionally walked Vladimir Guererro. The first pitch was a little wild, and I suddenly remembered Terry "Rainbow" Adams and a relief appearance in Minnesota, possibly the worst Jays pitching appearance I've ever seen by a player not named Jeff Tam.
And then, when Frasor heroically defused the threat to take the game to extra innings, all I could think of was that eighteen inning game against the Angels last year, which I also had the pleasure of writing the game report for.
Argh, my fantasy team
How many of those were earned?
The heroes for the good guys
Aaron Hill and Russ Adams combined to knock in three runs (and Reed Johnson added another), and Jason Frasor successfully fended off the Angels in the bottom of the ninth and again in the tenth.
And with that, I can go to bed.