Blue Jays are cunning birds. This is not widely known, or sufficiently appreciated.
(Author's Note: due to an utterly unforeseen and totally unexpected calamity caused by Mozilla Firefox, the following is reluctantly brought to you by... Internet Explorer? Yes, the dog ate my homework.)
When you lose the first game of the series... the dynamic changes. Winning three out of four now feels like a good thing, a consummation devoutly to be wished. Had they won the first three, and blown yesterday's game... there'd be some grumbles heard.
I have a couple of observations from the series, which I must now reconstrruct more or less from scratch, thanks to the treacherous and shocking behaviour of Mozilla Firefox. (I counted on you! You let me down!)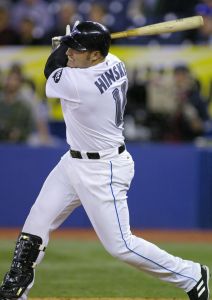 First - how about the Dude? The man's been an everyday player, and he expected to at least be a platoon regular this year. Went and learned how to play another position. Alex Rios' emergence as a star has turned the Dude into a bench player - a very well-compensated one, but guys want to play. He hasn't moaned, he's just been ready when they called on him. And taking Daniel Cabrera, of all people, deep for the homer that gave the Jays a lead they would never relinquish... that had to feel pretty good.
John Gibbons left himself open to all kinds of second-guessing yesterday afternoon, which is a manager's usual lot in life. And, as always, it's easy to take the test after you know the answer. Lilly was done after six innings - it was hot yesterday, and Lilly did work very hard in the middle innings. Schoeneweis got the first out in the seventh, then hung around to give up a run and leave a baserunner aboard. Frasor got out of the inning, but the second run scored to make it a one-run game. Speier got the first two outs in the eighth, and then gave up a triple to Jeff Conine. With the tying run on third , and Corey Patterson at the plate, Gibbons called for his big left-hander....
Brian Tallett? I imagine a few eyebrows were raised.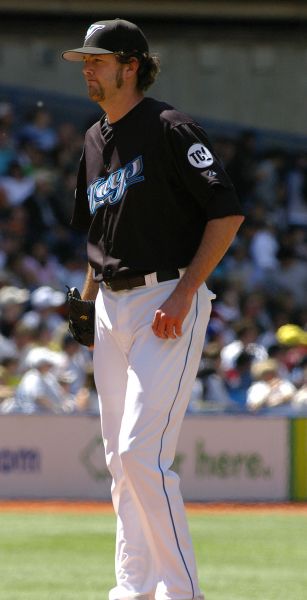 Mine were, but then I thought it through. There was no way that Ryan was going to enter the game in the eighth inning. Not after pitching two innings the day before. Fine. But the real pont of the exercise was this: Corey Paterson couldn't hit a left-handed pitcher if he took a paddle to home plate - he's hitting .205 against them this season, which is actually a large improvement on how he did agaionst southpaws in 2005. In this situation, Brian Tallett really is every bit as good as B.J. Ryan. He's just as left-handed.
Why wouldn't Baltimore just pinch hit? Because the only RH bat on the Baltimore bench was a backup infielder named Ed Rogers, a man with less than 20 career at bats in the major leagues. He's their Luis Figueroa, a minor leaguer filling in for the regular backup infielder (Chris Gomez).
You can be sure Gibbons had considered all of these factors as well.
By the way, Tallett was doing some long toss before the game started yesterday. He was in the left-field corner and his long-toss partner was right against the wall in dead centre, maybe a bit towards right field. Tallett's throws to centre field generally arrived on a couple of hops. Meanwhile whoever he was playing catch with was throwing absolute rockets. The ball was zipping all the way into Tallett's glove on the fly. It was like watching a really good outfield arm, a lefty Vlad Guerrero or something. He was so far away I couldn't tell who it was. So I asked the guy from mlb.com to peer through his binoculars and tell me just who the hell that was out there. He looked and reported back to me: "It's Scott Downs."
The home runs by Alex Rios and Frank Catalanotto to begin Wednesday game were pretty nifty and not too common. The Jays have hit back-to-back homers seven times in 2006 - that's not such a big deal. But only once before have their first two hitters of the game both gone deep. So I refer you all to August 18, 1991. It was a Sunday afternoon in Detroit, as the first place Jays tangled with the second place Tigers. Devon White led off with a home run, and Roberto Alomar came up next and belted another. Bill Gullickson's response was either old-school or bush-league - he came in high and tight to Joe Carter, and drilled him in the shoulder. Joe started charging out towards the mound, and then stopped after a few steps, to reconsider his options. Deciding instead to remain in the game, Carter vented his frustration by stealing second base. And then stealing third. Ah. it was a memorable day at Michigan and Trumbull.
Moving along. Here is a tale of two pitchers, a couple of men with some passing similarities:
SPLIT        G    IP    H   R  ER  HR  BB  SO  W  L  P/GS  WHIP  BAA   ERA   GB    FB  G/F
Pitcher A   13  95.0   83  31  29   9  11  46  8  1  95.5  0.99  .236  2.75  156   67  2.33
Pitcher B   14 104.0  101  38  28  10  10  46  7  4  92.5  1.06  .258  2.42  153  113  1.35
Pitcher A clearly pitched a little bit better, mainly by virtue of being a bit harder to hit - but the similarities are startling. The K/BB figures, the HR allowed per nine innings. Both men are groundball pitchers (Pitcher A is an Extreme groundball pitcher) - neither strikes out a lot of hitters, both do a good job keeping the ball in the park, and both have fabulous control.
Pitcher A, of course, is Roy Halladay 2006 Edition.
Pitcher B, of course, is Josh Towers, second half of 2005 edition.
There has been a lot of discussion around these parts about Halladay's declining strikeout numbers - what does it all mean, should we be concerned. There has been worry and fretting, and there has also been mockery of the worriers and fretters. For my own part, let me testify loud and clear that Halladay's velocity is down significantly. He is not throwing his fastball nearly as hard as he has done in the past. On Tuesday night, he was throwing it generally at about 88 or 89 mph. Occasionally he hit 90 or 91. Kevin Millar saw the only 92 mph fastball of the night. Just last year, it was a remarkably consistent 94 mph, pitch after pitch after pitch.
As a matter of principle, the strikeout numbers worry me - frequency of strikeouts really is one of the few fairly reliable indicators of a pitcher's value going forward. There's a floor that almost no pitcher can fall below and still be successful, and that floor is around 4 Ks per 9 innings. Besides, as a practical matter, the more hitters you strike out, the less work needs to be done by the defense. It's much easier to be successful if your defenders only have to make 18 or 19 outs a game, rather than 23 or 24.
However - Halladay has stated firmly that these results reflect a deliberate decision on his part to forego the strikeout and try to put the ball in play, as quickly as possible. It's the Greg Maddux approach - Mad Dog has always said that his number one objective is to "Get the at bat over with."
It's worked pretty well for Maddux over the years. But it didn't work nearly so well for Dwight Gooden. Gooden did the exact same thing Halladay is doing now - he made a conscious decision to reduce the number of batters he was striking out, and try instead to get quicker and easier outs. The goal was the same - to throw fewer pitches. But Gooden lost a bit of his command in the process, and coupled with his personal issues (which, of course, were Legion), was never the same pitcher again.
Doc Halladay is not Doc Gooden. In addition to having a far more balanced and well-adjusted head on his shoulders, Halladay's mound arsenal is much deeper and more varied than Dwight Gooden's ever was. And it's still there. On Tuesday, he was content to throw 88 mph fastballs all night long - but two hours into his night's work, having already thrown 100 pitches, with two outs in the ninth inning - he had no problem suddenly zipping one in at 94 mph to Corey Patterson. Just like that. It's there if he needs it.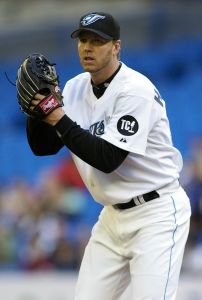 I think he's going to need it in the long run. He's benefitted from facing a comparatively soft schedule, and he's received much better run support this year than he'd grown accustomed to. He's been able to take it somewhat easy, or as easy as it gets at this level. I don't think he can be this successful all season long working this way - but I'm quite confident that he can make whatever adjustments he needs to make. If he finds himself needing to strike out some hitters - it's all still there. He knows what he's doing.
And speaking of Josh Towers...
You haven't seen the last of him. I guarantee it. Josh Towers has spent most of his professional career being told he didn't have the stuff to be a major league pitcher. He's been designated for assignment by two different organzations. He doesn't give up easily.
More to the point, it's clear that the Blue Jays have decided that they want to fix Towers, not forget him. He remains part of the plan - he is signed for two years, after all, and he did pitch better in 2005 than Lilly, Burnett, Chacin... anyone but Halladay, in fact. They want that guy back on the team. That's why he was dispatched to Syracuse, rather than being buried in the major league bullpen. They expect him to come back and help them win. And it's why, needing someone - anyone - to start the Wednesday game against the Orioles, they elected to have Towers stay in place and continue rebuilding his command and his confidence rather than haul him back up to the Show. Jordan Bastian reports what Ricciardi and Gibbons had to say on the subject:
"I don't think he had enough starts down there," said Toronto general manager J.P. Ricciardi, referring to Towers. "To rush him back for one game, it kind of defeats the purpose."
"We haven't put a number on it," Toronto manager John Gibbons said. "Who knows? He'll get back here sooner or later. We think we're going to need him....He just has to get back on track. And it looks like he's doing that."
Towers is now 2-2, 2.48 with 17 Ks and 3 BB in 29 IP at Syracuse. Will he be back before the All-Star Break? I think if he has two more starts like his last two in AAA he could be back before the end of June. It's not like Ty Taubenheim has taken the job and run with it.
Meanwhile, no one is talking about the new Ted Lilly. This must change...
Ted the Tease. We know him so well, don't we? The erratic lefty with the good fastball and that big curveball that he sometimes falls in love with. Occasionally mixes in a slider and a changeup, somewhat half-heartedly. The guy who has nothing to learn from anybody. What happened to that guy? Haven't seen him lately.
Lilly made me sit up straight in the very first at bat yesterday. He made Brian Roberts swing and miss badly at a delicious changeup, and then struck him out swinging with the slider. The next batter, Melvin Mora, also waved in vain at the changeup, and also looked pretty silly in the process. In the second inning, it was Javy Lopez getting fooled and missing the changeup.
And with that off-speed pitch now very firmly in the hitters' minds - for there is nothing more certain to get hitters thinking about a particular pitch as making them look bad with it - Lilly then went to work on the Orioles lineup with the fastball. He had a dandy fastball yesterday - he was moving it all around the strike zone, getting hitters to swing and miss it, and his velocity (which is usually in the 89-91 range) was actually gusting up to 94 mph. And where was the big curve ball? Not quite in the shop, not quite on the scrap heap, but not utilized much for the most part. It was a pitch that he was just showing to the hitters, to remind them that it was there. It was not an important part of the toolbox. He threw one for a ball to Tejada on a 2-2 count. He threw one that Mora fouled off. He threw three of them outside the strike zone to Hernandez.
Of course with the bases loaded in the fifth inning, he threw one for a called strike three to Miguel Tejada to get out of the inning. That was sweet to see.
The four walks in six innings ran up his pitch count and forced him from the game after six innings - but even the walks seemed a discretionary choice at the time (but Lilly himself was very unhappy about them after the game - he thought if the hitters had battled and earned the walks, that would be one thing - but Lilly thought these ones came a little too cheap). It didn't really seem that way to me at the time. He pitched carefully to Miguel Tejada in the first and issued a walk, .. well, it's Miguel Tejajda, a guy who once drove in 150 runs. He pitched very carefully to Ramon Hernandez, and walked him twice - hey, Hernandez is Lilly's daddy (6-11 against him.). He wasn't going to let those two guys beat him, if he could help it.
Afterwards, Lilly also said he was trying to learn something from Halladay's example - trying to build his game around controlling the fastball. He didn't mention anything about cutting back on the strikeouts. If it's Halladay's mission to give the bullpen a rest, it may be Lilly's mission to give the fielders behind him a rest.
Anyway - I think Ted the Tease is on to something. I really do. I think he's putting something together and I would not be at all surprised if he puts together a 10-2 run in the second half.
I'm going to hear from Gitz on this one...