Here's all you need to know:
Team A: 31-9
Team B: 36-37

The Jays have a four-game date with Team B; they dodge the dreaded Team A, and they have an opportunity to gain four games on wild-card leader Team A+B. This Scout will tell you who those "teams" are, along with a reference to Sparky Anderson, a stud pitcher (or two), and reliever walk rates in the chart that actually make sense.

On to the Advance Scout!

Thanks to Dino Lima (FisherCatFan) for the photo of Matt Garza. You can see more of his baseball photography here and his video archive is located here.

General: The rampaging Twins are on a 50-22 tear ... Team A is the Twins when one of Johan Santana and Francisco Liriano starts; Team B is when they don't. And, indeed, due to Liriano's injury and Santana's fortuitous placement in the Twinkies' rotation, the Blue Jays won't have to deal with either ... Minnesota placed Liriano on the DL with "left elbow soreness" on Tuesday ... If Liriano weren't hurt, he would have faced Francisco Rosario in the first Francisco-Francisco matchup since...ever, as far as I can tell ... His elbow pain was in a different place than it was last time when he had an MRI done in July: "It's getting worse, you know...I couldn't even throw the fastball, slider, changeup, anything. It bothered me every pitch I threw." ... Liriano wasn't very upfront about it, says Ron Gardenhire: "We need him to be a little more honest and explain to us these things and not try to mask them. Let us know what's going on. We will do the right thing here." ... Called up Boof Bonser to make the start, continuing the Twins' rotation woes. How bad was it? Well, Matt Garza's callup saved the Twins from another Minneapolis stop on the Mike Smith Express this Friday ... Sunday's game will be broadcasted on the Twins' Spanish language radio station. Yes, that surprised me too ... Beat the daylights out of the Royals, then went back and beat the crap out of them as well. Jason Williams of the Pioneer Press said "The Twins probably could have plucked anyone out of the crowd of 14,064 to start on a 98-degree afternoon and still completed the franchise's first four-game sweep at Kansas City" ... Gardenhire has the annoying (to Twins fans) habit of placing replacements in the same spot in the batting order, so Mike Redmond often bats third for no reason ... Released Gitz's favourite DH, Erubiel Durazo, after he went .264/.400/.434 for Rochester. He also batted .299/.372/.442 with Oklahoma and .290/.400/.419 with Columbus. Three minor league teams already this year? ...
Carlos Silva: After an ERA of 7 in the first half, added a changeup to try to turn things around. It worked, I suppose -- he's not nearly as Towersesque anymore ... Game Scores by start: 37, 42, 28, 17, 7, 58, 33, 17, 35, 33, 60, 54, 65, 23, 22, 58, 14, 45, 65, 42. His average is 38, but four of his last five stats are well above that mark ...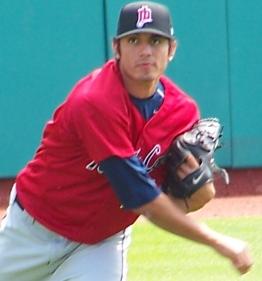 Matt Garza: Only about the fourth pitcher on this team that either is really, really good or has the chance to be really, really good ... Reaches 92-95 mph with his heater, and also throws a slider, curve and change, in that order of confidence, according to USA Today's midseason prospect poll ... Shot through the minors this year, pitching for Fort Myers, New Britain and Rochester ... Has made four AAA starts, two of which were 7 shutout innings with 11 K and 9 shutout innings with 8 K ... Pitched 183 innings last year (108.1 with Fresno State), which was easily a career high. So he's probably good for no more than 50 or 60 this year, which means he won't be starting all the way through August, September, and October (if the Twins make it that far) ... Drafted out of Fresno State with the Twins' first rounder last year, 19 players after Ricky Romero. Gotta love hindsight ... Is decimating righty hitters in Rochester ...

Boof Bonser: Born John Paul Bonser, but legally changed his name to Boof in 2001. It's a childhood nickname. If there's anything more to it, we can't find it ... Makes his return on Saturday to pitch in Liriano's spot ... A pitcher chosen by the Giants 21st overall in 2000 out of high school in Florida, where he was named state High School Player of the Year ... He reached AAA in 2003; after The Pierzynski Trade, he's spent 2004 in New Britain and 2005 in Rochester but hasn't forced the Twins' hand until now. This is his first major-league season ... Led the IL in strikeouts last year with 168 ... Has a 5.30 ERA in his seven starts since being sent down after his first stint in Minnesota this year ...

Brad Radke: Shockingly, did not allow a first-inning run against the Tigers on Tuesday ... It took Williams three one-sentence paragraphs to gush over Radke as if he was a mix between Jack Morris and Tommy Henrich: "In a dark hour, the Twins couldn't have sent a more qualified man to the mound Tuesday night. Brad Radke, who personifies even-keeled, has endured the Twins' franchise highs and lows during his 12-season career. So the disheartening pregame news that rookie pitching sensation Francisco Liriano had been placed on the disabled list wasn't about to faze Old Reliable." ... Gardenhire sure knows how to instill confidence in his pitchers: "[Radke] has his good days and bad days. I'm sure he'll have another bad day." ...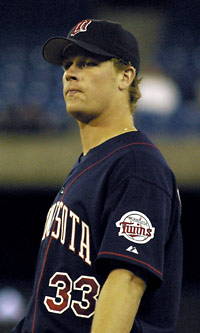 Justin Morneau: Batting .390 since the All-Star Break with a 1.091 OPS ... Dangerously close to the Josh Phelps career path before picking it up this year ... Okay, since Erik Bedard wasn't on Sportsnet, the Jamie Campbell Canadiana Game continues. Instances of "New Westminster, B.C." during the four game series? (8 for Rob, 7 for Alex) ...
Pat Neshek: As Aaron Gleeman says, "Calling up Pat Neshek from Triple-A can now be added to the very long list of what can probably be best described as 'delayed intelligence'" ... Has a wacky sidearm delivery. He started using it in high school because of an arm injury and played shortstop throwing sidearm. When the arm healed, he couldn't readjust to pitching over the top, so he kept it ... Take your pick on which pitch he'll throw: 89 with movement (from that angle!) or a 71 downer that makes hitters look stupid ...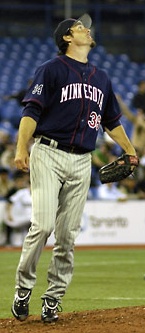 Joe Nathan: Underrated, underappreciated, unnoticed ... unhittable ... Big Texan righty with a hard fastball and a disgusting slider ... Arguably the best closer in baseball; arguably only the second-best player the Twins got in the A.J. Pierzynski heist ... This year's BP compared him to Tom Henke, forecasting years of sustained dominance that stay entirely under the radar: "There's something vaguely disappointing about a great closer who is simply a great closer." Bang-on ... Was drafted out of SUNY-Stony Brook by the Giants as a shortstop. When he struggled in rookie ball, he balked at being converted into a pitcher and worked toward a business degree for a year. Then he returned to baseball, and the rest would be history if the baseball mainstream noticed it ... Why is it that when Jonathan Papelbon gets talked up as a Cy Young or MVP candidate, Nathan is almost never brought up as an objection? Nathan WPA: 413; Papelbon: 406, and Nathan isn't even his own team's most valuable pitcher ... His strikeout rate goes up every year. It's at a ridiculous 12.86. His walk rate goes down every year. It's at 1.65 ... Has only blown one save this year, when Preston Wilson took him deep for a one-out solo homer in Nathan's hometown of Houston. All Nathan did after that was pile up four strikeouts and allow zero baserunners to nail down the win when the Twins gave him another shot in the 10th ... Like his counterpart in this series, B.J. Ryan, Nathan's line drive rate is in the low 20s and this may be a sign that he's been somewhat hit lucky this year, but it's not particularly damaging because he keeps the ball out of play so well anyway ... Not getting as many groundballs as usual this year, but that's probably a sample size fluke ...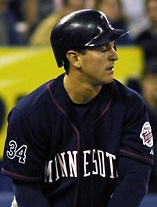 Nick Punto: Who the heck saw this coming? ... No, really. 2004 cup of coffee: .253/.340/.319, 19 K, 12 BB. 2005 in 112 games, almost all of them starts: .239/.301/.335, 86 K, 36 BB. 2006: .311/.400/.418, 43 K, 42 BB ... He's 28 ... 5'9" liner-happy switch hitter ... Had a scorching July after becoming the Twins' everday third baseman ... Frequently slides headfirst into first base ...
Joe Mauer: St. Paul native is the AL leader in average and OBP ... Is batting .354 against lefties ... 21-for-24 stealing bases in his career ... Is being protected well: he has started 82 games at catcher this year, with Gonzaga alum Mike Redmond spelling him about 20 to 25% of the time ...
Jason Kubel: Kept out of the field because of his knees (though he has DH'd) ... Is already one of the ten greatest position players to ever come out of South Dakota, and may even be in the top five after a full season ... Those Mount Rushmore State greats include Dave Collins, Mark Ellis and Terry Francona (and Sparky Anderson) ...

Note: Matt Garza's stats below are from Rochester (AAA).