The Good Doctor teased the fans a little yesterday, but just as we were starting to consider the possibilities... there weren't any.
As we all remember, on the final day of the 1998 season Halladay came within one out of a no-hitter. This was the Bobby Higginson game. It was Halladay's second major-league start, and it turned out to be Dave Stieb's last day in a major league uniform. Stieb was in the bullpen, possibly expecting to make a cameo appearance. Doc had other plans, as it turned out.
As great as Halladay is, he doesn't actually seem like the type of pitcher who is likely to throw a no-hitter, especially This Year's Model. He's been pitching to contact, letting the hitters put the ball in play, and sooner or later balls get hit where there fielders... ain't. But in the immortal word (words?) of Joaquin Andujar,
youneverknow
. After all, Roger Clemens has never thrown a no-hitter. Meanwhile, Kenny Rogers has a perfect game on his resume.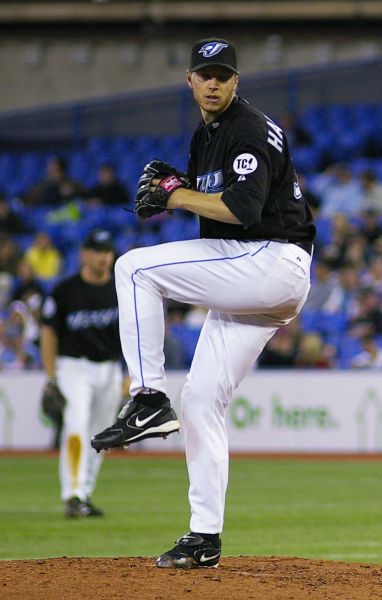 With the Jays game well in hand, Liam (who is also a Braves fan) and I turned our attention to South Florida, where Atlanta was trying to complete a sweep of the Marlins. The Braves went into the ninth inning trailing by a single run. Joe Borowski was in to close it out for the Marlins. Jeff Francouer, who had supplied pretty well all the Atlanta offense on this day, led off with a double for his third hit of the game. Borowski then hit Matt Diaz.
With no one out, and runners on first and second, Adam LaRoche was the next batter, to be followed by backup catcher Todd Pratt and the pitcher. Brian McCann and .343 average was already standing in the on-deck circle as LaRoche stepped in against Borowski. In four career at bats against the Florida closer, LaRoche had three hits, including a home run. He's also been on fire since the All-Star Break (.333 with 12 HRs in 99 at bats.) Was it time to break out the Chop?
Not so much.
LaRoche dropped down a bunt.
A bad bunt. Catcher Miguel Olivo pounced on it and fired to third to erase Francouer. Cabrera then relayed the ball to Dan Uggla covering first to complete the double play. Ouch.
With first base open, the Marlins walked McCann intentionally. They were putting the go-ahead run on base, which is rightly regarded as reckless, but Borowski got Ryan Langerhans on the first pitch to end the game.
Liam and I immediately wondered if Bobby Cox had lost his mind. Why on earth was LaRoche bunting? As it turned out, Bobby Cox was wondering the exact same thing:

"I don't know what he was doing... Even if you're successful, they're still going to walk [McCann]."
Surely, surely, surely the Braves are toast. Surely. Granted, they're 5.5 games out of the NL Wild Card. This is further evidence, as if more was needed, that the National League
sucks.
Now
The Onion
is not where I normally go for sports news, but I did see a fitting piece there the other day:
Cincinnati Reds Volunteer To Win NL Central
I did laugh. I also strongly recommend heading over to
the Onion
just to see the Todd Helton picture and caption. I will say no more.
OK, moving right along. Bauxite
js_magloire
posed an interesting question the other day:
Thank God we're not ever facing Daniel Cabrera and Kris Benson ever again (this season). Are there any two pitchers that have been this dominating against the Jays the whole season?
I don't think so.
No pitcher has ever won five games against Toronto in a season. Benson is the thirteenth man to beat the Jays four times. This means, of course, that the record for two teammates must be... seven.
As far as I can tell, this is just
the third time
that two pitchers from the same team have combined to win seven games against Toronto in a single season, and the combined performance of Benson (4-1, 3.03) and Cabrera (3-1, 1.33) is arguably the most impressive of the three, even though each pitcher has actually been beaten by the Jays this season.
The last time this happened was at the hands of the 2001 Yankees, courtesy of Roger Clemens (4-0, 3.90 in five starts) and Mike Mussina (3-0, 1.17). While Mussina was brilliant each time out, Clemens didn't pitch well at all in his first two starts against Toronto. He actually gave up five runs both times, but escaped with a 16-5 win and a no-decision. He was pretty sharp in beating the Jays three more times before the year was out.
The first pair of teammates who combined to beat the Jays seven times was the unlikely duo of Darren Oliver (4-0, 1.24) and Bobby Witt (3-0, 5.30) of the 1996 Texas Rangers. Witt only pitched one decent game against the Jays, but Oliver more than made up for it.
As noted, Benson is the thirteenth pitcher to beat the Blue Jays four times in a single season. This used to happen a lot more often than it does now, back when the team was losing 100 games a season regularly.
In 1978, Dennis Eckerlsey of the Red Sox, Dave Goltz of the Twins, and Rick Waits of the Indians each went 4-0 against Toronto. Eckersley was the only one who had a teammate contribute in a similar fashion - Luis Tiant won both his starts against Toronto.
In 1979, El Tiante was a Yankee and he beat the Jays four times while wearing pinstripes. Reliever Ron Davis had two wins and two saves against the Jays in four appearances. Also in 1979, a Boston rookie named Chuck Rainey went 8-5 in 16 starts - but four of them were against the Jays, and Rainey won each time out.
In 1980, Steve Stone's 4-0 0.82 mark against Toronto padded his statistics and helped him to a Cy Young Award that still surpasses all human understanding. Scott McGregor and Jim Palmer each beat the Jays twice that year. Strangely, Mike Flanagan who made a career out of beating Toronto (17-7, 2.68 lifetime) could only manage a 2-1 mark against the Jays that season.
In 1982, Britt Burns of the White Sox beat the Jays four times. Burns was a very talented young LH who broke in as a teenager and by age 26 was winning 18 games for the 1985 White Sox. Sadly, after that outstanding season, he never pitched again in the major leagues. A hip condition ended his career. This would have been very bad luck for the White Sox - but as it happened, they had traded Burns to the Yankees during the off-season. Hmmm. All this sounds somehow familiar...
Dave Stewart beat the Jays four times in 1987, the first of his four straight 20 wins seasons for Oakland; Mike Moore also beat Toronto four times for the 1991 A's. Neither pitcher's teammates did anything of note.
The last pitcher prior to Benson to beat the Jays four times was Tim Wakefield of the 2004 Red Sox. Curt Schilling and Pedro Martinez combined to go 3-4 against the Jays that year, but they couldn't figure out the knuckler...
As for this season - four AL pitchers have rung up four victories against a single team this year. Benson, of course, is one of them. Here's the list:
Opponent          ERA    W  L   G  GS  CG   IP    H   R  ER  HR  BB  SO   AVG
Blanton vs Sea    1.55   4  0   4   4   0  29.0  24   5   5   0   2  13   .231
Bonderman vs KC   2.63   4  0   4   4   0  27.1  24   8   8   3   7  28   .238
Halladay vs TB    2.48   4  1   5   5   1  40.0  29  11  11   4   4  18   .212
Benson vs Tor     3.03   4  1   5   5   0  33.2  25  11  11   4  10  20   .210
Should we put asterisks beside some of these? Sure, Jeremy Bonderman has dominated the Royals, but the Royals are just crying out to be dominated. ("Dominate me, you big brute of a pitcher! Give me that high hard one." )
Sorry.
The most impressive performance is Joe Blanton's mastery of the Mariners. However, this must also be taken with a grain of salt. Pretty well any pitcher who wanders out to the mound wearing green and gold can beat the Mariners. Danny Haren is 3-0, 1.35 and Barry Zito is 3-0, 1.80 against Seattle. Since Gil Ga Meche defeated the A's back on April 6 (Lord Voldemort took the loss), Oakland has beaten Seattle 15 times in a row.
Other pitchers with three victories against an opponent include Curt Schilling (Baltimore and Tampa), Erik Bedard (Tampa), Jose Contreras (Detroit), Ted Lilly (Baltimore), Roy Halladay (Baltimore), Daniel Cabrera (Toronto), Jake Westbrook (Minnesota). I may have missed someone else.
Five starts against a single team is pretty close to the maximum these days. Back in the olden times, of course, pitchers could face the same teams much more often. Which brings us, by a commodious vicus of recirculation, to 1932. Connie Mack's second great Philadelphia dynasty had overthrown the Ruth-Gehrig Yankees in 1929. They would win three straight pennants before the Yankees crawled back to the top of the heap in 1932. That season, Lefty Gomez went
7-0
in eight starts against the A's. It would be nice to say that Gomez made the difference all by himself. However, the Yankees did finish 13 games ahead of the second place A's, so Gomez would have needed to go 0-7 against Philadelphia to change the outcome of that race.
In a close pennant race, an overwhelming performance by a single starting pitcher can clearly have a major impact. You can't have a closer pennant race than one that ends in a playoff. In 1978, Ron Guidry was 3-0, 1.78 in four starts against the Red Sox. This of course includes his victory in the playoff, thanks to Bucky Dent's dramatic three-run homer.
In 1951, Sal ("The Barber") Maglie of the Giants started eight times against Brooklyn. Maglie himself won five of those games. In his other three starts, the Giants lost twice in extra innings. However, they famously came from behind to win Maglie's final start against the Dodgers, thanks to Bobby Thomson's dramatic three-run homer. (Dramatic? Losing 4-2, bottom of the ninth, winner goes to the World Series, loser goes home? I'd say so.) It was the sixth time the Giants hung a loss on Ralph Branca that season. If you're wondering why number 13 is regarded as unlucky...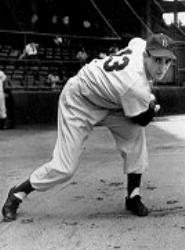 Meet Ralph Branca.