Shaun Marcum rights himself and the Jays take the all-important first game of the series.
Boxscore:
No pun, sorry
Marcum is one cool customer. He wasn't shy about challenging the Royals' batters, and he gave up some solid contact over his six innings, but managed to overcome seven hits and two jams to leave with a 6-1 lead.
In the second, Marcum loaded the bases on three straight two-out groundball hits; two of them were very weak infield singles. However, Joey Gathright hit a sharp grounder right at Aaron Hill to let Marcum escape unscathed.
Another two-out uprising in the fifth led to the Royals' only run. David DeJesus overcame a 2-2 count to draw a two-out walk, and Mark Grudzielanek followed by blasting a first-pitch double to left field. DeJesus was held at third, with the Royals' biggest offensive threat, Mark Teahen, due up to bat. A 1-2 wild pitch from Marcum (on a high heater that missed badly) scored DeJesus, but Marcum induced a popup from Teahen to end the threat and minimize the damage.
The sixth inning was pivotal. Mike Sweeney and Emil Brown went up hacking to lead off the inning, and both hit solid first-pitch line-drive singles to start another rally. Ryan Shealy followed suit with a grounder up the middle to load the bases with nobody out for the bottom of the Royals' order. At this point, Brian Tallet and Brandon League started warming in the Jays' bullpen, and Brad Arnsberg paid a visit to the mound to stall.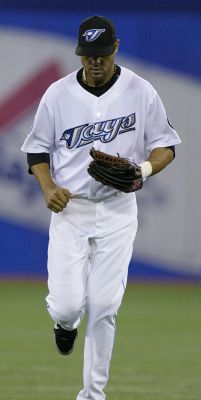 Then Marcum made the big comeback. He started Buck off with a breaking ball to get ahead. With the count 1-2, he almost coaxed a swinging strike out of Buck on a slider just outside, but came back with a gorgeous overhand curve for a swinging strikeout and out number one. Angel Berroa, the Royals' reigning DP king, fouled off a couple of low pitches and swung through the same slider that almost got Buck. Two down.
This brought Gathright to the plate. Marcum missed with a curve, and needing a strike, he made a mistake. He left a high fastball right down Broadway. Even Gathright could get a hold of it, crushing it to deep right center. Alex Rios had to hustle and take a good route to track it down. He did, to earn
Defensive Play of the Game
honours and out number three.
Sure, it's the Royals, but getting out of a bases-loaded, none-out jam when you're nearing the 100-pitch mark is a very good sign. We already knew Marcum had the poise to throw anything in any situation, but here he reached back to make his best pitches of the game when it counted. This game did nothing to alter my opinion that Marcum is, after Halladay and Burnett, the safest bet to be in the Jays' rotation next year.
Brandon League:
Came in to face Mike Sweeney with none on and two out in the seventh. He could not buy a strike, walking Sweeney on four pitches. After getting strike one on Emil Brown, League threw two more balls before getting a groundout. This is wholly unscientific, but it sure feels like League tends to take a little while to find his command.
He whistled through the eighth on three straight groundouts.
B.J. Ryan:
Recorded the ubercheap save. Of course, it's wasteful, but it sends the fans home happy and makes absolutely sure the tying run doesn't come to bat. John McDonald made a nice play on Mike Sweeney's scorcher to make the easy save look easy.
Democratic:
Every Blue Jay starter had at least one hit.

Weird:
Every Royal starter had at least one hit.
Scott Dohmann:
Mowed down the Jays in two perfect mop-up innings. He recorded four strikeouts. He's had a nice run of success in Kansas City; between him, Joe Nelson, Burgos and Gobble, the Royals appear to have a respectable bullpen.
Elsewhere:
The Twins defeated the White Sox 5-4 in a seesaw battle on the South Side to reclaim the Wild Card lead. Brad Radke's shoulder only lasted two innings, and the Twins trailed 3-0 when Matt Guerrier emerged to pitch the third. But Guerrier went three shutout innings and the Twins rallied in the sixth behind homers from Nick Punto and Torii Hunter (Hunter's fifth in seven games) to take a 4-3 lead. Pat Neshek blew it in the bottom of that inning, but the score remained tied 4-4 heading into the 9th. Ozzie Guillen made a slave-to-the-save move, bringing in Mike MacDougal to hold the line. It backfired, as he gave up three singles. Jason Bartlett drove in the game-winning run to put the Twins ahead 5-4. Joe Nathan nailed it down in the bottom of the ninth.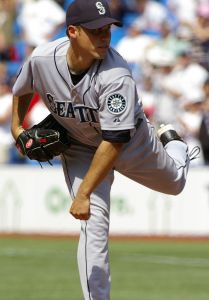 Ozzie, as always, preached on the value of intensity: "I think they showed up to kick our butt this weekend. There's no doubt in my mind. Those guys were at the top of the rail, rooting for each other. Even when they were down, they were pulling for each other. ... Look at the other side, and you're like, 'Wow.' If we don't wake up, they will sweep us in the weekend. We'd better start to wake up and start to play hard against those guys."
The Red Sox were shut out by Jake Woods and the Mariners' bullpen last night. Their lead over the Jays is down to three games.
A pair of former Jays were responsible for a 15th-inning rally in Arizona. Brandon Lyon (yes! Brandon Lyon!) drew a walk in his major-league batting debut, and the Mighty O-Dog hit a two-run walk-off shot to give the Diamondbacks a
9-7 victory
over the Dodgers and bring Arizona within three games of the NL West lead.
Today:


New York (Lidle) at Los Angeles of Anaheim (Santana), 4:10
Detroit (Verlander) at Cleveland (Westbrook), 7:05
Minnesota (Santana!) at Chicago (Contreras), 7:05
Oakland (Blanton) at Texas (Eaton), 8:05
Boston (Wells) at Seattle (Meche), 10:05
And at the RC:
It's an interesting juxtaposition of pitchers as the Good Doctor takes on Runelvys Hernandez at 4:07.