Royals 2, Jays 0 as Roy Halladay comes out on the wrong end of a shutout for a change.
Executive Summary:
A couple of early solo shots by two surprisingly decent hitters (for KC, anyway) was it.
Boxscore:
Right here
.
Star of the Game:
Runelvys Hernandez, I guess. While coming up with the
Advance Scout article
, Alex and I threw around the title "worst pitcher in baseball" one too many times, it appears.
For the Jays:
Roy Halladay. I'll take a complete game four-hitter any day.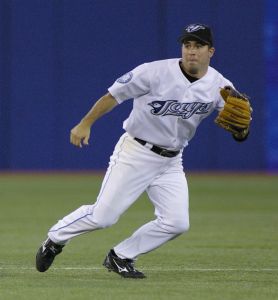 Defensive Play of the Game:
Okay, not having watched this game aside from the inning mentioned above, I'll just assume it was John McDonald's catch in the...fifth? Yeah, let's go with the fifth.
Cowboy Joe
tossed Buddy Bell when Alexis (I think we need to go back to Alexis) Rios checked-or-maybe-didn't-check his swing. It looks like Rios went around, but it worked out well for the Royals in the end as Bell was no longer managing the game.
Elsewhere:
Yankees lost to the Angels 12-7 -- Cory Lidle, not so good -- and New York has lost three in a row. Jermaine Dye sent the WGN boys into a frenzy with his game-tying HR in the bottom of the ninth, but Minnesota prevailed 8-7 in 11. Boston still thinks Mike Timlin is good and therefore lost when they entrusted a 3-2 lead to him in the eighth. Seattle won 4-3, and Boston is 5.5 out in the East and in the Wild Card.
How long has Ichiro! been playing CF, by the way?
Nobody cares about the National League, but the Cards are now just half a game up on the Jays for the NL Central lead after Gary Bennett did marginally heroic things on national TV. Toronto is also one game ahead of the Dodgers in the NL West race.