The Jays win another close one with Cleveland
Another nip and tuck affair with the Indians. The offense wasn't able to do a great deal against Westbrook and the pesky Fernando Cabrera (6 1/3 scoreless Innings against the Jays over the last couple of weeks), although there seemed to be a lot of baserunners all night. The three runs they did scratch out though were enough for Lilly and the bullpen, Ted was very solid again, while not having his best stuff, and worked hard. With the W he seems assured of setting a career high for wins this year, his 12th last night equalled his best so far. After six he turned it over to the bullpen and Frasor, League and Sir Robert Victor had a scoreless Inning each to finish things off. I was glad to see Gibby go to Frasor in a high leverage situation, maybe Jason is working his way back onto the managers christmas card list.
Star of the Game:
Aaron Hill had three hits and even a stolen base, I know it was only against Victor Martinez but it still counts.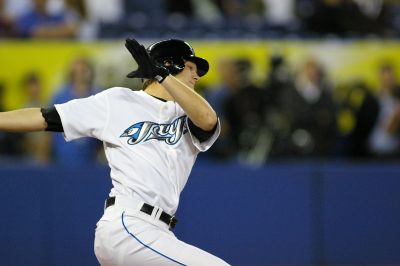 Unsung Hero:
Adam Lind had a couple of hits and added a nifty bit of base-running in the second to score on Russ Adams blooper. J.P was very impressed about the latter on the radio with Wilner last night.
Elsewhere in the East:
The Angels warmed up for the jays visit with a convincing win over Baltimore, roughing up Daniel Cabrera for four runs and the O's bullpen for another four. Baltimore's familiar September collapse seems to be kicking, they're 1-5 so far this month and face the Yankees, Red Sox and Tigers in the next ten days. Randy Johnson had his best start of the year with seven shutout Innings against the Royals for a comfortable Yankee win. Carlos Silva was dominating the Devil Rays through six Innings when he had to leave the game sick, and Tampa took full full advantage getting to the normally stellar Twins' pen for four runs and earning them the win. In Boston Kyle Snyder came down to earth after his great start last time out and was chased after just 2 1/3 with five runs on the board as the White Sox eased past the Red Sox.
Today:
Off day for the Jays, I'll be tuning in to watch Verlander against the Twins I think, unless I get suckered in the openeing night of the NFL.