Six in a row for LA of A.
I didn't actually see the game. I missed the beginning because I was watching Jiri Tlusty, Robbie Earl and Justin Pogge get their kicks in at the Maple Leafs' rookie tournament at the Coliseum. In a wildly entertaining and penalty-filled affair, the Leafs' rookies defeated the Habs' rookies, 6-5 in overtime. Tlusty was really impressive. If you're not a football fan and you're really strapped for something to do this weekend, I'd encourage you to check this tournament out. It's grand inexpensive fun - $8 for a GA ticket - and you get to catch a glimpse of hockey's future from the front row.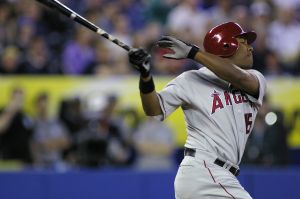 I got home at about 11 to find snow on my TV for a couple of hours during the storm that swept through last night. So please forgive the lack of focus on last night's game. I hear it was forgettable. The Halos won 4-1 behind Joe Saunders. Garret Anderson doubled and homered to earn himself Player of the Game honors and a picture in today's TDIB.
1.
Ryan Howard is streaking. He hit
homers #55 and #56
off lefty(!) Scott Olsen of the Marlins last night in a 3-2 victory to help bring the Phillies within 1.5 games of the Wild Card-leading Padres.
Tom Verducci
has a take on Howard's dash to 62: "There is room in your head to hold what Maris and Howard did at the same time as you do what Bonds, McGwire and Sosa did. I believe that Howard has more in common with Maris than Bonds, McGwire and Sosa did, and given changes in the game since the Steroid Era, I welcome his run at 62. But will it be a record? It will be a record in this postmodern era, and overall it will be something of a default record no matter what Selig does or doesn't say."
Howard himself puts it simply to
Paul Hagen
of the Philly Daily News: "People are entitled to their opinions. But it does bother me. It casts a shadow on the game. I know I'm not using steroids. This barrel right here [pointing to his stomach] is proof enough. People are going to say what they want to say. I thought about it once and then it was like, 'Well, whatever.' I'm not doing it. If they want to test me, they can test me. I just think it sucks. The thing about it is, if you're going to make those kinds of comments, have proof. Otherwise, you can ruin people's reputations."
In this era, what historical significance does #62 hold? I mean, I think it means "You reached the pre-90s record without the blatant juicery of the last group of players who did it. It's cool, and if the media like you, you will get your due for having one hell of a season. However, your accomplishments will always be asterisked and therefore diminished, and if you're clean, you will never get the Clean Home Run King Crown to which you are justly entitled because of the media's automatic skepticism. No, it's not fair. That'll probably be the case for the poor sucker who hits 74, who might very well be you next year." But I could be underestimating the media's willingness to genuinely celebrate every player passing Maris' 61. I hope I am.
2.
The Tigers face the Twins today. It's Nate Robertson against Boof Bonser. From there, the pitching matchups just get worse for Detroit: they run into Johan tomorrow and Vicente Padilla and Kevin Millwood against Texas.
Detroit leads Minnesota by 4 and the White Sox by 4.5. BP's playoff odds report had the Tigers winning the division 92.7% of the time and the wild card 6.6, missing the playoffs only 0.8% of the time, prior to today's games. Maybe I'm just still in denial about how good the Tigers are, but they're only 8 games above .500 against AL teams that aren't the Royals. If Bonser comes up big for the Twins today, the Tigers can very easily be in big trouble as soon as Wednesday.
3.
Win-loss differential by division:
AL East -4
AL Central +31
AL West +29
Note that the AL West only has four teams. Personally, I'd be shocked if this happened again next year.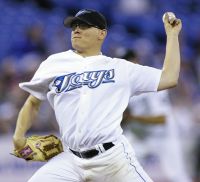 4.
At 10:05 today, 1200 miles on I-10 away from the real sporting attraction of the day, it's Gustavo Chacin and Kelvim Escobar in a battle of Venezuelans at the big A.
Escobar has a 2.00 ERA in 27 career innings against the Jays, though he is only 2-2. Chacin has a 2.37 ERA in 19 career innings against the Angels, and he's 2-0. Both pitchers are coming off excellent outings, Esco against Detroit and Chacin against Boston. A strong September from Chacin should be high on the Jays' wish list right now.
Let the duel begin!