You know a team is bad when you talk about how many games they've lost as opposed to how many games they've won – for example, a team that goes 62-100 doesn't win 62 games, they lose 100. Such is the case of the Pittsburgh Pirates, who have endured one of the longest stretches of futility in baseball history. Last year the Pirates posted their best record in three years by "only" losing 94 games, which is an achievement of sorts I suppose. In both 2005 and 2006 the Bucs went 67-95, and you have to go back to when Brian Mulroney was Prime Minister (or George Bush Sr. was President) to find the last Pirates team with a winning record. The Pirates have finished below .500 every year since 1993, and this season threaten to tie the Phillies for the longest consecutive stretch of losing seasons in baseball history at 16. Can they avoid this ignominy? Probably not, but we'll take a gander anyway. You might not want to keep going if you are prone to queasiness though – this gets ugly.
Before looking ahead to 2008 we'll look back at how the Pirates got to where they are. While the Pirates have been bad, at one point the future actually looked (marginally) rosy. The by all accounts beautiful PNC Park opened in 2001, Jason Bay exploded onto the scene in 2004, Freddy Sanchez won the batting title in 2006, money was spent on players, and most importantly, lots of promising young pitching talent was stockpiled.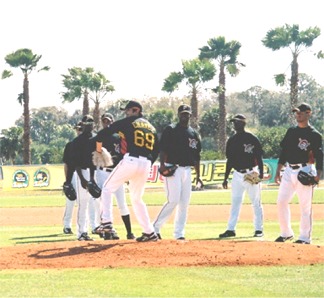 Alas, the best laid plans of mice and men. Pittsburghers realized that the team still stunk and didn't come out to the stadium, Bay toiled away with little support before having a pretty bad year in 2007, and most of the guys the Pirates paid big money to were terrible – one might almost say they were Pittsburgh Pirate bad. Sean Casey, Jeremy Burnitz, Joe Randa, Matt Lawton, and Mark Redman were all signed or traded for then unceremoniously dumped when, surprise, things didn't work out right away. Perhaps most devastating for Pirates fans, however, was the way their young pitching turned out.
In those halcyon days of 2006 the Bucs starting rotation included, at various points, Oliver Perez, Zach Duke, Paul Maholm, Ian Snell, and Tom Gorzelanny, the oldest of whom was just 24. While hardly the staff of the 1990s Braves, all five looked like legit big leaguers, if not better, at various times. It was not to be however, as Perez fell apart and was traded and Duke and Maholm just plain fell apart. It's easy to forget now, but Perez threw 200 innings with an ERA just under 3 at age 22, while Maholm and Duke were both excellent in limited stints their first seasons, at ages 23 and 22 respectively. Ian Snell and Tom Gorzelanny are the success stories of the group, as each pitched 200+ innings of slightly above league average ball in 2007 and look to be at least average big league pitchers – probably not quite what the Pirates were looking for. As is common with the Pirates, the story here is one of failure and not success.
The 2008 season promises to be little different than past campaigns for the Pirates – faint hope mixed with crushing defeat. Let's mix things up a bit and start with the good stuff. Former Cleveland Indians Assistant GM Neal Huntington was hired as the Buc's GM this past off-season and cleaned house, firing most of the upper-management and replacing Manager Jim Tracy with former Pirates 3rd base coach John Russell (who admittedly was lambasted by some Pirates fans for sending too many runners home at the time). Huntington also suggested that the Pirates would begin relying more heavily on more statistically oriented methods (your VORP's and your equivalent averages to name a few) to augment traditional scouting. However, the Pirates made very few off-season changes, leaving their roster mostly intact from, last year. While not rushing out for quick fixes or blowing money on free agents is admirable, the Pirates were the worst team in the NL in 2007 and don't figure to improve too much on their own in 2008. The team's farm system is middling, with only three players on Baseball America and Baseball Prospectus' top 100 list. With that being said, at least the Pirates have some semblance of a plan in place, which is more than can be said about former GM Dave Littlefield most of the time (Matt Morris, anyone?)
The Pirates thus enter 2008 clearly looking to rebuild and not complete. With that being said, they might not be a complete disaster. The biggest positive going into 2008 has to be how bad the rest of the National League Central looks to be. Chicago won the division with 85 wins last year, and Milwaukee was the only other team above .500. St. Louis, Cincinnati and Houston all had down years, and all have serious holes coming into this year – the Central is clearly the worst division in the NL, so if the Pirates can beat up on their division mates they could surprise by not being completely terrible. So, uh, the Pirates have got that going for them. Unfortunately, that looks to be about it.
The downside of bringing back everyone from last year and hoping for the best is that the Pirates sucked last year. They finished 12th in the NL in runs scored and 14th in runs allowed. Let's take a look at the offense first.
The Pirates offensive "strength" last year was hitting for average – they batted .263, good for 10th in the Senior Circuit. If you're starting to shake your head, be forewarned, it gets worse. The Pirates drew a league low 463 walks as a team, almost 40 fewer than the second worst team, the notoriously hack-happy Cubs; as a result their team OBP of .325 was 13th best in the NL. Even when the Pirates got players on base, they had trouble driving them in – they hit the 5th fewest home runs and had the 5th worst slugging percentage in the NL. The Pirates can basically be summed up by thinking of 2006 NL batting Freddy Sanchez, who hit .304/.343/.442 last year – a team full of guys who hit decently and don't walk. The Pirates enter 2008 with almost the same batting lineup intact, meaning things don't figure to change too much.
To illustrate this point, lets play everybody's favourite game, guess that player line. Let's tweak the game a bit though, and try to figure out which of these things is not like the others.
Player A 73 HR/177 BB
Player B 45 HR/232 BB
Player C 70 HR/233 BB
Give up? Player C is clearly some sort of superhuman version of Player's A and B, right? The 73 home runs should be a give away, but let's see if we cant narrow it down a bit more. We'll add in a few more stats.
Player A .328/.515/.863 73 HR/177 BB 664 PAs
Player B .362/.609/.812 45 HR/232 BB 617 PAs
Player C .278/.337./430 70 HR/233 BB 2928 PAs
Wait, what?
Player A was Barry Bonds in 2001.
Player B was Barry Bonds in 2004.
Player C was the 2007 Pittsburgh Pirates starting infield. All five of them.
Puts things in perspective a bit.
Fortunately (or rather, unfortunately) for Pirates fans, the 2007 infield returns intact heading into 2008, with perpetual trade rumour Jack Wilson manning short, the aforementioned Sanchez at second, former Brave Adam LaRoche at first, Jose Bautista at third and Ronny Paulino and Ryan Doumit splitting time behind the plate. LaRoche reminds me a fair bit of Lyle Overbay, in that he walks a bit, doesn't have a ton of power and hits a lot of doubles. The only thing is that Overbay walks more and hits for a much higher average. Did I mention that LaRoche was their best hitter last year? Don't get me wrong, Overbay/LaRoche is a nice player to have around, but he can't carry a team. Freddy Sanchez has been a bit knocked up this spring coming off shoulder surgery, but figures to be fine for well before Opening Day. Wilson had a torrid finish to last year and is back in the team's good books for now, so hopefully Marty York will shut up about him now.
The outfield figures to be a little better this year. British Columbia native and Blue Jays trade target (if Toronto newspapers are to be believed) Jason Bay hit .247/.327/.418 last year when he was suffering from knee tendonitis. Bay didn't make excuses for himself but was clearly affected, and looks to be healthier heading into this year. It would be a mild surprise if he makes it through the season a Pirate, as he has, when healthy, the most trade value of any Pirate, especially given the 2 years left on his eminently reasonable 4 year $18.25 million dollar deal. Bay got himself into a little bit of hot water at the end of last season by saying "To think we're going to win 100 games or go to the World Series next year with the exact same team it would be a little foolish." Give the man a medal for honestly as far as I'm concerned – he wants to be a part of the solution but is realistic.
In centre-field, Pirates top prospect Andrew McCutchen figures to make an impact sometime during the year, though he will start the year in Triple-A Indianapolis. Ranked a top 25 prospect by both Baseball America and Baseball Prospectus, McCutchen is a speedy CF who was considered a five-tool talent coming out of high school. His power hasn't developed (he hit 11 home runs in 570 PAs in AA and AAA last year) McCutchen hits for average and draws enough walks to be effective, and is a high percentage base stealer to boot. He doesn't profile to be a star, but could be an upgrade over the three headed monster of Chris Duffy, Nate McLouth and Nyjer Morgan, who all split time in CF last year with varying levels of efficacy. McClouth and Morgan are battling it out for the starting spot, but neither has had a good spring so far. Look for McCutchen to be up by the trade deadline.
Even at 28 it seems like Xavier Nady has been around forever – maybe it's just me. Nady was one of the Pirates best players last year and as a result is already drawing interest from teams like the Mets, who want to replace Moises Alou after he got injured. Nady figures to stay put for a while, but the Pirates second best prospect, Steve Pearce, plays right field and is knocking at the door, so don't count on Nady being a Pirate all year either.
On the whole there isnt much to expect from the Pirates hitters in 2008.
PECOTA
sees pretty much every Pirates hitter as being slightly to fairly below average for their positions this year, with the exception of Doumit, who figures to not play that much anyway.
Continuing on a down note, the Pirates pitching looks to be just as bad as their hitting going into 2008. The team's ERA of 5.22 was good for third worst in the NL, even as PNC played as a slight pitchers park.
As mentioned earlier, Tom Gorzelanny and Ian Snell were the lone bright spots in the Pirates rotation – they were the only two starters for the Pirates who finished the season with at least a league average ERA. The two of them are 25 and 24 respectively, giving some hope that they might improve. Rounding out the rotation this year will be Matt Morris, Paul Maholm and Zach Duke, which shouldn't inspire too much confidence. Morris struck out just over 100 batters while walking 61 in 198.2 innings last year, and had an ERA of 6 in his time with the Pirates. He turns 34 in August, and leaving San Fran for Pittsburgh doesn't figure to do too much for his ERA. Maholm's K rate was almost as bad, as he struck out 105 in 177.2 innings while walking 49. Saving the best for last, Zach Duke struck out a whopping 41 batters in 107.3 innings while walking 25. With little starting pitching talent waiting in the wings, things could get ugly fast.
While the starting pitching may be abysmal, the bullpen looks to be the lone bright spot of the 2008 Pirates. Raise your hand if you've heard of Matt Capps. I thought so. The second year player continued to improve, and became the team's closer last year. A converted starter who was a 7th round pick in 2004, Capps possesses a 95 MPH fastball and a good change up. He used both effectively, picking up 18 saves and allowing a baserunner an inning after becoming the Pirates closer in June. Best of all, he's 24. Go the future. Aged veteran Damaso Marte has been good for a very long time and is the 8th inning guy, while a bunch of veterans and young'uns look to round out the pen.
Not helping the Pirates staff is their defense. According to Chris
Dial
the Pirates had the 4th worst defense in the NL last year, with the lone bright spots being CF and 1B. The rest of the infield ranged from slightly below average (Jack Wilson) to very bad (I'm looking at you Freddy Sanchez and Jose Bautista.) Nady is a butcher in right, and Bay is average at best in left.
On the whole it has got to be pretty hard to be a Pirates fan. They're going to have their 16th straight losing season this year, and will probably trade away the best player in recent franchise history. Both their hitting and pitching figure to be in the bottom third of the league, and there isn't much help coming up through the minors. Jason Bay was right - there's no reason to expect a miracle.
Don't say I (and Jason) didn't warn you.
67-95, last in the NL Central, last in the NL