As promised, the American League!
I must confess - most of the recent action on this front, with teams struggling to reach .500 all-time, has occurred in the National League (Astros, Diamondbacks, Braves in particular.) We reprint the original team write-ups and update the AL numbers for the sake of completeness.
We'll start out west
Seattle Mariners
(2315-2582) - Losers Forever (since April 6, 1977)
The Blue Jays' expansion cousins lost their first two games, thereby blowing their first, best opportunity to be on the good side of .500. In 1991, their 15th year of operations and the same season that the Blue Jays were winning their third division title, the Mariners finally posted their first winning season. They responded to this unforeseen development by
firing the manager.
By 31 July 1994, the Mariners had won 1206 and lost 1594 - 388 games below break-even. That was the low point. They suddenly won 9 of their next 10 games. Naturally, ballplayers everywhere immediately went on strike.... However, the worm had turned. Seattle posted winning records in seven of the next nine seasons, with five 90+ win seasons among them By the end of 2003, they had cut the deficit to 215 games, the smallest figure it had been in twenty years. Things haven't gone all that well since, their mysterious 2007 record notwithstanding. They're 257 games under as the new season dawns.
Texas Rangers
(3491-3976) - Losers since April 15, 1961
The Texas Rangers are one of two AL teams who began life as the Washington Senators. The original Senators packed up and moved to Minnesota in 1961 - a shiny new expansion team replaced them in the US capitol. But Washington always meant "first in war, first in peace,and last in the American League" and the new franchise posted exactly one winning record in eleven years. They split their first two games in 1961, but then lost 10 of their next 13. It established a trend. Overall they went 740-1032, which is how you can fall 292 games under rather quickly.The Senators then hightailed it for Arlington Texas, where they became Rangers and continued their losing ways. They have had brief bursts of competence, but have generally devoted their best efforts to deepening the hole the Senators left them. The lowest point reached so far came last June 13, on which date they had fallen 492 games below .500 (3439-3931)
Los Angeles Angels
(3690-3794) - Losers since April 17, 1961
Like the Senators, the expansion Angels split their first two games - the Halos then lost seven in a row and they've been trying to crawl out from under ever since. Remarkably enough, the closest approach they have made to .500 came the very next year. On September 11 1962, the second-year team sported a stunning 82-64 record, and the franchise overall mark was just 3 games under .500 at 152-155. Alas, it was not to be. They dropped 12 of their final 16 games, and spent most of the next 40 years slowly digging deeper and deeper. Since the late 1970s, they have followed a strange path of being pretty good for a couple years, but then pretty bad for a couple of years
plus one
. They have never had more than three losing seasons in a row since 1978 - but they had never had three winning seasons in a row until their current run, which now stands at four. The lowest point reached so far came on March 31 2002, when they dropped their season opener to fall to 3243-3432, 225 games under. They rose up from that depth to win the World Championship that very season, however, which was some compensation.
Oakland Athletics
(8039-8498) - Losers since April 19, 1941
Another tale of three cities, and again the first city put the franchise in a hole so deep that there's been no getting out of it. The Philadelphia Athletics, as everyone knows, were owned and operated by their field manager, Connie Mack. Mack was a brilliant baseball man, but he may not have been the world's best businessman. Baseball was his life, but the team he owned was his sole source of income, and so he always had his eye firmly fixed on his bottom line. He built the first great AL powerhouse - his A's won four pennants and three World Series titles in five years. On October 1 1914, the franchise record was 385 games above .500, at 1220-835. And that is the high-water mark. The Federal League emerged to drive up player salaries, and Mack decided he could not afford to keep pace - he sold off all his great players, and the A's suffered through ten straight losing seasons. By 1921, the franchise overall mark had slipped below .500. It would not stay there long, however. Mack had been slowly assembling another great team. Beginning in 1925, his A's posted eight straight winning seasons and dethroned the mighty Yankees of Ruth and Gehrig to win back-to-back World Series in 1929 and 1930.
And then came the Great Depression, and by 1932 Mack once again was selling his stars to the highest bidder. This time there was no bouncing back. Connie Mack was in his 70s by this time - he had been born during
the Lincoln Administration
- and he no longer had the either resources or the energy to rebuild his team. Pressed for cash, he couldn't build a farm system, and the new farm systems were sucking up all the available talent. From 1934 on, Philadelphia would post 13 straight losing seasons - some of them truly horrific. His second dynasty had lifted the all-time franchise out of the red and almost 300 games into the black - but now they were falling fast. They were exactly at .500 when the 1940 season ended, and they went under for good on April 19 1941. By the time Mack retired, aged 88 in 1950, the team had lost 264 games more than they had won. Without the old man - they got even worse. By the end of 1954, the A's were 362 games below .500, at 3886-4248.
I think sportswriters who fret about ballplayers staying in the game too long are making fools of themselves. It's not the place of some writer to fret that Willie Mays is "tarnishing his legacy" by falling down in the outfield during the 1973 World Series. For one thing, it's his life and his legacy, and if he wants to play baseball until no one will let him... well, power to him. You're going to be retired for the rest of your life - why wouldn't you keep playing, if that's what you want to do. Willie Mays' legacy is safe, trust me. The only way Willie Mays could have tarnished his legacy in the 1973 World Series would have been if he'd taken out a gun and started shooting spectators.
He's Willie Mays, dammit!
Look it up!
But the case of Connie Mack is far more complicated. He wasn't the Jeffrey Loria of his day, making a killing and moving on. He was a baseball lifer, and he wanted to win. It was his life and his money and his team, and he had been a truly great baseball man. He was one of the giants, an immortal walking amongst us, present at the creation. He seemed like someone who had stepped straight out of the Old Testament, if not the Garden of Eden itself - he was one of the most beloved and respected figures in the nation, let alone the game. But he was no longer up to the job, as an owner, as an operator, as a manager.
And there was nothing anybody could do.
If Willie Mays had wanted to play in 1974, it didn't much matter - nobody wanted him as their centre fielder anyway. But Connie Mack still owned the team...
I have often spoken harshly of Philadelphia fans, the people who cheered the Broad Street Bullies and booed Mike Schmidt. But perhaps a little sympathy for the devil, a little compassion for the Philadelphia sports fan is not totally out of line. Not only did they have the dismal, hopeless Athletics - the town's other team, the Phillies, were actually worse. If Philadelphia sports fans have a bitter and twisted psyche - and they do - I am inclined to attribute it to the two decades of relentless hell they were made to endure.
Things got worse for the Athletics, if you can possibly believe it. After the 1954 season, they were purchased by Arnold Johnson and moved to Missouri. Kansas City had been a long-time farm team of the New York Yankees, and Johnson seemed to behave as if they still were. As Bill James (a Kansas boy!) succinctly put it: "Kansas City had a bad team. They traded all their best players to the Yankees. The team got worse." The A's never had a winning season in Kansas City. Ever. The A's fell a further 395 games away from .500 during their awful tenure in Kansas City (829-1224), dropping the franchise all-time log to 757 games in the red (4715-5472).
Finally, finally, the fortunes of the franchise took a turn for the better. Charlie Finley bought out Arnold Johnson in 1960. Finley was a crank and an eccentric, but he was a shrewd operator. He stopped the pipeline that sent all Kansas City's best young talent to New York. He built a powerhouse farm system. And he looked desperately, year after year, for some new city to take the Athletics away from Kansas City. In 1967, they landed in Oakland. They got off to a rocky start, losing 8 of their first 12 games - which means that on April 23, 1968, this franchise hits its absolute bottom at 761 games below .500 (4719-5480). But they recovered to post the first of nine straight winning seasons, a run that included three straight World Series titles. The Oakland A's have been winners since they went above .500 to stay that first season, although it took them until September 25 to get there.They're almost 300 games above .500 since coming to California.
In the AL Central, we find a mix of old and new teams:
Kansas City Royals
(3003-3176) - Losers since August 1, 2002
In 1969, an expansion team was placed in Kansas City to replace the departed A's, and the shiny new Royals soon emerged as the model for all expansion teams. They got off to a decent start (14-11), but they were an expansion team, destined to lose 93 games, and they slipped under .500 to stay on May 16. But they were like no other expansion team ever seen. They took player development very seriously, they made a string of brilliant trades, and they also got lucky - coming up with a player as great as George Brett is fortune's way of saying "We like you!" They were a winning team as early as their third year of operation, and they were division champions in just their eighth season. On July 5 1977, the franchise moved above .500 for the first time since May 11 1969. They remained a quality team for more than a decade, and reached a high-water mark of 161 games above .500 (1745-1584) on September 27 1989. It's been a long slow ride into the abyss ever since. David Glass is one of the worst owners in the history of the game, and it was on his watch that the Royals first slipped back beneath the waters, on June 23, 2002. A four game winning streak got them back on the right side of the ledger, but they went under again, on July 4. An unexpected nine game winning streak righted the ship for a moment - but they went down for the third time on 1 August 2002, losing to Roy Halladay and the Jays. They've been down ever since, and they keep digging the hole deeper - they've lost more than 90 games in six of the last seven seasons.
Minnesota Twins
(7963-8597) - Losers since July 8, 1901
The Twins spent 60 years playing in Washington under the name of the Senators, where they became synonymous with futility. The Senators actually had a couple of championship teams along the way - however, their history begins with eleven losing seasons in a row, and there was simply no escaping that hole. They actually had a winning record for a while that first season, rising as high as five games above .500 at 25-20 on June 27. That, alas, would prove to be the franchise's high-water mark, although as late as July 5 they were still above .500 at 26-25. But that was the last time. They were already 398 games under (610-1008) before they had their first winning season. The Walter Johnson era kept them falling any farther, and actually inched them a little ways in the right direction. Towards the end of the Big Train's time, they began about a ten year run as one of the AL's top teams, winning three pennants and the 1924 World Series. By 1933, they had shaved the losing deficit to 136 games (2405-2541.) Then the roof fell in - they posted nine losing seasons in the next twelve years. Then the floor collapsed - they posted thirteen losing seasons over the next fifteen years. They got out of town, tail between their legs, taking a 4223-4864 (641 games under) record with them to Minnesota. It took the newly minted Twins a year to reverse direction, but they quickly developed into a consistently good team. They made just one World Series appearance, but they won 90+ games eight times in 10 years, and by 1977 had actually shaved the overall franchise deficit below 500 games. That, strangely enough, was the high-water mark for the team in Minnesota. They rose up to win the World Series twice, completely out of the blue, but have been slipping back towards .500 for their time in Minnesota for most of the last quarter century. The Twins (as Twins) fell below .500 in 1997, and on 1 October 2000 hit what so far stands as the all-time low in both Twins (98 games under, 3121-3219) and franchise (739 games under, 7344-8083) history. The strong teams of the past few years reversed that evil trend, and in 2006 they made an improbable run at evening their record in Minnesota. On 5 August 2006, they evened their record in Minnesota at .500 (3629-3629), and won 3 of their next 4 to move into the winner's circle. Three straight losses to the Blue Jays dropped them back below .500, but they salvaged the last game of the series to draw even again. On August 15, Johan Santana beat Jake Westbrook, and the Twins were above .500 all-time to stay (if we leave out the 60 years in Washington, of course). They stand 7 games to the good in Minnesota (3740-3733) as we head for 2008.
Cleveland Indians
(8476-8096) - Winners since September 2, 1917
Cleveland is one of four AL teams still in place from that inaugural 1901 season - Detroit, Boston and Chicago are the others. They were losers that first year, but they acquired the great Larry Lajoie in 1902, and posted winning records in six of the next seven seasons. The franchise record was in the black, win-wise by 1904, and they were 79 games to the good by the end of 1913. Then came disaster. Nap Lajoie suddenly got old in 1914, and they lost 102 games. They responded by trading Joe Jackson, their brilliant young outfielder, and lost 95 games. But in 1916, they did something right - they acquired a player even better than Jackson or Lajoie, stuck him in centre field and eventually made him the manager. Tris Speaker would lead them to the 1920 World Series - and three years before that he helped them rise above .500 forever. By the end of the 1950s, they were more than 500 games to the good. The exact high-water mark is somewhat tricky to find - they finished the 1959 season 552 games to the good, and then played .500 ball for the next few years. It could have been any of about 500 different days. But I think I can pin it down - on June 9, 1960 the Indians, off to a 28-17 start, stood 563 games above .500 (4781-4218). They almost matched that with their hot start (15-2) in 1966, but fell just three games short. Having spent the 1960s essentially running in place, the Indians would spend the next two decades squandering much of the cushion a half century of quality baseball had provided. But even at its lowest ebb, in the very early 1990s, the Indians were never less 150 games above .500 and the excellent teams they fielded from 1994 onward pushed them back to almost 400 games above break-even.
Chicago White Sox
(8372-8182) - Winners since August 15, 1956
Another of the surviving AL originals, the White Sox were a good team from the start. They won their first two games and never had a losing record that first season. They upset the mighty Cubs in the 1906 World Series, won another championship in 1917 and a pennant in 1919 - they had sixteen winning seasons in their first twenty years, and hit the franchise's all-time high-water mark of 314 games above .500 (1637-1523) on September 27 1920.
The very next day
, the eight Black Sox who had fixed the 1919 World Series were suspended. Instant karma's gonna get you, and karma pumelled the White Sox as long as those eight men were walking this earth. With its greatest players kicked out of the game for being crooks, the White Sox collapsed. Almost four decades of wandering in purgatory ensued, and finally, on April 26 1948 they slipped below .500 for the first time in the franchise's long history. Hung were the heavens with black that day. On September 27 1950, the all-time record fell to 109 games below .500 (3716-3825). This was the deepest part of the abyss. And then, two months later, Joe Jackson died. He was the first of the Black Sox to depart this mortal plane, and with his passing the clouds that lour'd over the House of Comiskey finally began to lift. In 1951, they posted their first wining season since 1943 - it would be the first of seventeen straight winning seasons. They could only win one pennant in all that time, and they lost that World Series, but by 1956 they were back above .500, and they've been able to stay there for the last half-century. The last of the Black Sox, Swede Risberg, died in 1975, but it would take another 30 years for the Sox to fully exorcise that ghost and finally win a World Series.
Detroit Tigers
(8404-8191) - Winners since September 26, 1908
The third of our surviving original AL franchises, the Tigers had a fine inaugural season (94-61) before falling on Hard Times. A terrible second season dropped them below .500 and three more losing campaigns over the next four years dropped them to 54 games below .500 as the 1907 season dawned. They hit bottom on September 18 1906, when their record stood 60 games below break-even at 392-452. But Ty Cobb was emerging as a force of nature, and Hughie Jennings' men closed that campaign with an 11-5 rush and then won three straight AL pennants (and lost three straight World Series.) Along the way, they crossed over to the good side of .500 - but this was a see-saw process that went on for quite some time. They broke into the winning side on July 26 1908, and stayed there for about a month - but a losing streak towards the end of August saw them submerge again. The drew even on September 3, only to fall back again. They moved above .500 by sweeping a doubleheader on September 7, but another losing streak dropped them back again. They moved ahead on September 16, only to fall back to even yet again, and another short skid dropped them a couple games back. Then they got hot, closing the season with an 11-2 charge, placing themselves 7 games to the good on their all-time record (585-578). They haven't been under since. The franchise hit its ultimate high-water mark on August 21 1988 - on that date, they had a 73-50 record and a four game lead in the AL East. They were also 573 games above .500, with a 7059-6486 record. Then... bad things happened. The 1988 team went 15-24 to finish second, and collapsed to a 59-103 mark the next season. They would have just two winning seasons over the next seventeen years, and would give back almost 400 games to the wrong side of .500. But they had enough cushion to absorb the hard times, and the franchise reversed its slide pretty decisively in 2006.
Finally, the AL East
Tampa Bay Devil Rays
(645-972) - Losers since April 27, 1998
The D'Rays did a nice job coming out of the gate in Year One - they had a 10-6 record on April 19, and those four games above .500 is the biggest such margin in franchise history. They lost 14 of their next 17, on their way to the first of ten straight 90+ loss seasons. No other expansion team can match that record for non-achievement; only one other team in history has posted as many consecutive 90+ loss seasons. So naturally, every year Tampa Bay falls further and further away from the break-even mark, and every year they plumb newer and deeper depths. Lowest point so far was their 645-971 record (327 games under) before they won last year's season finale.
Toronto Blue Jays
(2428-2469) - Losers since May 21, 1995
The Blue Jays were a horrible expansion team, giving away 50 games to .500 each of their first seasons. They improved to just plain bad, to the point where it took them two seasons to give away an additional 50 games. They found their deepest point in the first year of Bobby Cox's tenure at the helm - on September 4 1982, with a season record of 61-75, the franchise was a full 226 games below .500 (331-557). Then came the long, slow upward climb. They went 17-9 to finish the 1982 season, and then posted the first of 11 straight winning seasons the next year. And so they climbed, and they climbed... until September 18 1993, when a 5-1 victory over the Twins raised their all-time record to 1341-1340. They finished the second championship season with a seven game cushion on .500, and on April 26 1994 reached what would prove to be their largest margin ever above .500 - 13 games (1364-1351). But by June of that season, they were puttering along at a .500 clip, when they suddenly lost 13 of 14 games. On June 29 1994, they fell back below .500 and didn't draw even again until July 20. They were still above .500 when the strike wiped out the rest of the season, but the margin was now down to two games. As we all know, the 1995 season was bad most of the time, and a disaster and a disgrace for its final month. It was the Tigers administered the coup de grace. The Jays went under .500 when their record fell to 10-13 in mid-May, and they haven't made it back since.
But if they win 91 games this year, and 92 games in 2009...
Baltimore Orioles
(7881-8672) - Losers Forever, since April 25, 1901
You can blame most of this on the Incredible Saga of the Sad St Louis Browns - but the Browns were in a hole before they played a single game. In 1901, this franchise was located in Milwaukee and called the Brewers. They lost their first five games, and the closest they've been to .500 came a few days later when they sported a 2-6 record. They finished that first year with a 48-89 record, packed their bags, and became the Browns.
How grim is the history of the St.Louis Browns? Well, consider this. The most famous player in team history is probably a man who batted exactly once in the major leagues.
You know, this guy.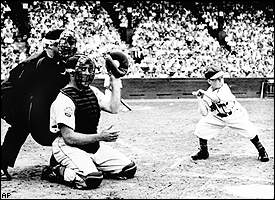 And the second most famous guy might be Pete Gray, the one armed outfielder during World War II... Oh, they did have the great George Sisler, and the very good Harlond Clift - but they were jewels trapped in a huge, steaming heap of dung. The Browns had forty - forty! - losing seasons in their 52 years in St.Louis. By the end of 1953, the franchise log was 1092 games below .500 (3462-4554). They moved to Baltimore for the 1954 season, became the Orioles, and spent the rest of the decade climbing back towards respectability. They were pretty bad at first - they had been Brownies after all - and actually dug a little deeper in what seemed a bottomless bit. But they finally found the bottom on April 25 1960, when the franchise mark stood a mind-boggling 1208 games below .500 (3868-5076). However, the Orioles arrived as a good team in 1960 - they would win 89 games that season, and they would spend most of the next three decades as one of the truly elite organizations in the major leagues.By 1985, the Orioles all-time mark was more than 500 games above break-even, and they had actually climbed almost halfway out of the huge hole the Brownies had left them. The last 20 years haven't been particularly kind - they've given back about 200 games to the wrong side of .500. As Orioles, they're still some 300 games to the good. But the legacy of the Browns endures, and will continue to endure, like a particularly rank smell.
Boston Red Sox
(8540-8026) - Winners since August 5, 1968
The last of our surviving originals, the Boston Americans (for so they were called) had an up and down first season. They lost their first three games and as late as June 8 sported an unimpressive 13-16 record. Then they got really, really hot and won 15 of their next 16 games. They would stay above .500 for the rest of the season, and for more than twenty years to come. They were the other great AL powerhouse of the 1910s, winning four World Series titles. On May 8 1919, they reached what would prove to be their high-water mark - 298 games above .500 (1489-1191)
And then... they fell on hard times. There may have been an ill-advised deal with the Yankees involved somewhere. They put together sixteen straight losing seasons. After the first game of their season ending double header on September 27 1936, the Red Sox were 226 games below .500 (2590-2816). They began the long march back in Game Two. And a couple of very important things went right - they discovered a kid named Ted Williams, and they put Joe McCarthy in charge. And on 14 September 1949, they burst back into the light on the good side of .500. The Red Sox increased the advantage to about 100 games over the next ten years - but then a run of eight straight losing seasons, ending in three consecutive 90+ loss campaigns submerged them yet again. The grim day came on 15 August 1965, the second of those final three terrible years, when they lost to a young Chicago pitcher named Tommy John.
But they were not destined to endure these torments long. They were 28 games below .500 when the 1967 season began - but that was the year that Dick Williams and Carl Yastrzemski fashioned the Impossible Dream pennant. They went into the 1968 season needing to make up just 6 games to get back to even. It was a feat they eventually managed, after a number of false starts. They drew even for the first time on July 13, and went above .500 the next day. They gave it all back. They drew even on July 17 and again on July 22 and July 26 but they couldn't get the next win. They took another run at it - they won on July 28 to draw even at .500 - and then they won their next game. And the next one! The Hallelujah chorus sounded at Fenway... and they lost four in a row to sink back into the mire. A double-header sweep on August 3 drew them even and put them one game above .500 - they lost the next day. And then, finally, they ripped off five wins in a row giving them an edge they were able to maintain until.. well, today. The Red Sox have had good teams for most of the last 40 years (just five losing seasons since the Impossible Dream) and so every year they've been establishing a new distance between themselves and .500. They actually hit their all-time high last September 12, when they stood 515 games above .500 (8533-8018). If they field a team this year, which is yet to be determined, they have a good chance to establish a new high-water mark.
New York Yankees
(9383-7162) - Winners since September 20, 1922
They weren't always Yankees and they didn't always play in New York. They spent their first two seasons in Baltimore, before taking their losing record (118-153) to New York and becoming the Highlanders. They were an up and down team for the first 12 years of their existence, but around 1912 they found their first destiny. They became the Yankees, and they stunk. By the end of 1918, they were firmly established in the annals of Loserdom - when they lost the first game of their season-ending doubleheader on September 2 1918, the franchise mark stood at 134 games below .500 (1258-1392). But they had a good season in 1919, and in January 1920 they purchased Babe Ruth from the Boston Red Sox... and the universe was forever altered. The Ruth was mighty, he did prevail, and it didn't take him very long. On September 20 1922, the Yankees nosed above .500 for all time, eternity included. They keep padding their cushion, which now stands at its highest point ever (after their two wins to close the 2007 season.)
And they should achieve something noteworthy in 2008. Despite being an AL team whose history begins in 1901, the Yankees have already won more games than the Phillies, Reds, and Cardinals (reminder - I'm counting the NL only. The Reds and Cards still have more wins than the Yankees if we count the American Association.) for franchise wins. Which is remarkable. And they head into the 2008 season with just 5 fewer wins than the Pittsburgh Pirates, who have: a) a tremendous history of their own, and b) a 15 year head start. But this should be the year the Yankees go past them as well.
In the year 2525, if man is still alive, the New York Yankees all-time winning record will most likely be above .500. The Yankees have
never
lost 100 games in a season. (You might think they're overdue!) And even if the Yankees lose 100 games every season for the next 50 years - they'll still be above .500.
However, the Yankees
have
lost 90 games in a season. That's happened six times: 1908, 1912, 1913, 1967, 1990, and 1991. So we know it's possible. So if the Yankees can just lose 90 games every season for the next hundred years and beyond - if they go 72-90 until the year 2130 - well, they'll still be above .500. But just!
Losers again! In the year 2131!
Ahh. No wonder everyone hates them.