I got this damn song stuck in my head....
So yesterday morning I was sitting at the computer perusing the sports pages. And I saw it had occurred to
Bob Elliott of the Sun
to wonder if Fred McGriff's Hall of Fame case looks better now that a chemical cloud hangs over the accomplishments of such famous contemporaries as McGwire, Sosa, and Palmeiro. The worst thing McGriff was ever accused of, as Elliott notes, was "changing his stance from one pitch to the other."
Which is actually a good thing, by the way. "The good hitters, they've got half a dozen different stances and they'll change 'em between pitches. That's how you tell what they're guessing" noted Gaylord Perry. (And if they change stances as you're winding up, you'd better just drill them.)
Anyway, McGriff and McGwire is a natural comparison, for all sorts of reasons. And once the thought had occurred, I couldn't get "Creeque Alley" by the Mamas and the Papas out of my head.
McGuinn and McGuire
still getting higher
in L.A.
you know where that's at
So I'm stuck, and have to write it out of my system. McGriff and McGwire.
They were both born in October of 1963, McGwire on the first day of the month and McGriff on the last. One was a right handed redhead; the other was a left-handed African American. McGriff was from Tampa Florida, and signed out of high school at age 17 after being drafted in the ninth round by the Yankees in 1981. McGwire, from Pomono in east Los Angeles (along with Tom Waits and Jessica Alba!), was drafted by Montreal the same year. But he went to USC instead, played in the Olympics (along with Randy Johnson), and was drafted by Oakland in the first round in 1984. Both players made their cup-of-coffee major league debut in 1986 at age 22. Both made the majors to stay the following spring. They spent the first parts of their careers as AL first baseman, and both moved to the National League in mid career.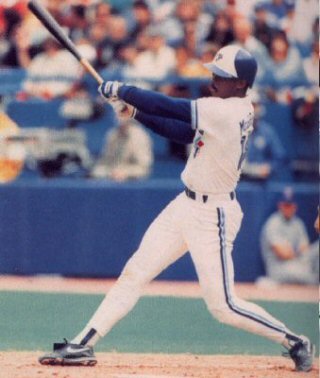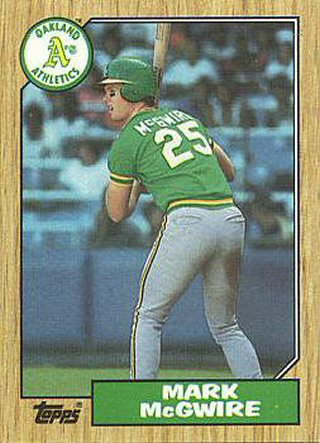 Neither man ever won an MVP award. McGwire's best finish in the voting was second place and he appeared in the top ten five times. McGriff's best showing was fourth place, and he finished in the top ten six times. Both played for one World Series winner. McGriff was a far better post-season performer - his line of .303/.385/.532 with 10 HR and 37 RBI in 50 post-season games looks quite a bit like his normal level of production, maybe in one of his better seasons (although McGriff was so consistent for so long that trying to make distinctions from one season to the other is rather pointless.) He did tend to expend his most memorable efforts when his team was coming up on the short end - the 1993 LCS against Philadelphia, or the 1996 World Series against the Yankees.
McGwire struggled in 42 post-season games, hitting .217/.320/.349 with 5 HR and 14 RBI, although there was one very dramatic hit along the way - his only World Series homer came in the bottom of the ninth of a tie game, with his A's down two games to none. His walkoff smash kept them alive. The only problem, of course, was that it was his only hit in the Series - he went 1-17 - and the A's went meekly in five games.
They made it to the Show to stay in 1987 and McGwire had a rookie season for the ages. McGriff had been the first to get a taste of the major leagues, getting a one week cup of coffee in May of 1986 - but the Blue Jays had Willie Upshaw at first and Cliff Johnson at DH, so McGriff spent the rest of the season in Syracuse. McGwire came up in August, and stayed for the final six weeks of the season. He got to start 16 games, all of them at
third
base. But the A's had Carney Lansford in place there, and by 1987 there was an opening at first after the departure of Bruce Bochte.
McGwire opened the 1987 season platooning with a young left handed prospect named Rob Nelson. Neither did much of anything for the first couple of weeks - both rookies were hitting .167 when Nelson got hurt. McGwire took over full time, and seized the moment. HIs 49 homers led the league and demolished the previous record for homers by a rookie. He was a unanimous winner of the Rookie of the Year Award, hitting .289, slugging .618 and posting an OPS+ of 164. McGriff, still stuck behind the rapidly declining (for three years running) Willie Upshaw, was platooning at DH with Cecil Fielder (born 10 days before McGwire and 40 days before McGriff). McGriff had a very nice rookie season himself, hitting 20 homers in 295 at bats - but McGwire's campaign was historic. He was clearly the better player off the 1987 season.
But it would be a long while indeed before he would again be able to make the same claim, and many things would look very different. Especially McGwire himself, of course.
In 1988, McGriff took over the full-time job as the Toronto first baseman. Over the next three seasons, he was one of the best hitters in the American League, and better than McGwire each year. Curiously, McGwire was named to the All Star team in all three of those seasons while McGriff stayed home each time. McGwire played very well - he hit 32 to 39 homers each year and drove in from 95 to 108 runs. He was a fine first baseman in those days, and even picked up a Gold Glove when Don Mattingly missed a big chunk of the 1990 season. No doubt about it, McGwire was very good, a hell of a player - but McGriff was simply better than McGwire, right across the board. His worst OBP (.376) was better than McGwire's best. He never slugged less than .525; McGwire never slugged better than .489. McGwire's best batting average in those three years was .260; he also hit .231 and .235. McGriff's
worst
batting average was .269; he had the first of his four .300 seasons in 1990. McGriff hit more doubles and hit into fewer double plays. He even stole a few bases in those three years, in fact more than McGwire would steal in his career.
McGriff was better in every offensive category but one - he didn't drive in as many runs. McGriff had the misfortune of batting in a lineup where the only player with a talent for getting on base was... Fred McGriff. In particular, he was batting behind George Bell who by this time in his career was a very good RBI man, but not a man who got on base a lot himself. The combination of the RBI numbers, and the fact that McGwire's A's went to the World Series all three years probably accounts for much of the recognition gap. And the All Star appearances. Also working against McGriff was the fact that he was a great hitter at a moment in time (1988 through 1993) when offense was depressed. McGriff led the AL in home runs in 1989, with the modest (by recent standards) total of 36. He was the last man to lead the AL in homers without hitting 40. It's a little like Carl Yastrzemski's .301 batting average in 1968. It doesn't look like much now, but it was a hell of a thing at the time.
In 1991, McGriff was traded to San Diego. He would spend the next two and a half years on a mediocre team in a much better pitcher's park than he had been accustomed to. He turned in his typical outstanding season in 1991, and drove in more than 100 runs for the first time in his career. He was among the Top 5 in his league in OPS+ for the fourth year in a row (a streak he would extend to seven Top 5 finishes in OPS+ in a row). Meanwhile McGwire was struggling through a dismal and perplexing season in which he hit .201 with just 22 homers. Yet again, it was McGwire who went to the All Star Game, while McGriff stayed home.
In 1992, McGriff may have had the best season of his career - it's hard to be sure, as one season was so much like another. But this one was pretty special. He led the NL in homers, with 35, making him the last man to lead the National League in homers without hitting at least 40 of them. He also hit
.286/.394/.556, drove in 104 runs, and his OPS+ of 166 matched his 1989 career high. He even started to get a little respect, making his first All Star team as the NL's starting first baseman. Meanwhile, McGwire was having a terrific year himself, with his strongest season since his remarkable rookie year - he hit 42 homers and drove in 104 runs himself, and started the All Star Game for the AL. He got his BAVG all the way back up to .268, second best figure of his career at that point, and a whole lot better than .201. He appeared to have put his game back together.
But the next two years were disastrous for McGwire. While he had problems with his back and a rib cage strain, his major problems were with his feet: a torn left heel muscle, a stress fracture in his left heel, and a torn right heel muscle. He would play in just 27 games in 1993. McGriff, meanwhile, was thriving. In July of 1993, he had been traded to Atlanta for three prospects. At that moment, the Braves were 8 games behind the Giants in the NL West. They got the right guy at the right time. In 68 games, McGriff hit .310 with 19 HR and 55 RBI. The Braves went an astounding
51-18
after adding him to the lineup, and stole the division title from the Giants on the last day of the season. McGriff set new career highs in HRs (37) and runs scored (111); while it really wasn't quite as good as his 1989 season with Toronto, or even his performance just the year before in San Diego, it was an excellent season and McGriff ended up 4th in MVP voting.
In 1994, McGwire only managed to appear in 47 games. McGriff, on the other hand, was having the best year of his life. It was a great year for hitters, the best since his rookie year of 1987. He arrived at the All Star Break hitting .310, with 23 HR and 63 RBI, already on pace to obliterate his personal bests. He had a memorable All Star Game - he came off the bench in the bottom of the ninth to hit a two run pinch hit homer off Lee Smith to send the game into extra innings, where the NL would win it. And then, after the break, he got really, really hot. He drove in 18 runs over 18 games over the rest of July, while hitting .318. Then, as the calendar turned to August, he went completely berserk. Over the next 10 games, he hit .423, while clubbing 7 HR, driving in 13 and scoring 16. He was now up to 34 HR and 94 RBI, with a .318 BAVG. There were still 48 games to be played... but none of them were.
At the end of the 1994 season, here is what the career numbers for these two 30 year old first baseman looked like:
          G    B   R    H   2B 3B  HR RBI SB CS  BB  SO BAVG  OBP  SLG  TB  SH  SF IBB HBP GDP RC  OPS+
McGriff 1147 3984 703 1136 202 16 262 710 45 23 679 920 .285 .389 .541 2156  2  32  94  17  89 860 153
McGwire  990 3342 546  834 137  5 238 657  6  7 585 756 .250 .361 .507 1695  3  47  49  29  83 640 143
There can be no doubt whatsoever as to who was the better player in their 20s.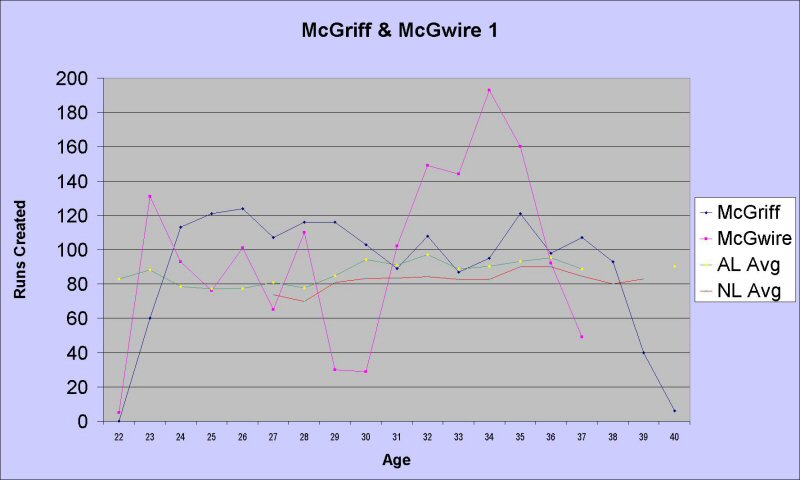 This first pretty picture shows us their Runs Created by season. McGwire's sensational rookie campaign beats out McGriff - after that, McGriff produces more runs for his team year after year after year. Sometimes it was because he was able to play every day and McGwire wasn't (1993 and 1994), but otherwise, for the first half of their career, it's because he was simply a better hitter. He then starts to slide slowly downhill, although he resists the decline stoutly because: a) he was a great player, and b) his raw numbers were inflated by the offensive explosion that swept through the game from 1995 through 1999. McGwire's career, of course, follows no pattern previously seen in the course of human history.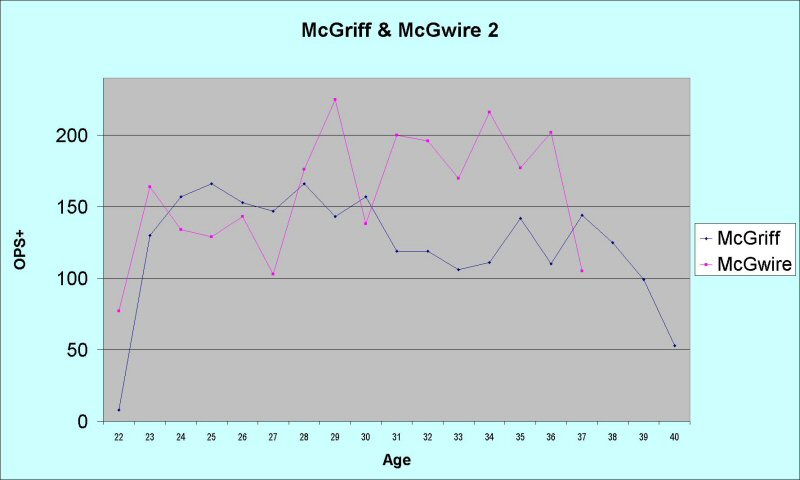 Here is their respective OPS+ over the course of their careers. McGwire's brilliant rookie year gets him off to a great start, and then McGriff takes over. McGwire edges past him in his outstanding bounce back season of 1992 (his tremendous figure the following year, in his age 29 season, covers only 27 games.) And then, at age 31, something very strange happens to McGwire's career..
1994 had been a great year for hitting, but it hadn't been
that
much different from 1987, the most recent great hitter's year. The fact that it was shortened by the strike and the cancelled World Series meant that no one paid gave the the
type
of season it was all that much thought or considered it significant. But by 1995, however, it started to become very clear that something in the game had changed.
The first man to hit 50 home runs in a season was a 25 year old converted pitcher. Babe Ruth hit 54 HRs in 1920, his first year spent playing exclusively in the outfield. He would have three more 50+ homer seasons before the decade was out. There were another four 50+ homer seasons in the 1930s, as Jimmie Foxx (twice), Hank Greenberg, and Hack Wilson joined what had been the Bambino's exclusive club. There were three 50+ seasons in the 1940s, by Ralph Kiner (twice) and Johnny Mize. In the 1950s. only two men would manage a 50 homer season: Willie Mays and Mickey Mantle. They both repeated that feat in the 1960s, and a third man surpassed 50 homers as well, a fellow named Roger Maris. After that, 50 homer seasons grew very scarce. From 1965, when Mays hit 52, through 1990, when Cecil Fielder hit 51, there was only one 50+ homer season: George Foster in 1977. McGwire had a chance to join the group and give the 1980s some representation, but sitting on 49 homers he sat out the otherwise meaningless season finale to be present for the birth of his first child.
In the 75 seasons since Babe Ruth had shown it was possible, there had been 18 50+ homer seasons. All that was about to change. Over the next seven seasons, the final seven years of McGwire's career, there would be 16 of those seasons. McGwire himself and Sammy Sosa, with four apiece, accounted for half of them. Ken Griffey did it twice; the other players were Albert Belle, Brady Anderson, Greg Vaughan, Barry Bonds, Luis Gonzalez, and Alex Rodriguez. The National League had added the greatest hitting environment in the history of the game to its schedule, which surely helped a bit; however, none of these men played their home games at Coors Field (although two of the eight men who just missed making this list by hitting 49 HRs in a season in this period did - Larry Walker and Todd Helton.) Belle, Griffey, Anderson, and Rodriguez played in the American League anyway; and McGwire didn't much care which league he was in. He hit 50 in the AL, 50 in the NL (twice) and 50 in a season split between the two leagues.
Was it something in the baseballs? Was it something in the water? The consensus seems to be that it was something in the bloodstream, and we must leave it to history to make the appropriate adjustments. We'll see about that. Or not.
The two players were now clearly moving in quite different directions as this Brave New World commenced. McGriff was having the worst season of his career. He batted .280, but he hit just 27 homers, the fewest he'd ever hit as a full-time player. His slugging pct. of .489 and OPS+ of 119 were the lowest of his career. His Braves won the division as always - they went on to win the pennant and the World Series and as always McGriff played well in their post-season run (he hit .333 with 4 HR and 9 RBI; he scored 14 runs in 14 games). Now in his 30s, he seemed embarked on the downward slope of his career. But McGwire returned from his two years of misery a completely changed hitter. His season was still interrupted by a six week absence, but in the 109 games he was able to play he thumped 39 homers. His .274 BAVG was his best since his rookie year of 1987, and his OBP (.441) and Slugging (.685) established new personal highs.
And then, at age 32 in 1996, McGwire managed to appear in 130 games; even missing 32 games, it was the most games he'd played since 1992 when he was 28. He hit 52 homers, a new career high. He slugged .730, and the only people in history who had bettered that mark were named Ruth, Gehrig, Foxx, Hornsby, and Williams. McGriff meanwhile was having another fine season in Atlanta - he wasn't hitting quite the power heights of his earlier days, but he actually established personal highs for hits and doubles in a season, largely because he was taking fewer bases on balls. The Braves went to the World Series, and McGriff had another fine post-season (.281 with 5 HR and 16 RBI in 16 games), but the Braves lost to the Yankees in the end.
Both players had seemed to settle in at some new level of ability: McGriff was still a very fine player, but not quite the force he had been in his age 25-29 prime. But McGwire, entering his mid 30s after years of injuries, had never been better. At the time, this was generally attributed to his own hard work (with Doug Rader) at rebuilding his swing, and much as well to his ability to finally overcome the chronic heel miseries that had plagued him for so long. Some notice was given to how he had obviously developed his upper body - his forearms and biceps in particular were simply massive, presumable the result of extensive work in the weight room. In 1997, he became the first player since Ruth to have consecutive 50 homer seasons. He divided it between Oakland and St Louis; his free agency was pending and Oakland knew they couldn't re-sign him. It was assumed he'd play out the year in St Louis and sign with a California team. But he chose to stay in St Louis, and the next year he and Sosa staged their epic battle for the single season homer record.
Well, it seemed pretty epic at the time.
By this point, hitting home runs and drawing walks was McGwire's entire game; it was quite literally all he did. He was hitting more home runs than singles, and drawing absurd numbers of walks - 162 in 1998, a level reached previously only by Ruth and Williams, and another 133 in 1999.
McGriff, meanwhile, seemed to be entering that gentle fade-out that happens to most players in their 30s. He still looked exactly like the player who had come into the majors ten years earlier, but he hit just 22 homers for the Braves in 1997. They promptly signed Andres Galarraga to take over at first and sold McGriff to his hometown team in Tampa. He had a nice, unspectacular season for the first year Devil Rays - the 19 homers was a career low, but he did all the other things that made him a good offensive player. He hit .284, drew 79 walks and had 52 extra base hits. McGwire, that same season, was hitting 70
home runs.
He would hit another 65 in 1999, which was also something of a resurgent year for McGriff, who would hit a career best .310, while hitting 32 homers (his best total in five years) and driving in 104. His OPS+ of 142 was his best since the strike season of 1994.
Here are the numbers they posted from age 31 to 35:
Player    G   AB   R   H   2B 3B  HR RBI SB CS BB  SO  BAVG  OBP  SLG   TB  SH SF IBB HBP GDP RC  OPS+
McGriff  750 2802 391 810 152  4 128 482 23 11 366 552 .289 .371 .483  3113  0 23  42  14  87 500 119
McGwire  698 2310 513 664 103  1 284 620  5  1 600 644 .287 .438 .702  5026  0 23  86  36  52 748 191
McGriff had always been a slightly, but definitely, better hitter - but in these five years, despite playing fewer games, McGwire actually hit more than
twice as many
home runs as McGriff. In his age 31 to 35 seasons, when a player is normally past his peak, McGwire hit 48% of his career homers and drew 46% of his career walks. These years represent a little more than a third of his career (37%). The same period represents 30% of McGriff's career, in which he hit 26% of his career homers.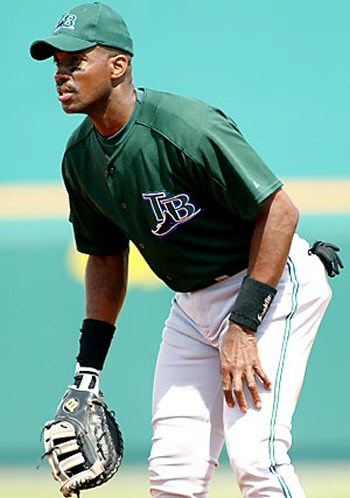 Their careers had diverged into two completely different paths, and they certainly
looked
like two completely different players.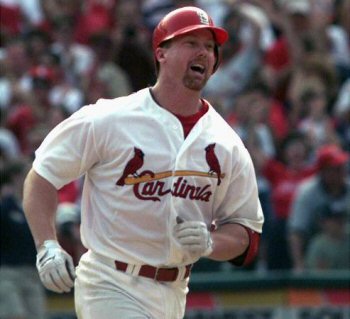 But now there wasn't all that much left. McGwire began to seriously break down; he now weighed at least 40 pounds more than he had when he came into the majors, and his knees were beginning to buckle. He played just 89 games in 2000; he was still quite otherworldly, hitting .305 with 32 homers. McGriff had a decent enough season that year, resuming his long, slow decline; by now he was being sustained somewhat by the inflated offense everywhere in the game. It lifted his declining game to 27 HRs and 106 RBIs.
McGriff would have a genuinely fine season the following year, in 2001. A lot of the air went out of the offensive explosion that had characterized the
fin de siècle
, but McGriff resisted it much better than most: and so his .306/.386/.544 gave him an OPS+ of 144, and he found his bat in demand by the Cubs. McGriff was very reluctant to leave Tampa, but eventually allowed himself to be pressured into joining the Cubs for the pennant race. McGriff played very well in Chicago (he hit .282/.383/.559 with 12 HR and 41 RBI in 49 games) but the team came up five games short. McGwire, meanwhile, saw absolutely everything disappear from his game except the walk and the homer. He was able to play in only 97 games, and in those games he drew 118 walks and hit 29 homers. But he batted just .187 and called it a career after the season.
McGriff gave the Cubs one solid season, hitting 30 homers and driving in 103 runs in 2002. It was his last good season. He signed with the Dodgers, but at age 39 time finally caught up with him. He made two trips to the Disabled List, the first time in his career he'd ever been forced to the sidelines by injury. It cost him most of July and August, and he was very ordinary in the 86 games he was able to play. He signed a minor league deal the following spring with Tampa to make one last try to get the 9 homers he still needed to make it to 500. He gave it a try, but he had nothing left. The Rays finally cut him loose in July, tied with Lou Gehrig at 493.
Here are the numbers for their final seasons:
          G   AB   R   H  2B 3B  HR RBI SB CS  BB  SO BAVG  OBP  SLG  TB  SH SF IBB HBP GDP  RC  OPS+
McGriff  563 1971 255 544 87  4 103 358  4  4 260 410 .276 .360  .481 948  0 16  35   8  50 344  119
McGwire  186  535 108 128 12  0  61 137  1  0 132 196 .239 .394  .604 323  0  8  15  10  12 141  126

There should be no argument that the cumulative quality of McGwire's play is worthy of a Hall of Famer. He has the ninth best slugging percentage of all time. He hit home runs and he drew walks - it's simple and effective. It has always put lots of runs on the scoreboard and it always will.
Still, the argument that McGwire was a greater player than McGriff rests
entirely
on that five year period, from 1995 to 1999. Over the rest of their careers, before and after, McGriff was the better player - even in the final phase, when McGwire's enormous walk and homer totals made him a more productive hitter per at bat, McGriff was able to sustain a comparable and much more balanced type of production over almost three times as many games. Its those five years from 1995 to 1999 that moved McGwire ahead of McGriff: those years when McGwire found a way to keep his fragile body in the lineup; those years when he was able to somehow defy the normal process of decline in a way that no player in history had been able to do before him; those years when, after spending his career as one of the better first basemen of his time, but clearly not the best, he began performing at a level previously reached only by people like Babe Ruth and Ted Williams;
What do you want to make of that?
Bob Elliott may indeed be right that when McGriff appears on the ballot for the first time in January 2010, his candidacy will look much better than it did just two years ago, before McGwire's career accomplishments were more or less dismissed out of hand (less than 25% of the vote.)
Next year, the only automatic inductee being added to the ballot is Rickey Henderson. This is exceedingly good news for Jim Rice, who barely fell short this year. Jim Ed will quite probably make it over the top next time. And good news for Rice is also good news for McGriff, who beats Rice handily in
every
offensive stat except batting average - both the counting numbers, as one would expect, but also the rate stats as well, like OBP, SLG and OPS. The Crime Dog didn't get to play half his games in Fenway Park either.
The other first timers on the ballot with McGriff will be two outstanding infielders with long careers and very worthy resumes: Roberto Alomar and Barry Larkin. They will probably do better than Trammell and Whitaker in the voting, but I don't think either is a sure bet to make it on the first ballot. I think Alomar has the best chance. One other great hitter eligible for the first time that year is Edgar Martinez, who will - rightly or not - endure some career-DH type of backlash.
I think there's now an actual chance that the Hall of Fame class of 2010 will be Fred McGriff and Roberto Alomar. Who were traded for each other, once upon a time.
And that would be very cool indeed.