Whew.
AJ Burnett, perhaps with a nod to the Jays last two performances at Fenway, decided that he would just shut the door himself as the Jays actually scored and took this one 3-0. This ended an ugly road trip in which the club went 2-7 and got outscored 36 to 24. They now head into a four game set with the resurgent White Sox this weekend at the Rogers Centre.
The Jays record right now stands at 12-17. Through these 29 games they've scored 119 runs and allowed 112, suggesting that they should be somewhere closer to one game over .500 as opposed to five below. Its not really something to put a lot of stock into at this point, as this early in the season a few blow outs knock everything out of whack. Or at least generally they do. In any event, this line of inquiry got me, well, thinking. The Jays haven't really been involved in that many blowouts. They've won two games by 8 runs each, against the O's and Red Sox. After that their next biggest margin of victory is... 3. Meanwhile on the defeat side, the Jays biggest loss, of 17 so far, has been by... 4, three times. Of the Jays 29 games so far then, 24 have been decided by 3 runs or less, which seems like an awful lot of close games.
A large reason for the Jays poor record so far has been their 2-8 record in 1 run games, which is more fluke than anything They've also gone 0-4 in 2 run games, but 7-2 in 3 run games. Here it is in graphical form.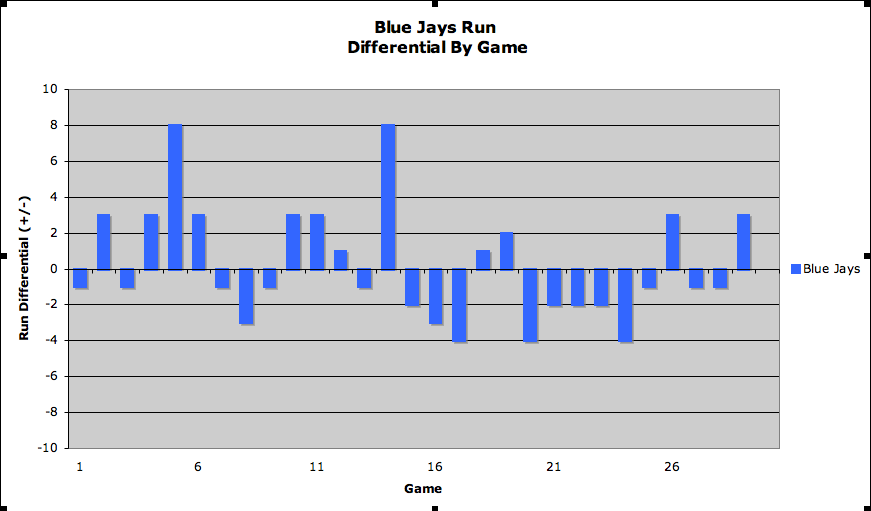 Playing this many close games seems a little unusual. If we compare the Jays to the rest of the AL East, what do we get? Just for comparisons sake, Tampa has a run differential of +23, Toronto +7 Baltimore -8, and New York -12. Tampa is 2-4 in 1 run games, Toronto 2-8, Boston 7-2, Baltimore 7-2, New York 4-3.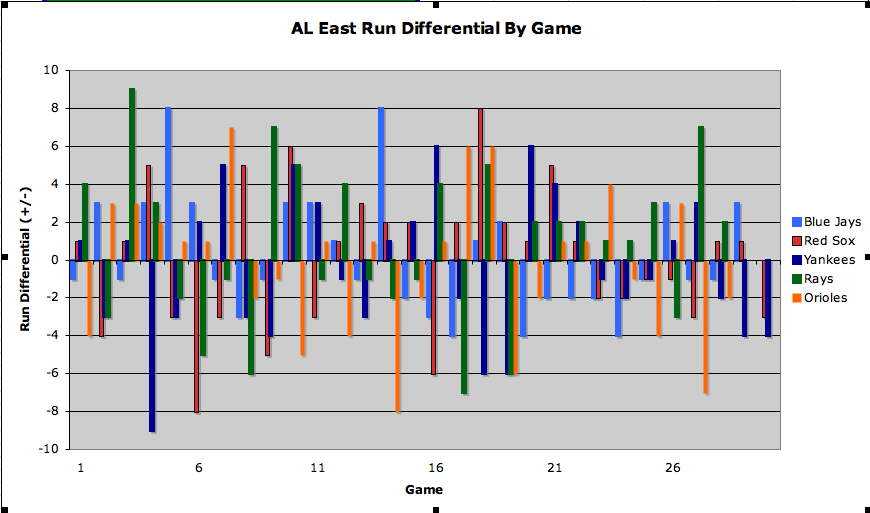 The Jays have been in disproportionately small number of blowouts, at least compared to the rest of the AL East, especially on the loss side of the ledger. If you squint a bit you can see that the Rays are all over the map, while the Orioles have been knocked around a lot. Each of the other four teams has had a very wide array of outcomes. The Jays, however, have been ever so consistently just not quite in the positive half of the graph. The Jays are the outlier here. But what does it all
mean
, for the Jays at least? Well, probably not a lot. First of all, its 29 games, so it wouldn't be prudent to draw a whole lot of conclusions, and who knows what run differential even means on a game by game basis. Then again, what would be the point of this if not to speculate?
If I had to say anything, I would say that it reflects on the success of the Jays pitching staff and the failure of their hitters - if you have great pitching and poor hitting then you are going to end up in a lot of close, low scoring ball games, which is what the Jays have done. While I think this explanation is a little simplistic, it gets to the heart of the issue. Looking a bit further, I would say that, at the risk of going too far over the deep end and being positive about the club (not very de rigeur at the moment, I know) I think that this illustrates that no, hope is not lost, especially if the team starts hitting. There has literally been not one of twenty-nine games so far that the Jays could not have won with a few extra runs. While they haven't
won
those close games so far, there is no reason to expect them to keep up their present atrocious record of 2 and 12 in games decided by 2 runs or less. The losing has been a bit ugly so far this year, but on a more broad note, I think that there are positives to be drawn from this first month, especially if the team does better in close games, the results of which are more a factor of luck than skill.
Just for the sake of comparison, the Red Sox are 4.5 games ahead of the Jays, with a slightly worse run differential. If you look at the above chart, the Sox have played almost as many close games as the Jays - 22 of their 30 games have been decided by 4 runs or less. The only difference is that they went 11-4 in games decided by 2 or fewer runs, compared to the Jays at 2-12. Those are the breaks I suppose, but if we believe that close game records are as much a function of luck/flukes as anything else, can we really say that the Red Sox really been a far superior team so far?
As Douglas Adams, and more recently Magpie said,
Don't Panic.