Bone and steel
Rictus grin
Angels of Anaheim 8, Jays 2
. The Angels hang 12 hits on A.J. Burnett to snap his winning streak at two games. No point talking about a game like that. Instead, I have two unrelated findings.
Finding #1: In a very small sample, Alex Rios has looked like himself since Cito Gaston took over

Before June 19, Alex Rios was hitting .270/.328/.372 in 314 PA. Since, he has hit .327/.362/.509 in 58 PA. Pretty big improvement. Rios has only had one other
remotely comparable stretch
this long in 2008. However, the sample size is still small enough that I'd hesitate to say conclusively that Cito and Gene have revived the Rios of old.
That said, the peripheral stats in that small sample suggest that Rios is hitting the ball with authority he hadn't shown in the first 11 weeks of this season.
Rios' struggles in the first 314 PA were due to at least two tangible problems: he was striking out more, and his groundball rate had shot up to where it had been in his offensively challenged 2004 and 2005 seasons. Under Gaston, Rios is still striking out a lot, but he has lowered his groundball rate and hit a lot of line drives:
| | | | | | | |
| --- | --- | --- | --- | --- | --- | --- |
| | GB% | LD% | FB% | BA | OBP | SLG |
| 2004 | 56.7 | 20.5 | 22.8 | .286 | .338 | .383 |
| 2005 | 48.8 | 19.7 | 31.4 | .262 | .306 | .397 |
| 2006 | 36.8 | 21.6 | 41.6 | .302 | .349 | .516 |
| 2007 | 35.8 | 20.1 | 44.1 | .297 | .354 | .498 |
| 08 Gibby | 48.0 | 20.9 | 31.1 | .270 | .328 | .372 |
| 08 Cito | 41.9 | 25.6 | 32.5 | .327 | .362 | .509 |
Obviously, no promises this is going to continue, but it's a heartening sign. I'm not expecting major miracles from Cito and company. I think the excitement about a new aggressive approach fixing the offense is somewhat overblown, though at least it should help decrease the probability of Rance Mulliniks shooting himself in the face anytime soon. But one thing I am holding out hope for is that Gaston's crew can help restore Rios' power. This is worth keeping an eye on. And so far, so good.
Finding #2: Dustin McGowan's ground balls are missing in action
Here's a graph of the starters' groundball percentages as a 5-start rolling average, starting from each pitcher's fifth start of 2008. Relief appearances don't count.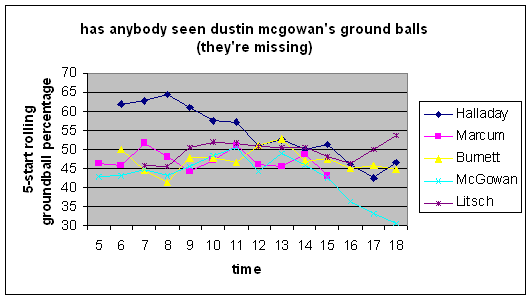 McGowan's GB% for the season is 41.4, down from 53.0 last year. That's the lowest GB% in the rotation, safely below Shaun Marcum's 45.3. Dustin. What. Until such time as the turquoise line goes back above the league average (44%-ish), you are the holder of the Shaun Marcum Memorial John McDonald Should Never Start Behind You Award, previously held by Shaun Marcum.
Which leads to the question - what's going on? I'd be curious to see whether McGowan's pitches have lost any movement this year. According to
Fangraphs
' fairly reliable pitch velocity stats, he's throwing all of his offspeed pitches almost 1 mph harder than he did in 2007. Could he be sacrificing movement for velocity? I doubt that is enough to account for the 12-point drop in groundball percentage on its own - given the variation in radar guns across the league, I'm not convinced McGowan is necessarily throwing harder at all in the first place - but it's still something I'd be interested in checking out. Maybe tomorrow.
Doc had been a bit of a sinking ship in the groundball department recently himself. Then he bulldozed the Mariners on Monday to partially restore order. I'm pretty confident Roy will be OK.
Today:
Roy looks to keep the beat going this evening, searching for win #10, but it's not going to be easy: his opponent is an absolutely unconscious
John Lackey
. Lackey missed the first month and a bit of this season with a right triceps strain, but he's come back with a vengeance. Lackey has a 1.44 ERA in 68.2 innings over 9 starts, to go with a 2.63 WPA, which is already second-best in the AL. (The leader, Cliff Lee, has a 3.84 in 16 starts. Doc's WPA is 2.23, fifth behind Lee, Lackey, Joe Saunders and Marcum.)
Lackey
looks kind of like
Takashi Saito
, if only Saito were more efficient and went seven innings in every appearance instead of one. Lots of sharp breaking balls with varied movement. Small platoon splits. Good luck.
The Cy race between Halladay, Lackey, Lee and Kazmir should be fascinating. Did I miss anyone? (Don't say Daisuke.) Ervin Santana? Duchscherer? Saunders? Marcum? Danks? Perhaps Beckett or Sabathia goes on a huge second-half surge? Perhaps a super-mega-darkhorse, like Matt Garza?
The awesome depth of pitching in the AL is one good reason to keep watching. Doc and Lackey, 10 pm tonight.