In a first time showdown of two first round picks making their major league debut on the mound, "Rockin' " Ricky Romero bested Rick Porcello in Thursday afternoon's 6-2 victory at the stadium formerly known as SkyDome.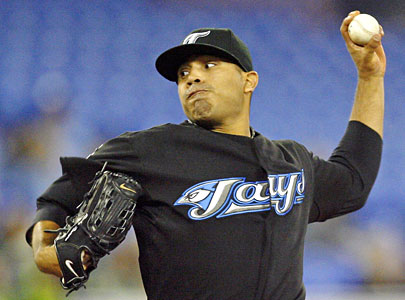 In the beginning, Ricky was on a roll! Get it? Hang on, I need a minute here! Aidez-moi! That is Comedy Gold, kids! Anyhoo, Romero faced just one batter over the minimum in the first two innings and got the first two men out in third. It was afterwards that things got rocky for Ricky. He gave up a homer to Curtis Granderson, a triple to Marcus Thames, and an RBI single to Magglio Ordonez. He yielded another single and then plunked Carlos Guillen but he managed to keep Brandon Inge in the infield (no mean feat in this series!) to strand the bases loaded. Clearly, Romero was never going to give it up - to the Tigers or anybody!
The lefty's adventures weren't over yet, though. In the fourth, Ramon Santiago tried to score from first on an Adam Everett double but Alex Rios shook off a ball to the noggin on Thames' triple earlier to execute a relay to Aaron Hill who fired the ball to home where Michael Barrett applied the tag on Santiago for the out.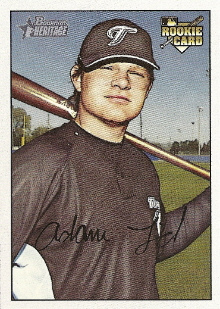 That finally sparked the offence in the next half inning as Barrett came up with a two-out single to score Jose Bautista. It takes a strong, strong man to put one over the fence and that's what Aaron Hill did to tie the game at 2-2. Then the offence erupted in the sixth as Adam Lind homered to put the Jays ahead 3-2 and that was followed by another Bautista single. That made Porcello cry for help to the Tigers bullpen. They didn't answer it! Travis Snider punked Nate Robertson in a battle of lefties with a two-out double to score Lyle Overbay. Snider then got to take a leisurely 180 foot jog to home plate when Marco "Scoo! Scoo!" Scutaro homered off righty Juan Rincon to make it 6-2. The bullpen moves weren't working for Tigers skipper Jim Leyland. He could've brought in Willie "Guillermo" Hernandez back from the 1984 time machine and it wouldn't have mattered!
That was pretty much it. Romero settled down again and induced his second ground ball double play to get him through six innings. Jesse Carlson worked two-thirds of an inning, Brandon League got the next four outs, and Scott Downs plunked a batter but also struck out the side in the process to end the game.
The Jays collected 13 hits and everybody save Rios and Vernon Wells had a hit. Lind had the good hat trick while Scutaro, Overbay, Bautista and Snider had a pair each. Hill and Barrett slacked off with one. Kidding! They both drove in a run as well.
The Batter's Box Jay of the Game is Ricky Romero. He made the Tigers bats look , shall we say ghastly (chuckle!), by allowing just two runs on seven hits, two walks and a hit batsmen over six innings. He struck out 5 and his groundout/flyout mark was 8-3. He threw 93 pitches, 59 for strikes.
Today, the 3-1 Jays hit the road as they visit the 0-3 Cleveland Indians for their home opener. We go from a battle of Ricks to a duel of Scotts in this one. It's Richmond versus Lewis at 4:05 p.m. EDT from Progressive Energy Field.
====================
In other TDIB notes..........
* The Angels and A's postpone Thursday's game in the wake of Nick Adenhart's death.
* Rays get another good pitching performance to beat the Red Sox 5-3.
* O's lose their first to the Yankees 11-2 as a former Jay gets the "W".
* Another former Jay gets the win as the Cards edge the Pirates 2-1.
* The M's stymie the Twins 2-0 thanks to someone whose first name begins with "J".
* The Red Rangers sweep the Tribe with a 12-8 victory.
* The Reds have their first win of '09 by beating the Mets 8-6 thanks to local boy Joey Votto.
* The Giants stomp the Brewers 7-1 but not before a Giants reliever was seriously injured.
* The Royals rally to beat the White Sox 2-1 in the Windy City.
* The Padres pull out a 4-3 win over the Dodgers at Petco.
* You might see hockey pucks at Fenway Park soon.
* A Pirates phenom makes good in his first pro game.
* The guys most likely to rear back and fire away today.
===================
Batter's Box would like to wish you and yours a safe and happy Easter holiday.