The Twins should be thankful they managed to take one out of four.
Roy Halladay
and the offence were nails as the Jays creamed the Twinkies
9-2 Thursday night
at the Metrodome.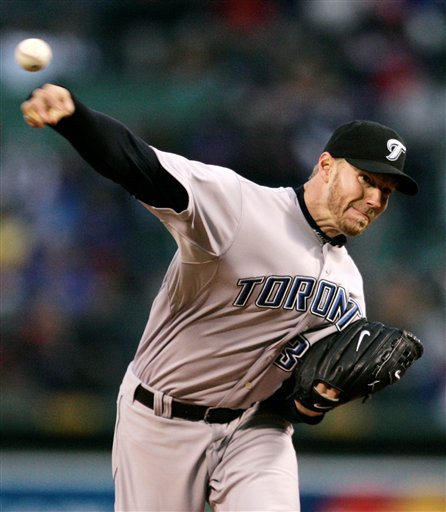 This game was actually a pitcher's duel for the first six innings and the Jays gave Halladay a 1-0 lead before he took to the mound. Marco Scutaro led off with a double against Francisco Liriano and came around to score when Alexei Casilla was given an error for dropping the relay throw after Aaron Hill flied out to right. Minny tied it in the second when Michael Cuddyer and Brian Buscher were on the corners thanks to a pair of singles but Halladay got three consecutive force outs on the ground to keep the damage at just one run.
Toronto took the lead again in the fifth when Jose Bautista hit a ground rule double to left-centre and Hill delivered him home with a two-out single to right. The Twins threatened in the home half of the fifth when Brendan Harris singled and Denard Span was plunked by an 0-2 curveball that he almost swung at. Cito Gaston came out to argue but Roy had everything under control. All he did was strike out Casilla swinging on a yellow hammer, got Justin Morneau on a high heater and Jason Kubel on the nastiest cutter I've seen since this guy.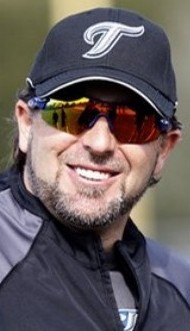 Halladay needed all of seven pitches to take care of the Twins in the sixth and the offence erupted with a converted touchdown in the seventh off the Minnesota pen. Scutaro sent a Matt Guerrier offering over the wall in left for a two-run dinger, Craig Breslow uncorked a wild pitch that led to another run and Kevin Millar kept the good times going with a grand salami against R.A. Dickey to left for his first ding dong as a Blue Jay. It only took four Twins relievers to get out of the inning.
Halladay overcame a long top of the seventh by getting three more outs before turning it over to lefty Bill Murphy in the eighth. Murphy served up a long ball to Cuddyer but Jason Frasor pitched a shutout ninth to end it. Doc gave up just one run on eight hits and plunked a man over seven innings. He had a sterling 8-0 K/BB mark, 11 groundouts and threw 74 strikes out of 101 pitches. That's pretty decadent as any major dude will tell you and he's our Batter's Box Jay of the Game.
Everybody had a hit save for Alex Rios, who endured another 0-for-5, and Scott Rolen but he had two walks. Hill led the hit parade again with three hits while Scutaro, Vernon Wells, Rod Barajas and Bautista had two safeties each. The Jays also drew five walks and racked up five two-out RBI.
Tonight, the Jays return home as lefty David Purcey goes against fellow southpaw Josh Outman and the Oakland A's at 7:07 p.m. EDT at the Rog Mahal.
===========
In other TDIB notes.....
* Cliff Lee picked a good time to regain his Cy Young form as the Tribe spank the Yanks 10-2 at the home opener at New Yankee Stadium.
* Rays strand the potential tying run at third in the ninth as they fell to the Pale Hose 3-2 at the Trop.
* Mets continue to struggle at Citi Field as they lose to the Padres 6-5.
* Cubs lose 7-4 to the Cards and should lose Milton Bradley for the next little while after he gets persnickety with the home plate ump.
* Nats Win! Nats Win! Nats knock off the Phils 8-2 to finally get in the win column. It must've been their new blue uniforms that did the trick.
* Marlins improve to 8-1 with a three game sweep of the Braves after a 6-2 victory.
* Astros rally from a pair of two-run deficits to double up the Bucs 6-3 at PNC Park.
* Finally, best wishes to former Blue Jay and current Boston Celtics general manager Danny Ainge, who is resting in hospital after suffering a heart attack.