Adam Lind had the big poke in a seven-run seventh to lift the Jays to a 10-6 win in Brett Cecil`s major league debut Tuesday afternoon at Rogers Centre.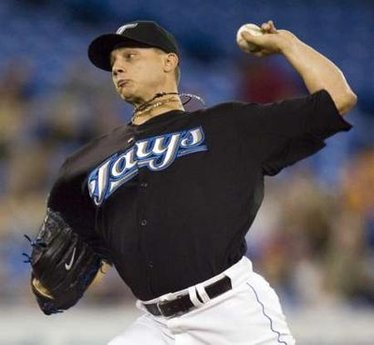 You had to like what you saw from Cecil if you're a Jays fan. It was even enough to make me overlook the fact he grew up as a Yankees fan! The young lefty had the adrenaline going into overdrive as his first two pitches to Grady Sizemore sailed well wide of the strike zone. However, Cecil struck out Sizemore with a slider to end a nine pitch at-bat in which Sizemore fouled off three fastballs he couldn't get around on. Cecil was throwing around 93-94 miles per hour with a lot of movement, overcoming a couple of singles to strike out Shin-Soo Choo swinging on a 93 MPH heater to end the first. The Jays tried to get to Indians starter Anthony Reyes in the first when Marco Scutaro singled but after Aaron Hill`s fly ball died at the warning track in left, Scutaro was thrown out trying to steal second after Alex Rios went down swinging.
Cecil`s second inning started off well as he got Jhonny Peralta swinging on another 86 MPH slider. He then plunked Matt LaPorta and he came around to score when Ben Francisco`s single to left was misplayed by Travis Snider. Francisco proceeded to steal third and Cecil then hit Kelly Shoppach with a pitch and the radio broadcast indicated the Indians catcher may have turned his elbow into the pitch. Regardless, Cecil should have been out of the inning when Lyle Overbay took a Sizemore groundout and fired to Scutaro at second to force Shoppach but a bad throw by Scutaro sailed over Overbay to allow Francisco to cross the plate with Cleveland`s second run. I don`t care if you can`t assume a double play would have been turned, Scooter should`ve had an error and that DP should`ve been turned. However, Raul Chavez gunned down Sizemore trying to steal second for the final out.
The Jays got one back in their half of the second when Adam Lind singled to left and he scored on an Overbay double that Sizemore nearly came up with at the center field wall. Cecil worked his first 1-2-3 frame in the third and the way he ended the third was simply awesome! After giving Mark DeRosa some chin music with a fastball, Cecil struck him out on a nasty slider that DeRosa just looked sick on. Cecil should`ve had another three-up, three-down frame but Aaron Hill dropped the ball on a pop up single by Jhonny Peralta and I thought Hill should`ve been given an error as the ball was in his glove before he dropped it. Still, Cecil rebounded by ringing up LaPorta on another silder and got a forceout to end the frame. Cecil plunked Shoppach a second time in the fifth and despite Shoppach`s threatening stare, he kept the Tribe off the board. He also overcame a single and a double in the sixth after inducing a 4-6-3 double play.
The Toronto offence did absolutely nothing as Reyes retired 10 in a row after Overbay`s double. However, Snider singled to left to lead off the sixth and Scutaro got aboard with a bunt single. Vernon Wells worked a walk to load the bases with two outs and Lind delivered with a single to centre past a diving Peralta to score Snider and Scutaro.
Just like that, Cecil was in line to savour the prospect of his first major league win. However, he`d see his efforts go right in the toilet. Jason Frasor got a groundout to start the seventh but allowed a Shoppach single and he gave away to lefty Jesse Carlson. He looked good Sunday against Baltimore but he didn`t have it against the Tribe as he yielded three straight singles against the lefty-hitting Sizemore and the switch-hitting Asdrubal Cabrera and Victor Martinez that tied the game at 3-3. Carlson finally got an out when he got a grounder back to the mound off DeRosa and fired to Chavez at home to force Sizemore but he uncorked a wild pitch to allow Shoppach to score the go-ahead run. After walking Choo, Carlson was relieved by Brian Wolfe and he was welcomed back to the bigs by Peralta`s two run single on the first pitch he threw. Wolfe finally ended the frame with a lineout to third but Cleveland scored four times to take a 6-3 lead.
Rafael Perez took to the mound for the Tribe in the seventh and he got a huge break when Overbay lined one off the mound and off Perez it appeared to allow Peralta to get to the ball and throw out the Jays first baseman. Just when it looked like a comeback wasn`t going to be cards after that setback, Chavez went the other way on a single to right and Snider also went to the opposite field with another base knock. Former Jay Vinnie Chulk relieved Perez and he came in with an ERA of 2.25 but an ugly K-BB total of 9-4. He hit the double digit mark in the BB column by walking Scutaro to load the bases and Hill singled up the gut to make it a 6-5 game. Jensen Lewis came in to face Rios and the Jays centerfielder fouled off three pitches before singling home Scutaro to tie the game at 6-6.
Lewis got Wells to fly out but Tribe manager Eric Wedge went to Tony Sipp for the lefty-lefty matchup against Lind. Sipp had given up just one hit and that was to Lind in his first five appearances in the bigs. That included an inning and a third of shutout ball Monday against the Jays. However, just like drinking coffee when it`s too hot, Sipp got burned as Lind launched one to the second deck for a three-run bomb to put the Jays ahead by three. Then Scott Rolen gave Sipp one to grow on by lining one over the wall in left to give the Jays a 10-6 lead.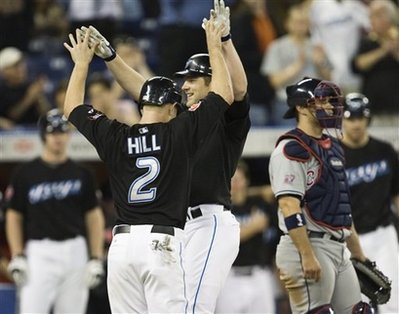 Wolfe gave up a leadoff single in the eighth but did strike out Shoppach to end his day on a good note. Scott Downs was nails again in preserving Wolfe`s win by giving up just one hit in getting the final five outs, including three K`s to give the Jays a split of this two game set against the Tribe.
Cecil gave up two runs (one earned) over six innings on six hits and three hit batsmen and posted an impressive K-BB mark of 6-0. Lind had the big day with three hits and five RBI while Scutaro reached base thrice with two singles and a walk. Snider also had a two-hit afternoon as part of the Jays 12-hit attack. Every starter reached base once and only Wells did not get a hit. More impressively, seven runs were scored with two outs as the Jays went 4-for-9 with runners in scoring position. The losing pitcher was poor Vinnie Chulk in his return to Toronto. The Jays are 3-2 against the Tribe so far this season compared to 1-6 last year.
===========================
In other TDIB Notes.........
* Let`s hear it again for Scott Richmond, your American League Rookie of the Month for April.
* Despite striking out his last eight hitters, Joba Chamberlain and the Yankees lose again to the Red Sox and also lose catcher Jorge Posada to the 15-day DL. The Red Sox also last Jacoby Ellsbury to a wonky hamstring. Meantime, A-Rod goes deep twice in an extended spring action.
* The Astros and Nationals see-saw affair was suspended due to rain after a 10-10 tie in the eleventh. Meantime, Astros ace Roy Oswalt has a sore digit.
* Milwaukee owner Mark Attanasio must have bought the Pittsburgh Pirates too because the Brewers continue to own the Bucs with their 17th straight win.