Brian Tallet clearly doesn't want to go back to the bullpen! The big lefty delivered seven superb innings as the Jays held off the Oakland A's 6-4 Saturday afternoon in the Golden State.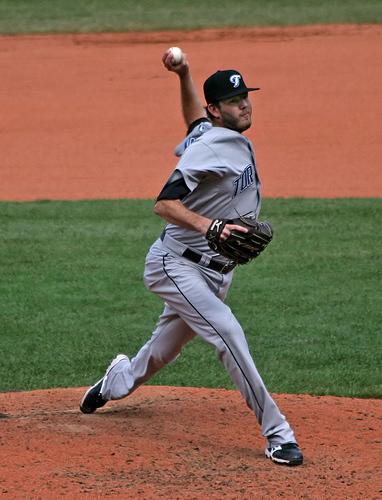 Tallet had a 1-0 lead to work with when he took to the mound as the Jays put together a two-out rally that was capped off by an RBI single from Adam Lind. That cashed in Alex Rios, who reached on a hit-by-pitch and then advanced to third on a Vernon Wells single. Lyle Overbay led off the second with a homer to right off A's starter Sean Gallagher. They had a chance to add to the lead when Travis Snider doubled and Marco Scutaro singled to put runners at second and third with one out but they were left stranded.
Toronto did get their third run in as many innings when Wells singled, stole second and came home on Lind's run-scoring double. They did strand a pair of runners in the fourth but they did score in the fifth when Jose Bautista singled, stole second and got to third when A's catcher Landon Powell chucked the ball away into center field. He came home on an Overbay sac fly to make it 4-0 Toronto.
Meantime, Tallet was just flat-out dealing! He scattered a pair of walks over the first two innings and a single in the fourth before he was victimized by a Jason Giambi blast over the right field fence in the seventh to put Oakland on the board. Tallet rebounded by getting the next three hitters in order. He did get a gift call from home plate umpire Paul Nauert when he rung up Matt Holliday on a 3-2 pitch that appeared to miss the plate. That led to Oakland skipper Bob Geren getting the heave-ho but he did keep Holliday from being tossed. Still, Nauert appeared to blow a call the previous half-inning when he called Snider out at the plate after he tried to score on a shallow fly to right off the bat of Marco Scutaro.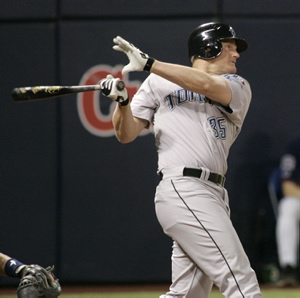 Toronto did add some badly needed insurance in the eighth when Overbay doubled home a Bautista single and he came in to score on a Scutaro single to make it 6-1. Jesse Carlson worked a one-hit eighth and turned the ball over to a rusty Scott Downs in the ninth. Not having worked since that awesome comeback win over Cleveland Tuesday afternoon, Downs yielded a two-run homer to Giambi and then loaded the bases on two singles and a walk. Adam Kennedy picked up his first hit as an Athletic to draw Oakland to within a pair of runs. However, Downs got Powell to foul out to right on the next pitch to seal the deal for the Fightin' Jays.
With 15 hits, the Jays should've got more than six runs but it was just enough to win on this day. Only Rios and Raul Chavez didn't get in on the hit parade. Scutaro and Wells had three hits each with Wells pilfering a bag. Overbay and Lind had two-hit afternoons and drove in five runs between them with Overbay getting three. Bautista also had a pair of safeties and a stolen base.
Pitching wise, Tallet gave up one run on two hits and two walks while averaging a K an inning over seven frames. He improves to 2-1 on the season and lowered his ERA a nickel below 5.00.
The Jays wrap up this five game road swing with another 4:05 p.m. EDT contest in Oakland. In a battle of lefties, Brett Cecil hopes to outduel Dallas "Ned" Braden like Ricky Romero did last month at the Rogers Centre. Cecil is hoping to get his first major league win and follow up on a solid debut against Cleveland this past Tuesday.
-----------------
In other TDIB notes.....
* The Tampa Bay Rays helped the 21-12 Jays get back into top spot in the A.L. East by hammering Boston 14-5 at Fenway.
* Baltimore beats up on the Yankees 12-5 at Camden Yards. Meantime, Joba Chamberlain expects to start against the O's today despite a sore thumb.
* Ryan Zimmerman's hit streak is up to 27 games after homering in his last at-bat and that helps the Nats beat the D'Backs 2-1.
* The power went out at Miller Park but not in the Brewers bats as they beat the Cubs again, 12-6.
------------
Finally, I want to wish my mom, my two sisters-in-law (one's expecting their first child this fall), my future mother-in-law and all awesome moms out there a Happy Mother's Day!!