Revvin' up my engine like a 747
Shiny lanky long and lean
What a scene

The Jays rocked the Boston Red Sox again, winning 5-3 Saturday afternoon at the Rogers Centre.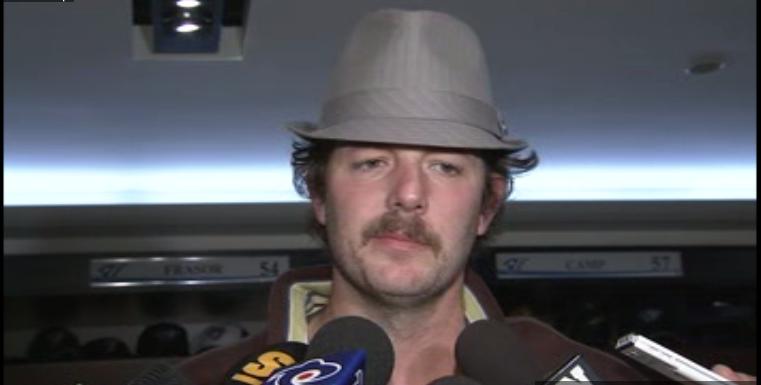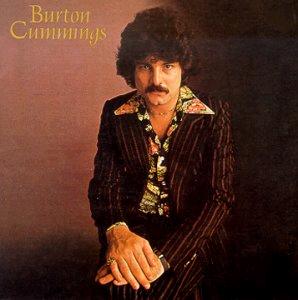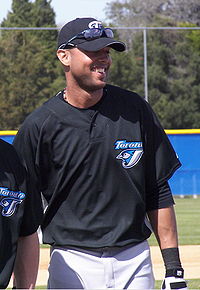 Before breaking this one down, the missus thinks Brian Tallet looks like Burton Cummings before he got um, shall we say, portly. What do you think, Bauxites?
Anyways, the Red Sox didn't break it to Tallet gently as they drew a couple of walks to set the table for Mike Lowell. He punched a two-out RBI single to right-centre to score Dustin Pedroia. Despite throwing 31 pitches, Tallet kept the damage to a single run. The Jays did get that one back in the home half of the first when Aaron Hill singled to right and advanced to second on a Rocco Baldelli clank. Hill came in to score on an Alex Rios single to left off Sox starter Brad Penny.
Baldelli atoned for his error in the top of the second when he sent one over the fence for a two-run shot to put the Beantowners ahead 3-1. Jason Varitek got aboard with a walk before the Baldelli blast over the Jays bullpen brigade in left. Tallet was almost up to 60 pitches at the end of two frames and it didn't look promising that'd he would be able to go much longer. The Birds tried to rally in their half of the second when Lyle Overbay doubled and Joe Inglett picked up his first hit of 2009 but Overbay was held up at third. They would be stranded when Marco Scutaro's grounder forced Inglett at second.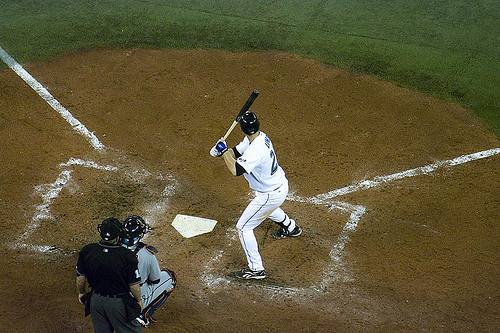 Toronto would cross the plate in the third when Rios doubled and came in to score on an Adam Lind base knock to the opposite field. Tallet found his own way to rock by setting down eight in a row before plunking Pedroia in the fifth. The big lefty promptly picked him off trying to steal second on a 1-3-6 play to end the inning. Tallet retired the Sox 1-2-3 in the sixth and Lind rewarded that effort by showing more opposite field power with a solo blast to left to tie the game at 3-3. The sixth also saw catcher Raul Chavez leave the game after singling and he was replaced by John McDonald but he was left on the basepaths. That meant Rod Barajas had to catch in the top of the seventh. No problem, "B.A." and "Wolverine" teamed up to work around a Nick Green double to keep the game tied heading into the seventh inning stretch.
The Jays would untie it when Marco Scutaro singled off "Razor" Ramon Ramirez and moved to second on a wild pitch. "Scooter" would come in to score on a Rios single and Vernon Wells would provide an insurance marker with a double to score Rios. After that, the Jays bullpen shut the door again in the final two innings as Brandon League retired the side in order in the eighth and Scott Downs survived a leadoff single by Mike Lowell and a couple of liners to right to nail down another save.
Despite some early control problems, Tallet saved his soul by going seven innings and allowing three runs on three hits, four walks and a hit batter while striking out six. Rios had a perfect day at the dish with a 4-for-4 effort which included two runs scored and two RBI. Lind had two hits, a walk and two RBI and Scutaro had a three-hit afternoon. The Jays totalled 14 hits on the day and the only starter not to get a safety was Jose Bautista, who went 0-for-4.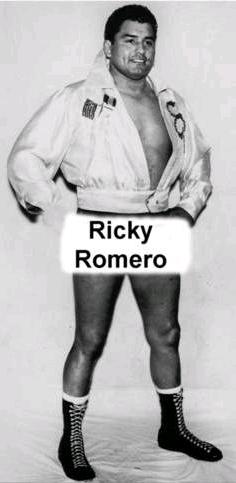 The Jays go for the sweep this afternoon as "Rapid" Ricky Romero hopes to body slam the Sox and fellow lefty Jon Lester at the Thunder Dome. First pitch is set for 1:07 p.m. EDT. Jordan Bastian has a piece on Vernon Wells as well as a preview of today's matchup. And, the Toronto Star's Richard Griffin talks to yesterday's winning pitcher, Brian Tallet.
In other TDIB Notes......
* CC clobbers Cleveland in his return to Ohio.
* David Price had a better than decent outing to earn his first major league win.
* Matt Wieters gets his first major league hit and you'll never guess how he got it. Still, the O's lose.
* The Rox are now 2-0 in the Jim Tracy era.
* The ex-ancient Mariner goes for a milestone today in the nation's capital.
* The Mariners hose the Halos in overtime.
* Speaking of OT, how about this NCAA game?