I paid my second ever visit to Manchester to catch the opener of a series between the New Hampshire Fisher Cats and the Erie Sea Wolves in AA action. Timing in life is everything. I missed a walk off win by the F-Cats the night before and this one was decided in the late going as well.
Marty McLeary returned from the disabled list to make his first start of the season. The 34 year-old, a former Padre and Pirate, was returning after a blood clot issue in his right shoulder. He went up against lefty Jon Kibler, the Tigers 19th ranked prospect according to Baseball America. Unfortunately, the radar gun on the scoreboard at Merchantsautostadium.com was not working and that really sucked. Anyways, here's my observations of what happened each inning.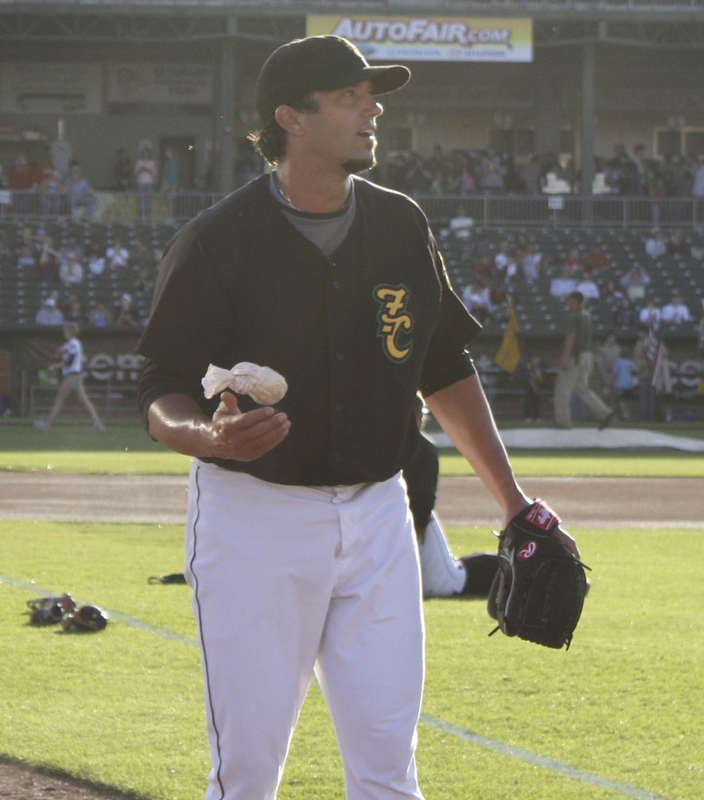 1st Inning - A nice start for McLeary as he whiffed the first and third batters of the game while Scott Campbell made a nice play at second for the second out as he had to come in on a grounder and contend with a broken bat to make the 4-3 play. The F-Cats also went down in order in their half of the frame.
2nd Inning - McLeary plunked the Tigers number 12 prospect Ryan Strieby before punching out the number 20 prospect Alex Avila. Michael Holliman produced a weak dribbler in front of home plate and catcher Brian Jeroloman attempted to throw out Strieby at second but his throw was off target and both runners were safe. He just didn't get a lot of mustard on the throw. However, right fielder Nick Gorneault made one of the best diving catches I've ever seen as he laid out to rob Cale Iorg, the Tigers number 3 prospect and son of former Jay Garth Iorg, of extra bases. McLeary ended the frame by punching out the Tigers number 27 prospect Danny Worth with what appeared to be a slider. The pitch certainly had some nice movement regardless. The F-Cats got their first hit of the game on a Brian Dopirak single but Gorneault hit into a double play to kill that inning.
3rd Inning - McLeary got the first two men of the inning and appeared to throw a changeup in getting a fly ball to left to get out number two. He did get a third out but not before Deik Scram scrambled one over the right field fence to give Erie a 1-0 lead. New Hampshire went down quietly in the inning.
4th Inning - McLeary walked the first two men of the inning and that drew a visit from the mound and that got lefty Rommie Lewis up and stirring in the Fisher Cats bullpen. However, McLeary bounced back by whiffing Holliman with the high heat and got his final batter on a fly out to center. Lewis came in from the pen to get the third out on a grounder to third.
At the plate, New Hampshire finally showed a pulse as former Ottawa Lynk Todd Donovan dropped one into center for a bloop single. Then we had some controversy. Scott Campbell hit one down the first base line that appeared to be foul. However, the umpire ruled it fair and Campbell had a double while pushing Donovan to third. Erie manager Tom Brookens came out to argue but it was to no avail. Brad Emaus could not bring anyone home after popping up to second. Then we had more controversy which came on a Brian Dopirak grounder to third. Donovan was apparently able to beat the throw to the plate from third and scored standing up but the Erie skipper came out to argue as he felt Avila tagged him at the plate. The game was tied at 1-1 but the Fisher Cats couldn't do anything more after Gorneault hit into another twin-killing to end the frame.
5th Inning - I managed to plunk myself down behind one of the Erie pitchers sitting behind home plate and managed to get some radar gun readings on Lewis. The former Orioles prospect rung up his first batter on a called strikeout with an 88 MPH heater. He only threw one slider at 83 during the six pitch at bat while his fastball ranged from 88-91. Lewis needed help from the defence for the second out as Gorneault made one of the best diving catches I've ever seen, part two. Once again, he laid out to rob Maxwell Leon of at least a two-bagger. Though he didn't have it with the stick on this night, Gorneault did bring his "gold glove" with him. The catches were Reed Johnson-like! Lewis retired the side in order by getting his second reverse K of the inning. Cody Haerther and Luis Sanchez both drew walks in the home half of the fifth but Haerther was erased on a fielder's choice so not a lot came out of that.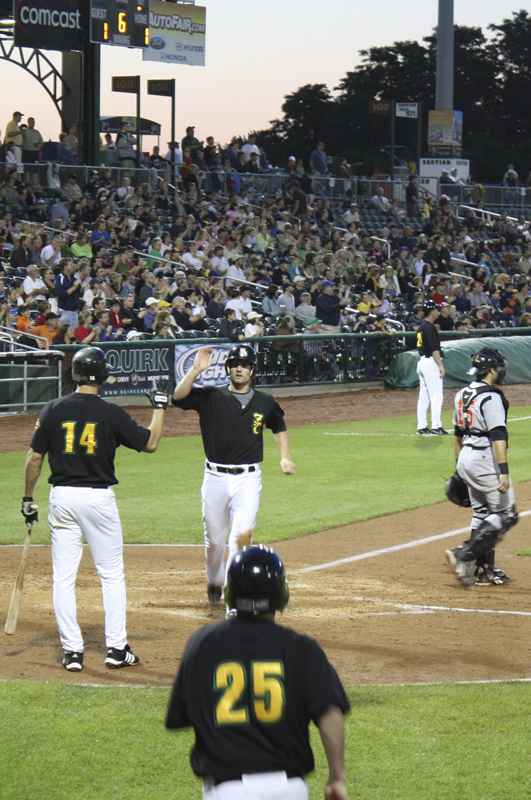 6th Inning - Lewis worked another three-up, three down frame with two fly balls and another punch out. The F-Cats responded by taking a 2-1 lead on a non-controversial double by Campbell as he spanked one to the gap in right field and one out later, he came home on a Dopirak double to center. However, Gorneault struck out and Haerther grounded out to first to strand "Big Brian".
7th Inning - Lewis continued to roll as he set down the side in order again and ended the frame with another K. Al Quintana led off the Fisher Cat seventh with a single and was advanced to second on a Jeroloman bunt. Sanchez flied out for the second out and that was the end of the night for the Erie starter Kibler. Jay Sborz came out of the Sea Wolves pen and rung up Donovan with a called third strike. Donovan argued with the home plate ump and manager Gary Cathcart prevented an ejection by getting Donovan away just in time because he was some kind of pissed!
8th Inning - Lefty Edgar Estanga nicely followed in the footsteps of Lewis with another 1-2-3 inning by whiffing two of the three men he faced. He rung up the first batter with a breaking ball for a swing and a miss. Sanchez showed nice range at short, moving to his right to throw out the second batter and Estanga threw what looked like a splitter to ring up his second swinging K. The F-Cats also went down in order at the plate as Sborz rung up two K's of his own in getting Campbell and Dopirak to go down swinging.
9th Inning - Sidearmer and Vancouver native Leon Boyd came in to try to lock it down for New Hampshire. Erie only managed one hit to this point but they quickly changed that against Boyd as he couldn't find the plate. He walked the leadoff man, Casper "Not Vernon" Wells on four pitches and didn't find the strike zone until his seventh pitch. Jeroloman came out to the mound for a visit and it seemed to work when Boyd rung up Strieby with a called third strike. However, Boyd walked another man and allowed a Holliman single to right that tied the game at 2-2. Boyd intentionally walked Iorg to load the bases and Worth proved his worth with a bloop single to plate the go-ahead run. A bloop single to right which Gorneault almost came up with cashed home Erie's fourth run. Boyd did whiff his final batter of the night before lefty Nate Starner needed all of one pitch to get the final hitter of the frame to line out to centre. That left the bases loaded but it didn't matter in the end because New Hampshire went down quickly and quietly in the ninth to cap off a come from ahead 4-2 loss. The Tigers number 8 prospect Cody Satterwhite picked up the save as the Cats were a disappointing 1-for-10 with runners in scoring position.
*** 3 Stars!!! ***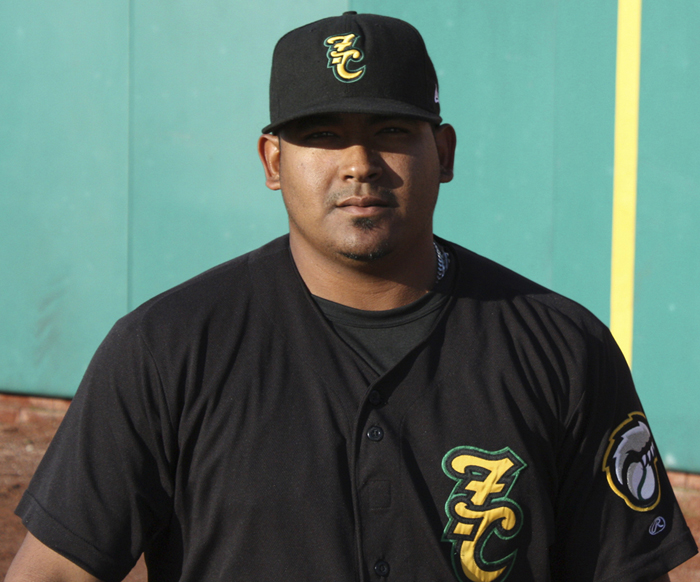 3. Edgar Estanga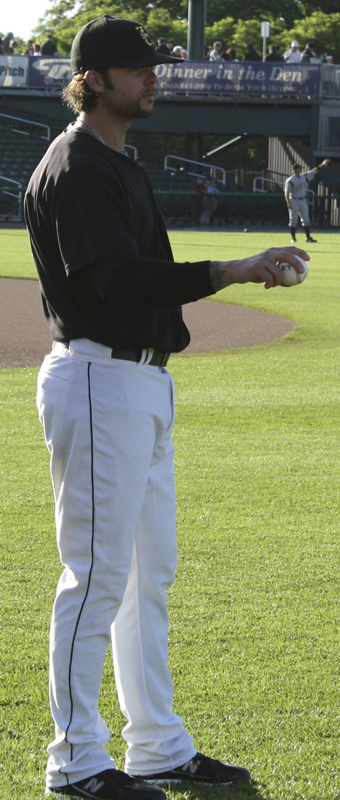 2. Brian Dopirak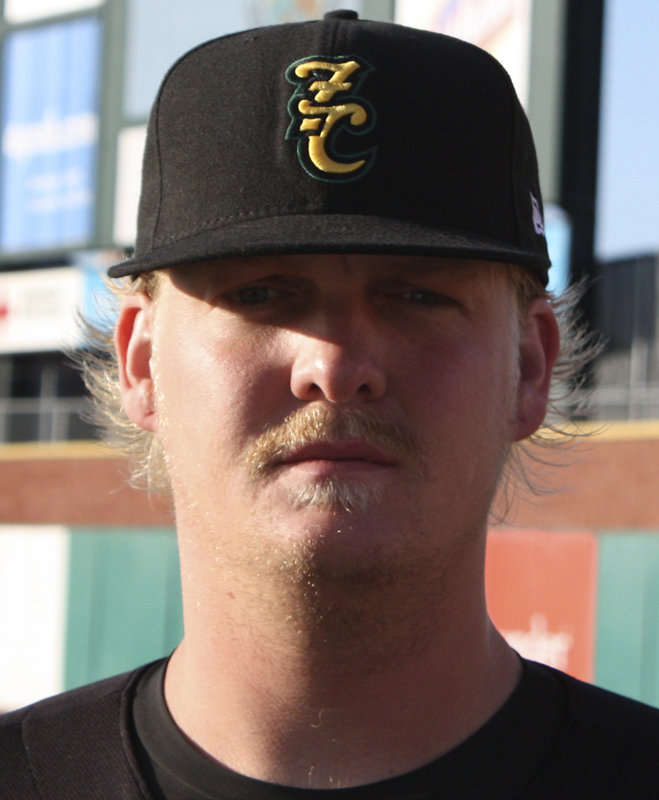 1. Rommie Lewis
Honourable Mentions - Scott Campbell, Marty McLeary, Nick Gorneault.
Special thanks to Rommie Lewis and Edgar Estanga for graciously allowing me to take their pictures before the game.