High and high in the sky
You make me feel like I can fly
So high

This Blue Jay's home run total for the month of September has already surpassed what he did before August 31st. He's the subject of our latest POTD.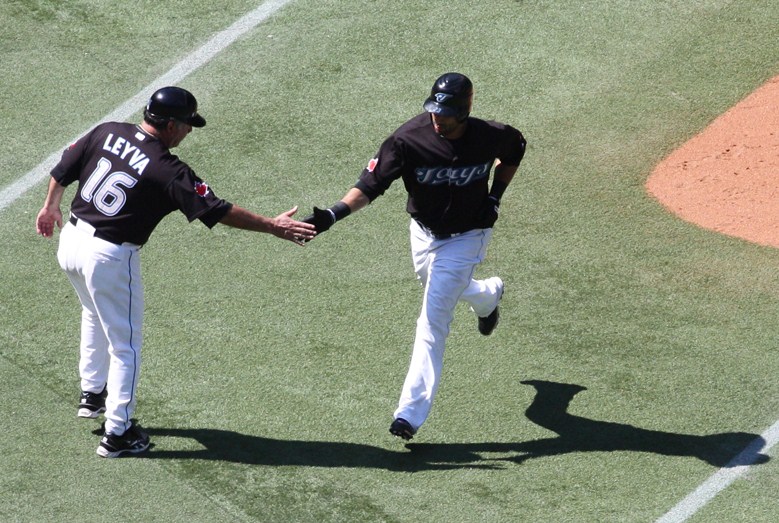 Jose Bautista is greeted by third base coach Nick Leyva after launching a solo home run against the Twins Scott Baker in the Jays 3-2 victory last Thursday afternoon at the Rogers Centre.
================================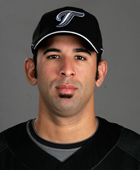 Bautista was 2-for-2 with a homer, a double and a walk in front of 11,400 fans that day. That's about one-sixth the amount of folks who attended the first of two Irish jigs at the R.C. Wednesday night. I'm proud to say I was there and I hope you too was just as lucky!!
After hitting 16, 15 and 15 homers the previous three seasons spent mostly with Pittsburgh, Bautista's power stroke has been missing for most of '09. He had three dingers for the entire season until the calendar flipped over to September 1st. Since then, the 28 year-old Dominican has gone deep four times. Bautista's home run in last night's loss to the Yankees has lifted his OPS to 1.080 this month but his overall batting line this season is .227/.361/.364 with seven homers and 24 RBI. The right-handed hitter has slugged .491 against lefties but only .276 against righties.
Turning 29 next month, Bautista's playing out the string on a one-year deal worth $2.4-million dollars. Will this September power surge convince management to bring him back for 2010?
Bautista will face one of his former teams as the Jays begin a weekend series in Tampa Bay. Your probable starters are Richmond-Shields Friday at 7:38 p.m., Romero-Garza Saturday at 7:08 p.m. and Halladay-Price Sunday at 1:38 p.m.