Tom Signore is the pitching coach for your New Hampshire Fisher Cats. This is Signore's second season with New Hampshire having previously worked with the Lansing Lugnuts and the Auburn Doubledays.
BB: Let's start with tonights starter, Bobby Bell. What is the plan for him tonight?
TS: We will go anywhere from 60-70 pitches depending on how he feels. His side sessions went well, we had a simulated game and live BP with hitters in there so I think he is ready to go.
BB: Why was he out?
TS: He had a little shoulder tenderness it wasn't anything major.
BB: Bell was one of the guys who had a slow start but before he was injured he seemed to be figuring it out. what does he have to do to get to AAA?
TS: Figure it out is a perfect term for what it is. The pitchers have to take their stuff and use it to figure out what it takes to get hitters out at each level and he had an outstanding outing before he went on the DL. He went seven strong innings, about 85 pitches, and so much to my chagrin I come in the next day to hear him saying he had a little shoulder tenderness. It was a little disappointing coming off that outing. I think what was helping him was working quickly, and he has to work quickly to be effective. He is not going to overpower you with anything, he is going to throw a variety of pitches at you and he is going to have to keep hitters off balance, he is going to have to keep hitters off base. he is going to have to use the strike zone vertically. He is going to have to miss (the strike zone) on purpose and not by four feet but by four inches to be an effective pitcher.
BB: As a reliever he could get by on fastball, change-up but as a starter what is his third or fourth pitch?
TS: He has a two-seam and a four-seam fastball, a curveball and a slider. I like the slider better right now because he is more consistent with it, and he has always had a very good change-up, as you know.
BB: So he sounds a lot like Randy Boone, lots of pitches that he needs to use in the right sequence and at the right time to be successful.
TS: Absolutely.
BB: With Randy (Boone) was there a difference between the 2009 Randy and the 2010 Randy, because before he got injured he was pitching better than last season?
TS: We raised his arm slot, maybe 10 degrees, so there was more downhill plane on his pitches which allowed the hitters just to see the top of the ball and you could see the difference. His command has always been a strong point, he has great feel. It was unfortunate he got hurt, he has a high and a low ankle sprain, it will probably be a while before we see Randy out here pitching again.
BB: Last nights starter, Ronald Uviedo, is new to the organization. Had you seen him before?
TS: I saw him pitch in spring training. He was a throw the arm out and pitch around the tree kind of a guy (note: a side-armer). We changed him a little bit to take advantage of his arm strength and he shown some great aptitude. So we have him more upright on the back side and consequently he threw a couple of 93's up there last night and flashed a few good sliders and I was very impressed again, for the third time, with his change-up. He has something to work with, he is an interesting, intriguing guy.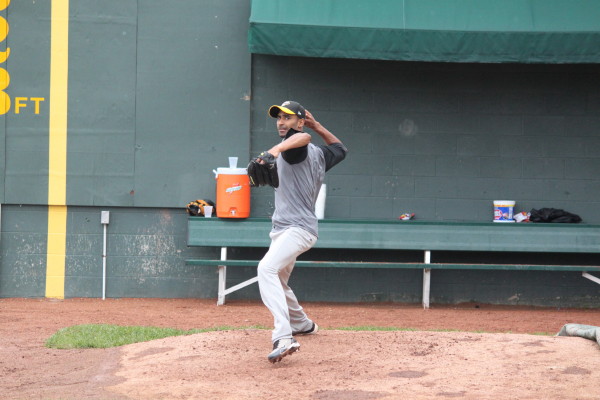 BB: Does he profile as a major league reliever?
TS: I think so but let's wait and see. If three pitches become viable then he has a chance to start.
BB: Speaking of relievers last season you told me that you felt Luis Perez would be best suited to be a reliever. Do you still believe that?
TS: I still believe he would be an outstanding relief pitcher.
BB: Is he the same pitcher in 2010 as he was in 2009?
TS: Yeah he is quite frankly, he is not much different. We are trying to get him a harder breaking ball and it's there, he just doesn't have that confidence to break it out. It might be a deal where we force him to throw it. But he has been good again last time out, he didn't get the victory but he pitched a complete game for us.
BB: Zach Stewart had a slow start, you held him out, and since then he has pitched a lot better. What is his key to getting to AAA?
TS: The key for him will be to not get too fast with his delivery. In fact that is why we skipped his start, it wasn't anything physical we just wanted to work on his mechanics. He was getting into a delivery where his leg was a kick instead of a lift. The kick was throwing his body out of balance and throwing him offline towards home plate so consequently he was missing with a lot of pitches up and in the middle of the strike zone. He has such good feel that even with those errors in his delivery he was able to throw the ball in the middle of the strike zone, just not quality pitches at the bottom of the strike zone. One other thing we want is that he can run it up there to 95 and we want him to elevate his pitches at times to hitters about a ball and a half above the belly button because he will get those checked swings. He has a nice hard slider and we are fooling around with a curveball that he seems to have a feel for, and Dane Johsnon was in Akron and we worked hard on coming up with a change-up that will be comfortable for him. I look forward to seeing what Zach Stewart looks like in two years, I think he is a special kid.
BB: Kyle Drabek, what have you seen in him?
TS: Absolutely blessed with three plus pitches in my opinion. When his delivery is good he can pitch anywhere on the planet. When he gets away from the rubber too quickly he becomes average at this level. He has been around 70% with his delivery and the stuff has always been good. His curveball is a plus pitch, he has done a nice job working on his two seam fastball. We need to get consistency out of that change-up and he is really starting to get a feel for it.
BB: Chuck Huggins was only here for two starts, is he like Bell and Boone that need to have all his pitches working in the right spots to be effective?
TS: He does and he is another guy who likes to work quickly. He loves to work quickly and you have to have a catcher who is willing to work like that. Chuck's first start was in the first game of a double header and he pitched five and a third innings, he was effective, he pitched to both sides of the plate, he is not going to overpower you so he does have to be pretty precise and he is a very intelligent young man. He will be back.
BB: How would you rate his curveball?
TS: I like it. He thinks his change-up is his best pitch and it might be but his curveball will be more effective, especially if he throws it for strikes.
BB: Trystan Magnuson has been very effective for you. He throws downhill and gets the hitters to pound the ball into the ground, is that him?
TS: Yes and I think it's the tenacity he is going after hitters with. He is not pussy-footing around he is getting right after hitters, using both sides of the plate, he has a good cutter. A slider is his breaking pitch and he has an unconventional change-up that does dive and it has become a nice out pitch for him. He is doing everything we ask of him.
BB: Does he need to do anything different to get AAA hitters out?
TS: No, he can pitch in AAA.
BB: Same question for Tim Collins. For him to succeed in AAA does he need to do anything different?
TS: No. Hitters are even sitting fastball in this league and they can't catch up to it, it's fun to watch.
BB: Boomer Potts, is he capable of being a lefty specialist?
TS: That's what I think he will be, but here we use him differently. If he is going to push ahead that will be his forte, a left handed specialist.
BB: Finally Danny Farquhar, walking too many guys, why?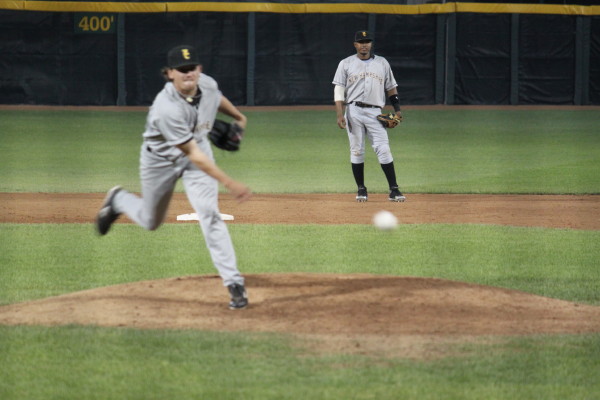 TS: Special guy, trying to be too perfect. I think he has had a lot of praise heaped on him, I think he is trying to live up to that praise. He is still leading the league in saves, he is leading in appearances, he is a resilient guy. I think he puts too much pressure on himself to be perfect, he doesn't need to be, his stuff moves, he can throw the ball down the middle and let it run to the edges. And that's why we are trying to push him, Danny you don't have to be perfect.
Batters Box thanks Tom Signore for his time.