I caught up with Sal Fasano ten days ago in Lansing. I previously talked with Sal
in May
. The Lugnuts are battling for a play-off spot and the team has turned over some players since May. I talked with Sal mostly about the new guys.
BB: Since I was last here you have some new players. What have you seen in Jake Marisnick since he has been here?
SF: Well you can see why the organization drafted him so high. I think he is a kid who has a tremendous upside. He is a six foot five guy who can run, he has a little bit of power and that's going to be developed. He has no fear and really good baseball instincts, I am pretty happy with what I have seen of him so far.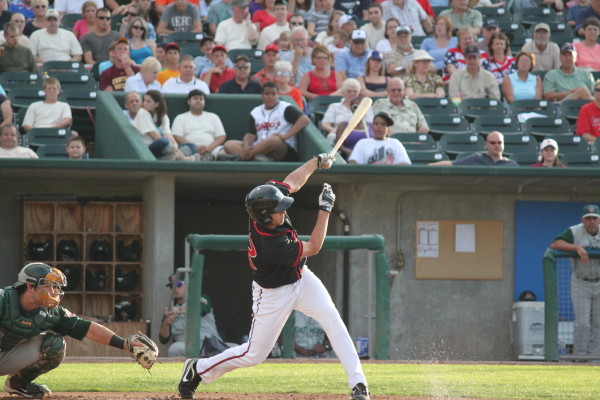 BB: Do you think it is tough on these guys to jump two levels or is there not much difference between going to Auburn and coming here?
SF: Well for a few guys it might be, but for a guy who has good baseball instincts I don't think it should be an issue at all because the game is still the same. I think a guy like Jake will make an easy transition, he might scuffle a little bit with the bat but defensively he is going to be great. Give him 50 to 100 at-bats and see what he can do.
BB: Another outfielder you got was Michael Crouse, what have you seen in him so far?
SF: Mike's really raw and I think he has really good upside to him. He's really strong, a lot stronger than you think seeing him because he is really tall and lanky. He is one of those guys that has a little bit of power and he has a chance to be dangerous later in his career, once he learns how to hit. I think he is not as refined as Jake is offensively but he knows how to utilize his talents probably a little bit more than someone his age. I think he is still a work in progress, maybe 1500 at-bats away from where he needs to be. That's three years down the road, he will be right on time when he gets to the big leagues.
BB: You only saw Drew Hutchison in one start so far so let me ask you why was he successful?
SF: For a kid who is 19 years old to throw a change-up that goes straight down already, that's a plus and it is something we try and develop with all our pitchers. He has a natural gift for it so when he throws his change-up he has good action on it, good arm-speed, and he can throw it in any count. And like I said for someone his age that is way beyond his years. Hopefully the change-up will continue to progress because it's a plus-plus pitch right now. And his breaking ball is good and he is not afraid to throw any pitch in any situation so I think he has a really good head on his shoulders and he doesn't have any fear.
BB: Kevin Ahrens has come down from Dunedin, stopped switch hitting and after an initial struggle has been hitting well recently. Does it take time to get used to hitting from only one side?
SF: I think so. The one thing we talked with Kevin about was not trying to be someone he is not. He has had to learn himself. A lot of guys in his situation don't get an opportunity to truly blossom into the player they need to be. And it looks like since he came down he has taken the strides, asked the right questions, done the right things to get himself on track to be Kevin Ahrens. Once he learns himself he will be able to blossom even more.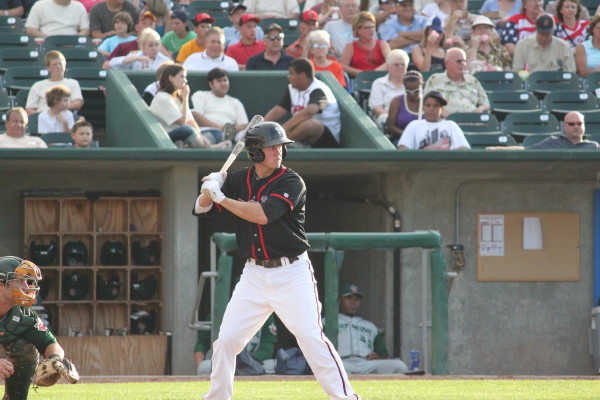 BB: What do you think he is not? Was he trying to be too much of a power hitter?
SF: I just don't think he knew what he wanted to be honest with you. I think he was lost, he was trying to do what everyone told him to do. He is a very coachable kid, he didn't have an identity and sometimes it is hard for someone who doesn't have an identity, no matter what we saw, no matter what we teach. Still the old saying in baseball, know thyself.
BB: What are you trying to get Justin Jackson to do here, now that he is back?
SF: I think the biggest thing is that when you put him at this level he has a chance to play with guys his own age. He does have a couple of years experience of pro ball. With Justin it's the same kind of thing as Kevin, for some guys it clicks sooner than others. Justin has a few more flaws than Kevin probably has. Sometimes he gets a little bit tentative to let go of those things, but when he lets go of them, you see it. When you work one-on-one with him you see his natural talent blossom so it's how can I get him to do it in practice and how can I get him to keep it for the game.
BB: The final question is about a guy who has been here all year, Kenny Wilson. In May he seemed to be getting the switch hitting but his results recently haven't been great.
SF: He has made some good progress. Sometimes we always want to see fruits from our labour right away and he wasn't getting a lot of fruits, that being the base hits. But the hard contact on the ground was first and foremost, it didn't matter what he hit as long as he was making hard contact on the ground the other way with the switch-hitting and he could let he speed take off. Kenny is still a little bit away when it comes to that because he is starting to get the hard contact but he has trouble getting out of the box and using his speed. So that is still a work in progress and we forget he is only 20 years old. I think we need to stick with the experiment a little bit longer because he is a guy who has really good speed and you hate to have him not use it from the left side.
-----------------------------
Batters Box thanks Sal Fasano and good luck on making the playoffs.