I feel asleep just after the third inning of Saturday's game when neither team scored a run. After I woke up, 14 runs had been scored. Unfortunately, 13 of them were scored by Tampa Bay in a 13-1 shellacking at Ted's Shed.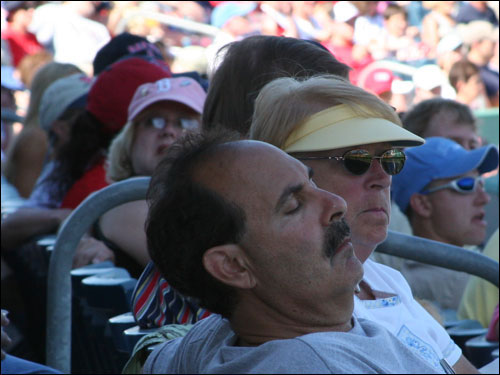 This guy could almost pass for Rance Mulliniks!
It was not like the last time the two teams played on a Saturday afternoon in Toronto.Of course, the last time these two teams played on a Saturday saw J.P. Arencibia make the debut of all major league debuts with four hits, including two homers, as the Jays outslugged the Rays 17-11. It was a day that also featured a promising beginning for "Strasburg Canada", Brad Mills before he was roughed up in the fifth inning that day and wound up with a no decision. It was not a banner day for either of them or anyone wearing Blue Jay blue.
Ricky Romero looked as bad in the fourth inning as those white and red caps with the black jerseys yesterday. After three scoreless innings, he was roughed up for six runs in the fourth as he surrendered a grand salami to the left-handed hitting Brad "Hip" Hawpe. That move made Rays skipper Joe Maddon look like a genius because he had a hunch about Hawpe being successful against Romero. In all, Romero gave up three hits and three walks while striking out seven but no pizza for you! Mills allowed three runs on three hits and two walks over three frames but struck out three. Rommie Lewis lasted of all one-third of an inning as he was slapped around for four runs that included a two-run homer by Kelly Shoppach. He gave up four hits and a walk and did not strike out anybody. Capping off an all-lefties day on the hill, David Purcey was the Cy Young of the bunch with 1 2/3 scoreless and hitless frames with three K's and one walk. Of the nine outs in play, just one was on the ground and that was induced by Lewis.
Lyle Overbay got one run back as he belted a solo shot in the bottom half of the fourth but he wound up striking out with the bases loaded later in the game and that killed any flickering hopes of a comeback like Friday's seven run rally. Yunel Escobar had a double and two singles as he was the only Jays who reached base more than once. Vernon Wells, Aaron Hill and Travis Snider all had singles while Fred Lewis. Adam Lind and Jose Bautista drew the lone walks. You know the game was going bad when the bench was emptied as Jarrett Hoffpauir, John McDonald, Mike McCoy and Arencibia all saw action. McCoy and Arencibia were each 0-for-1.
This afternoon, it's Shaun Marcum (12-7, 3.55) on the hill for the Jays as they try to avoid the sweep. Jeff "Hello" Niemann (10-6, 4.28) is on the bump for Tampa.
---
In other MLB happenings.....