The POTD takes a look at a two-time Blue Jay celebrating his 33rd birthday today.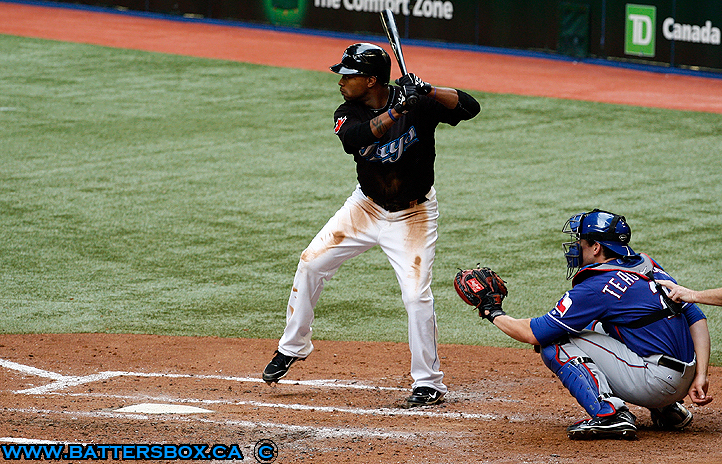 Dewayne Wise at the plate against Texas at the Dome September 6. Taylor Teagarden is behind the plate for the Rangers.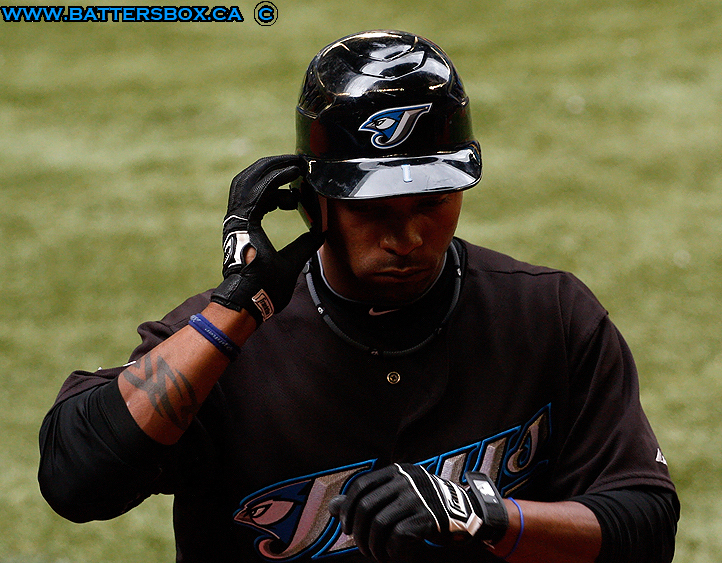 Wise returned to the Jays after signing a minor league deal June 5. Before that, he spent the first part of 2010 with Lehigh Valley, Philadelphia's Triple-A affiliate.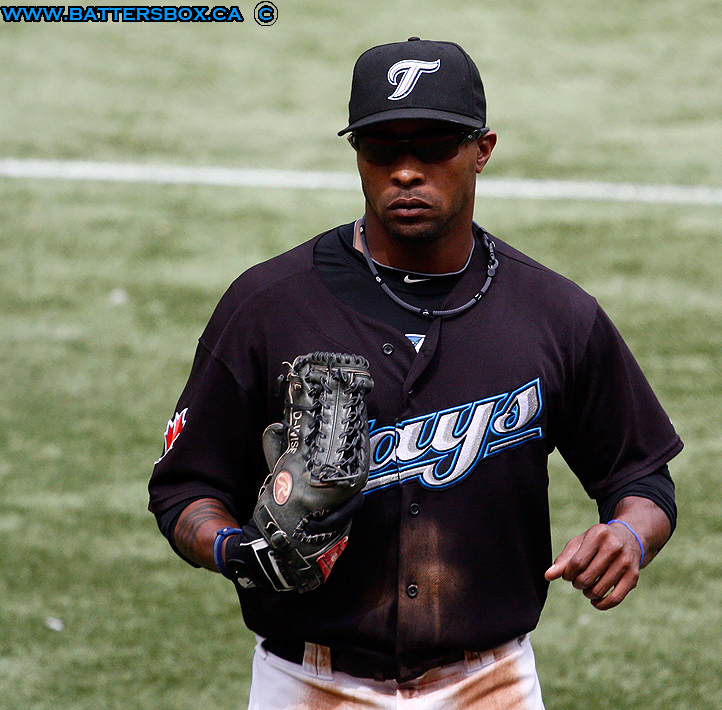 Wise saw his first major league action of 2010 on June 10 and made an immediate impact with the Jays. Pinch-running for Adam Lind in the eighth inning, Wise scored the winning run on a close play at the plate. He came home on a sacrifice fly by Alex Gonzalez to give the Jays a 3-2 win in Tampa Bay.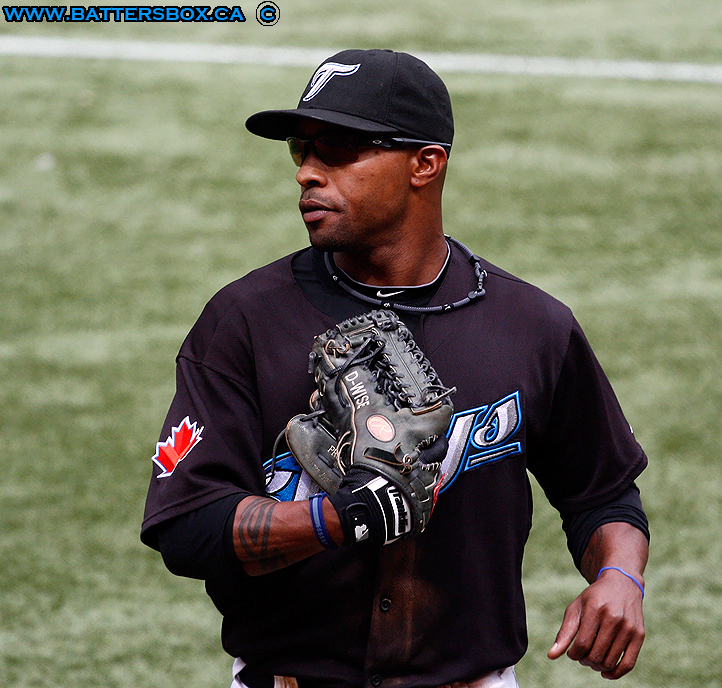 Wise got his first start of the season in left field at Petco Park in San Diego June 14. He went 2-for-5 with a double and a run scored in the Jays 6-3 win over the Padres.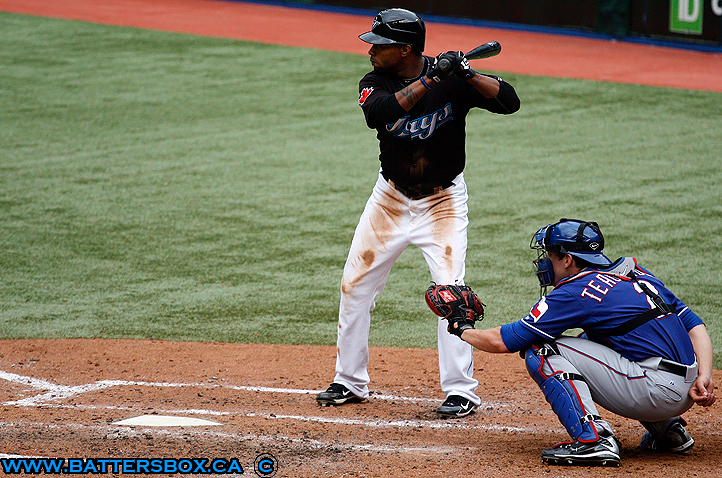 Wise's best game of 2010 came on the fourth of July at Yankee Stadium. He hit a three-run home run off Phil Hughes and singled home a game-tying run off Mariano Rivera in the ninth. However, the Jays would lose the game in extra innings. Two days before, Wise hit a bases loaded triple off Chan Ho Park in the eleventh inning as the Jays downed the Yankees 6-1.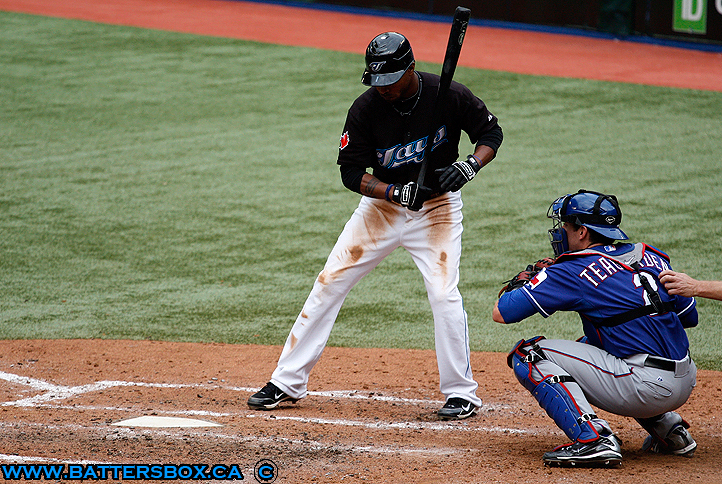 Wise hit his lone home run in Toronto July 6 off Carl Pavano of the Minnesota Twins. Unfortunately, that also came in a losing effort as current Jay Jon Rauch got the save in a 7-6 victory.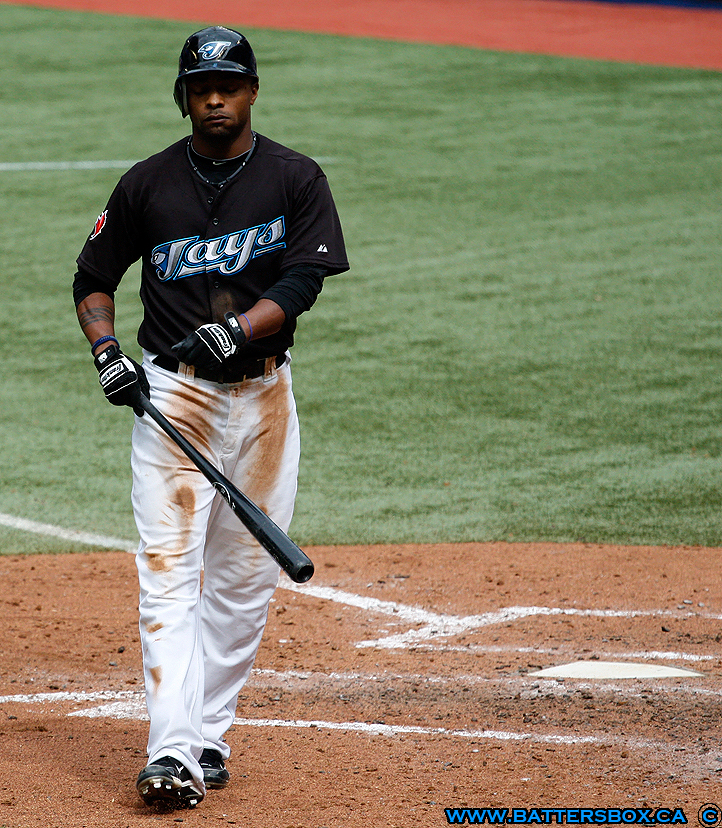 Wise's best series was at Comerica Park in Detroit July 22-25 when he collected seven hits in four games, including a home run, a double and a triple as the Jays emerged with a four game split.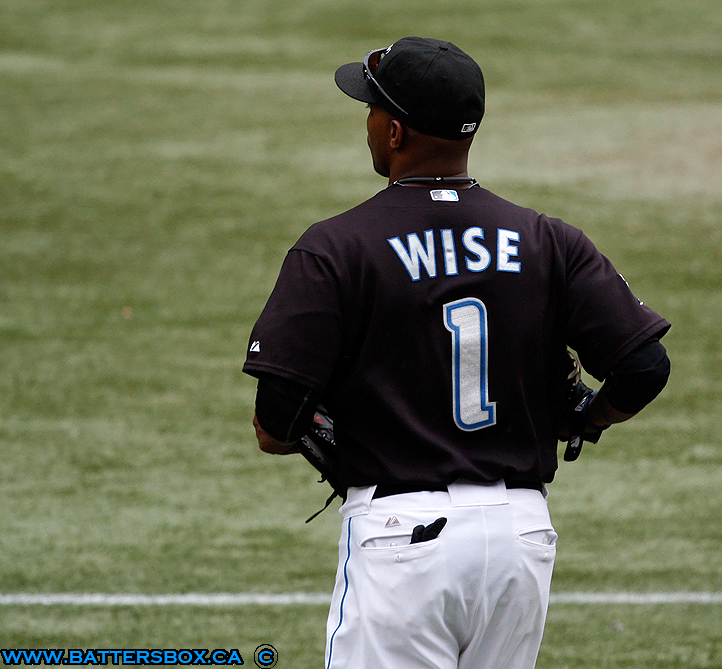 Wise enjoyed his second three-hit game of the season in Tampa Bay August 31 as he drove in a pair of runs and stole a base (ending the season 4-for-4 in that department) as the Jays routed the Rays 13-5.


Wise shown on JaysVision during the September 6 contest against the Rangers. He singled and scored on a Vernon Wells home run as the Jays downed the Rangers 7-2. This game was part of Wise's season-high five game hitting streak.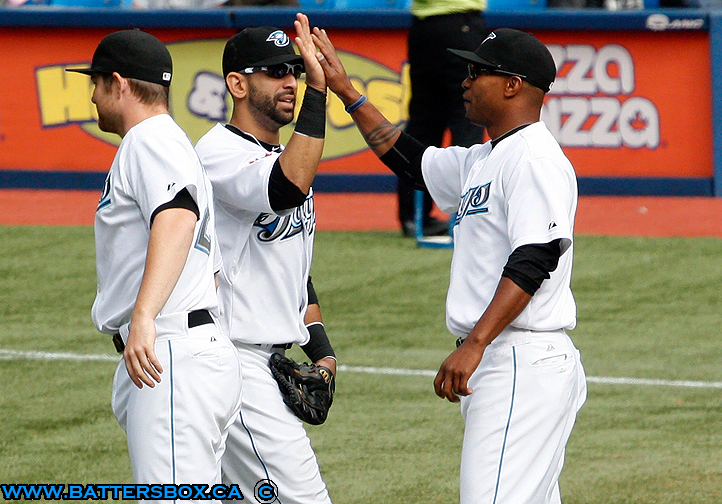 Wise high-fives Jose Bautista as the Jays celebrate a 1-0 win over Seattle September 23. Adam Lind is to Bautista's left. Wise ended the 2010 campaign by hitting .250/.282/.393 with three doubles, two triples, three home runs and 14 runs batted in over 52 games. He made just three errors while playing all three outfield positions.
---
Larry Dewayne Wise
was selected in the fifth round of the 1997 amateur draft by Cincinnati after playing high school ball in Chapin, South Carolina. The Colombia, SC native made his minor league debut later that year at the Rookie level in Billings and showed plenty of potential with a .313 batting average, 13 doubles, nine triples, seven homers, 41 RBI and 18 stolen bases. That earned Wise a spot in the Pioneer League All-Star game. He struggled in 1998 with Burlington of the Low-A Midwest League by hitting just .224 but he improved in his second go-around at the MWL with Rockford by batting .253 with 20 doubles, 13 triples, 11 homers, 81 RBI and 35 stolen bases. That performance caught the eye of the Jays, who selected Wise in the Rule 5 draft in 1999.
Wise made his major league debut with the Jays April 6, 2000 at the Dome against Kansas City. He scored as a pinch-runner in his second home game April 9 against Texas and his first hit came at home against Seattle's John Halama April 15. The 5-foot-11 outfielder hit just .136 in 28 appearances, drawing one walk and stealing a base. Wise did see some playing time with Double-A Tennessee in 2000 by batting .250/.333/.518 with two homers and 18 RBI in 15 games. He spent all of 2001 in the minors with the majority of his playing time coming with Tennessee but hit just .239 with eight homers and 44 RBI along with 13 stolen bases. He also spent time with Single-A Dunedin and Triple-A Syracuse that season.
Wise had a much better season with the Tennessee Smokies in 2002 when he batted. 297/.350/.471 with 10 homers, 49 RBI and 15 steals. He not only made the Southern League All-Star game, he wound up winning the game's MVP award. Wise made his return to Toronto July 18 and earned his first major league RBI July 21 at home against Tampa Bay. The left-handed hitting outfielder belted his first home run against the Orioles Travis Driskill at Camden Yards July 24. Wise had a pair of two-hit, three-RBI games in Kansas City July 31 and in Chicago August 26 against the White Sox. His second and third homers of the year would come at home in back to back appearances against Baltimore August 5 and Seattle August 7. He ended the year hitting .179/.207/.313 with three homers, 13 RBI and was 5-for-5 in stealing bases in 42 contests. The 2003 season saw Wise stuck in Syracuse as he struggled to a .218 batting average with 10 homers, 37 RBI and 11 steals. That would end his first tour of duty with the Jays organization.
Wise went to Atlanta in 2004 and saw action in 77 games, hitting a career high six homers while batting .228 and slugging .444. He also got to experience his first taste of post-season play by collecting a double in five at bats but the Braves fell to Houston in the NLDS in five games. In 2005, Wise went to Detroit on waivers and spent the entire season at Triple-A Toledo. He returned to the team that drafted him, the Cincinnati Reds, in 2006 but only saw limited action with the Reds over the next two years as he hit just .186 over 36 games.
The 2008 and 2009 seasons were much kinder to Wise as he hooked up with the Chicago White Sox. He hit. 248, slugged. 450 and matched his career high six homers in 2008 while driving in a career best 18 RBI and going 9-for-9 in the stolen base department. Wise's biggest contribution to the White Sox American League Central Division title drive came September 14 when he hit a grand slam against Detroit. In his second trip to the playoffs, Wise batted. 286 with a homer, a double, five RBI and a stolen base but it wasn't enough as Chicago lost the ALDS to Tampa Bay in three straight games. In 2009, Wise was the Opening Day center fielder and leadoff hitter for the White Sox but he injured his shoulder on a diving catch. Despite hitting just .225 in 84 games, Wise earned folk hero status by making a leaping catch against the outfield wall to rob Tampa Bay's Gabe Kapler of a home run in the ninth inning to preserve Mark Buehrle's perfect game July 23 at U.S. Cellular Field.
Wise, who also wore #55 and #16 with the Jays, signed a minor league deal with the Florida Marlins last month. A career .222 hitter who has stolen 29 bases in 35 tries, Wise hopes to be reunited with former Jays catcher John Buck in 2011. If you like to check out more photos of Wise, click here.