Sportsnet's Shi Davidi
reports the Blue Jays
have demoted
Kyle Drabek
to AAA Las Vegas. Getting the call to the bigs is fellow righty
Zach Stewart
from AA New Hampshire. A tip of the cap to Bauxite
smcs
for the heads up. The linked story from above also features audio from general manager
Alex Anthopoulos
about Drabek's demotion.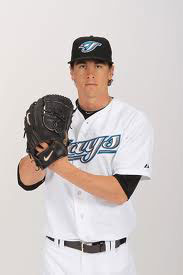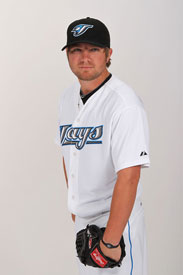 Zach Stewart
and
Kyle Drabek
. Photos courtesy of
Zimbio
.
This news is surprising considering Jays manager
John Farrell
said Drabek was not going to be demoted before his start against Boston Sunday.
"There has been no discussion of sending Kyle to triple-A or to suggest that what he's dealing with in his own maturity right now was leading to that. That needs to be squelched right now."

Drabek went 4-5 this season with a 5.70 earned run average for Toronto. The Jays #1 prospect entering the season after three starts last September, Drabek began 2011 by earning his first major league victory by pitching a one-hitter and allowing just one run over seven innings against the Twins at the Dome April 2. His ERA was 1.29 at that point but it has gone up, thanks to a high walk rate in which his K-BB total was 48-52 in 72 2/3 innings. His ERA was 15.30 in his last three starts, winning only once.
Stewart is the last hope that the Jays do not come up totally empty-handed in the
Scott Rolen
deal. A third-round pick out of Texas Tech in 2008, Stewart was traded to Toronto at the 2009 major league trade deadline for Rolen along with infielder
Edwin Encarnacion
and since departed right-handed reliever
Josh Roenicke
. The 24 year-old from Wichita Falls, Texas began his pro career as a reliever in 2008 by splitting time in A-ball at Dayton and Sarasota, where he posted a combined 1-4 record but with a 1.09 ERA, striking out 36 batters in 33 innings.
In 2009, Stewart climbed another two rungs up the minor league ladder as he spent time in A, AA and AAA with Sarasota, Carolina and Louisville in the Reds system and Las Vegas in the Jays system after being traded. He was strictly a starter at Sarasota and Carolina but was sent to the pen in Louisville and Las Vegas. His composite totals for 20090 were a 4-1 record, a 1.89 ERA and 93 Ks in 105 innings. As a result, Stewart was named the Jays top prospect according to
Baseball America
before the
Roy Halladay-Kyle Drabek
deal was completed.
The 2010 season saw Stewart take a step back to New Hampshire where he won 8 of 11 decisions and posted a 3.63 ERA and whiffed 106 batters in 136 1/3 innings. He was rated the Jays #5 prospect by
Baseball America
for 2010. Stewart battled for a spot in the starting rotation during spring training but he did not make the cut as he was assigned to New Hampshire to begin 2011. Stewart had a slow start to the season but has bounced back by going 1-0 with a 2.37 ERA in his last three starts. Overall, he was 4-3 with a 4.39 ERA with the Fisher Cats. In a
scouting report
from
BaseballNewsHound.com
, his fastball averages between 90-96 miles per hour and he also throws a slider and a changeup.
Jays pitching coach
Bruce Walton
had this to say
about Stewart.
"He has such a quick arm. It's explosive -- the way he can sink and slide the ball."

Stewart may get to face his former team, the Cincinnati Reds, when the Jays begin interleague play this weekend. It's believed Stewart will take Drabek's scheduled start when the Jays visit the Reds Saturday night at the
Great American Ballpark
.