Yesterday there was a debate raging about how close the Jays are to being a competitive team. Let's examine that question in a little more depth.
I especially liked Anders' way of looking at it: the Jays, particularly on offense, are a team of extremes. They have superstars on the one hand, and black holes on the other. Check this out: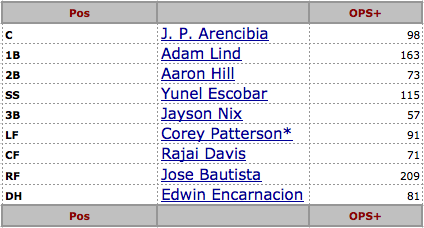 Bautista and Lind have hit at superstar levels and Escobar has been well above average for a shortstop. Arencibia and Patterson have been fine. Hill, Nix, Davis and Encarnaciůn have been terrible.
It's precisely this dichotomy in the offense that leads one to think the team is close to contention. After all, acquiring even average players for each of those positions would
significantly
improve the offense, and it isn't too hard to find average players. This is in contrast to a hypothetical team of
only
average players, which would be difficult to upgrade, as one would need to acquire superstars to see the same effect.
Well, how feasible is it to upgrade these positions?
Third base should have already seen its upgrade, but then Brett Lawrie was plunked and broke a bone on the day he was told he'd be called up. While rookies don't always succeed immediately, it would have been difficult not to improve on the Jays' pathetic third-base output. He'll be up later this year.
Left field is another position that I think could be upgraded immediately, and I'm not necessarily referring to Travis Snider, who is out with a concussion right now anyway. Eric Thames hit while he was briefly up here, and we all know he's been killing AAA all season. This would even have the added effect of upgrading center field by allowing Corey Patterson and Rajai Davis to platoon to some extent. Davis was brought in to be the regular CF, but at some point plans have to change. Davis just hasn't hit at all.
Designated hitter might have to continue to suck life out of the line-up for the time being, with no obvious replacements for Juan Rivera and/or Edwin Encarnaciůn. Long-term, one would hope that Snider gets back on track and DH is filled by Thames, Arencibia, someone external... there are lots of possibilities, but for this season, or at least for now, I think we're stuck.
And then we come to Aaron Hill. There's nothing to be done with Hill at this point, except to hope he remembers how to hit like he used to. I can't see him losing his job this year, but if he keeps on as he has been the last two years he may be out of a job by 2012. If that's the case then yes, an average player would provide a significant upgrade here as well.
The pitching is trickier. While the offense can be upgraded significantly by making personnel moves, an improvement in starting pitching is mostly based on the hope that Cecil, Drabek and Morrow get their acts together, and who knows if that's going to happen. While it seems like the Jays have a lot of arms at or near the major league level, only one has consistently been an above-average major league starter (Romero). Given that, I would not be opposed to the acquisition of another starter, through whatever means AA deems prudent. Whenever you have a bunch of guys "trying to figure it out", odds are that some will and some won't. Should the club be happy if they get two above-average starters out of Cecil, Drabek, Morrow, Litsch and Stewart? I'd say so. Adding those two to a rotation that already includes TWO solid starters as opposed to just Romero would make a big difference.
As for the original question of "how close are the Jays to contention?", once again it's harder to answer with respect to the pitching, as we can't predict the time frame for pitcher improvement. But the club has at least the rest of 2011 to throw those guys into the fire and hope that it gets sorted out sooner rather than later. I hope to see Cecil back up soon.
So, to answer my own question, I think the club can be competitive in 2012. The offense should be upgraded at 3B and LF as outlined above, at 2B by either Hill's improvement or some acquisition, and at DH (I'm not gonna list the ways DH can be upgraded because there are so many options, but I expect it to improve somehow). The pitchers will have had another half-season to sort themselves out, and perhaps there will be some currently-external options in the fold, depending on how that sorting goes.
On the other hand, though the club isn't too far out of the race at the moment, I can't see an extended stay in the race in 2011 without a lot of luck. The rotation would need to see
immediate
improvement from more than one pitcher, and a couple hitters would need to really step up (maybe Hill and Lawrie). None of those things are out of the question, but all of them happening at once is very unlikely.
(A point I've failed to address here is whether the Jays who have performed well this year have performed over their heads. It's a worthwhile analysis but I had to stop somewhere. If you think that's a big concern, raise it!)