Sal Fasano is in his second year as a manager.  His first year, last season, was in Lansing, this year he has moved up to AA New Hampshire.  I talked with Fasano last week in Erie.
BB: Is being a second year manager a lot different from being a first year manager?
SF: Yes definitely, a lot different.  This level is not about this guy has to pitch so many innings, here I have free rein to treat my bullpen lke a bullpen in the big leagues.  And we are teaching the players to be everyday players so there's not so many days off for them, they have to play through tough conditions like having to travel for 13 hours on a bus and having to play the next day.  We do what we can here to keep it as big league as possible for being in AA.
BB: How about for you personally, are you used to all the administration now?
SF: It's a little bit easier now but that comes with experience.  Last year wasn't difficult but sometimes you can get overwhelmed with checking your e-mail every day.  Unlike most people I don't use my e-mail very much.  Having to write the reports became easier, my typing got better, but the communication with the upper levels is nicer.  We have a chance to communicate more often and we get to find out what they want out of guys.  Our direction is easy, if they see him as a certain player we just try to mould him in that direction.
BB: What does Travis d'Arnaud have to do defensively to be a major league catcher?
SF: I think he is just learning the wear and tear of everyday life behind the plate.  It's a little more physically demanding.  At first we were treating him gingerly, two games on, one game off, but now we have taken the reins off and he plays just about everyday, with the excpetion of a day game.  And on the days he doesn't catch he is DH'ing.  He is learning how to stay in the lineup everyday.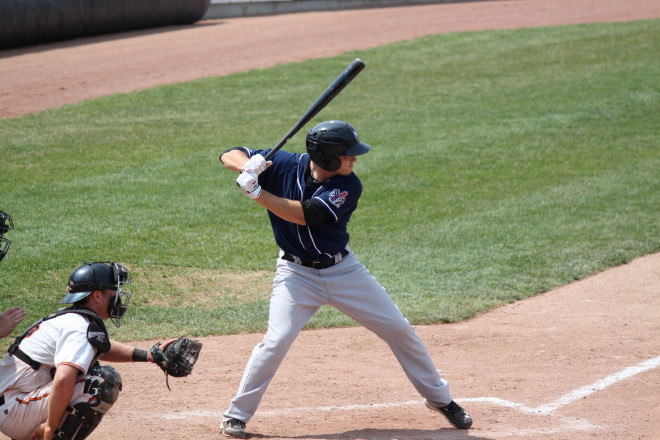 Calling a game?  I think he is improving.  We have a lot of talent here, big league talent.  He is learning how to call a game using the fastball, he is stll learnng to to call the inside part of the game but that's coming. His receiving is outstanding, his blocking is outstanding, he has really gotten better at those two things.  And his throwing needs a lttle bit more work, a little refinement.  That's what this level is about, refining his game and there is nothing I can do to help him, he just has to be able to play.  I can give him tips here and there but for the most part he just has to go through the everyday grind.
BB: On the opposite side, a player who is excellent defensively but not as good offensively is Adeiny Hechavarria.  What does he have to do offensively?
SF: Offensively I think he has been swinging the bat OK.  It's a matter of keeping his concentration level up, day in and day out.  I think he has advanced against left handed pitchers, he is more comfortable in the batters box, takes better, more aggressive swings.  He is driving the ball in the gaps, you look at him and he is very wiry but he has some power in there.  Right handed he struggles with some of the offspeed pitches but most guys his age do, he is 22 years old and its hard to hit a slider.  The biggest thing for a young kid is not swinging where the slider starts, but trying to swing where it's going to end up.  That comes with feel and at-bats and its only right about now that he has a full year of American at-bats.  He has a ways to go, he could use about 300 more at-bats to get himself right and that's why we have him at the top of the order to get him as many at-bats as we can.
BB: One of the guys who has been swinging well for you is Mike McDade, a switch hitter.  Is he equally good from both sides?
SF: He is a unique talent because he is just as powerful and effective from both sides.  He is not a better left hand hitter, he is not a better right hand hitter, he is the same guy from both sides, he can hit a fastball from both sides.  He is becoming a little more disciplined on breaking balls.  I think Mike is the most advanced hitter on this team because he is able to adjust from pitch to pitch and from at-bat to at-bat.  When you see him make the adjustments during the at-bat you say, wow he is really starting to get it.  That's why he is hitting .310.  He is a power hitting guy, in the middle of the order, who always seems to come up with a professional at-bat and drive a guy in.  I think he's doing outstanding.
BB: One of the guys who is hot recently is John Tolisano.  What's been the difference with him?
SF: He has made some adjustments in his approach offensively, he has lowered his hands a little to get a better load.  It's a work in progress.  He is starting to reap some benefits from the change and I think he is starting to buy into what we are telling him.  When a guy gets hard hits consistently his confidence starts to grow and hitting is about confidence.  Once you have confidence you get a better average and better attitude at the plate and that's what you are starting to see right now.
BB: When the Jays acquired Anthony Gose they worked on changing his swing.  Is that a done deal or it still a work in process?
SF: Always a work in progress, everything at this level is a work in progress.  When we get to the finished product they will be in the big leagues.  Anthony has come a long way, he has probably made the most strides offensively.  His at-bats are starting to be more quality where he is starting to see more pitches.  It's not because he is being passive, he is actually making good decisions.  He is still striking out but the pitches he can handle he is starting to hit.  If you know that nine box strike zone he is starting to know what zones he can handle.  Once you master a few zones you can start working on some of your weaknesses.  Honestly, I think he can play in the big leagues soon but he still needs six or seven hundred at-bats.  Maybe a year or two years from now you will see an everyday centre-fielder.
BB: Moises Sierra missed most of last season but he was sent here at the start of the season and he doesn't seem to have missed a beat.
SF: No, he has been a pleasant surprise.  Everyone knew how talented he is, he is a four tool guy.  He has probably the best arm in the organization, he can run a little bit, not a lot, he has power, he can hit for average.  He plays with a youthful enthusiasm, he is fun to watch everyday, he's a kid who loves to play everyday.  He has done a great job for us, hitting with some power, he has driven in a lot of runs for us and he has probably had six or seven game winning hits.  He is the type of kid who likes the limelight and the attention he is starting to get.  when the light is shining on him he likes to rise to the occasion, it's fun to see. 
BB: Yan Gomes has played well in limited opportunities.  Where do you see him going?
SF: We talk about it all the time, we would love to see him get consistent at-bats and we would love to see what he could do with 150 at-bats.  Right now we have some guys who are pretty good, Travis d'Arnaud is outstanding, AJ Jimenez is a really good player.  Until those guys move up he is going to be relegated to backup status.  he does have big league talent, he does have a quick release, I've got him as fast as a 1.77 to second base, that's as fast as it gets.  He has that in him, defensively he needs development behind the plate.  He receives the ball OK, he blocks the ball good and we just talked about his throwing.  Overall game management needs to be learned on a day to day basis, he might have a little bit of a delayed development when it comes to catching but he can compete at any level you put him at.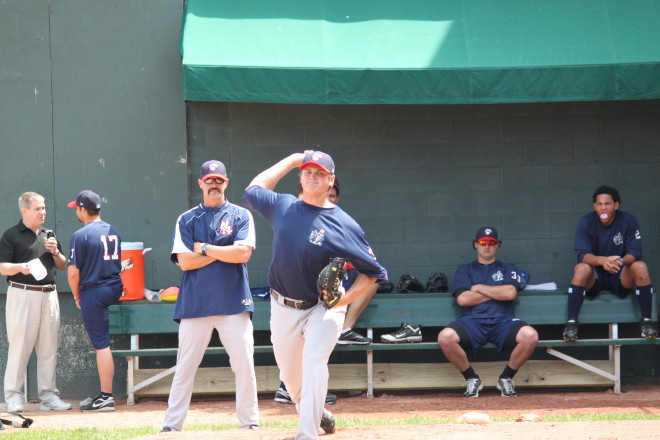 BB: How would you compare Chad Jenkins and Zack Stewart, both sinker, slider guys?
SF: Stu has a better slider and at times he has shown better velocity.  Chad is more 92 (mph) and can sink the ball to both sides of the plate.  His slider can do with a little more work but his change-up is a little more advanced.  They are close, I think Chad is more of a mule to take more innings.  He has pitched into the seventh both games here, when his sinker is right he will get a lot of ground balls to get him deep into the game.  We want to get him to that place where he is a mule and can save your bullpen and win the game.
BB: Finally how does Henderson Alvarez pitch so well for seven innings without a strikeout?
SF: Because guys go up to bat paranoid because when you see 97-98 mph you want to put the bat on the ball, you don't want to strikeout.  We are teaching him not to be afraid of contact, his stuff is electric enough that he is going to get strikeouts.
BB: So the lack of strikeouts doesn't concern you?
SF: No, his slider is a good pitch and his change-up is a good strikeout pitch too.  The fastball eventually is going to be the strikeout pitch.  It's one of those things, he is learning to pitch with new velocity, he just needs to keep getting contact.  Which would you rather, a guy who strikes out ten but is out of the game in the fifth like Rich Hardon or a guy who gets ground balls who can pitch into the eighth or ninth?
BB: As long as he can do it in the major leagues.
SF: The strikeout is nice but it's not the absolute.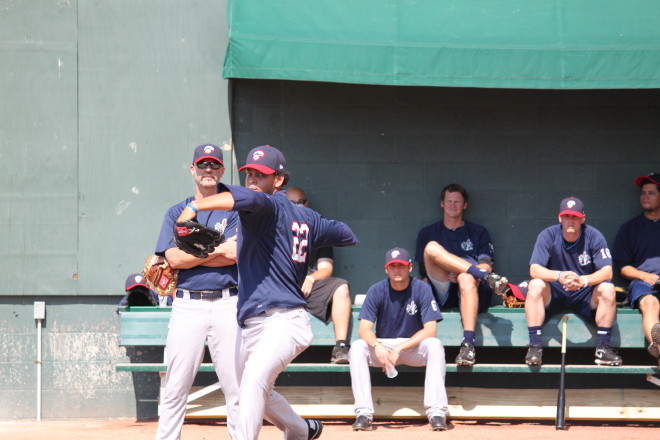 --------------------------------------------------------------------------
Batters Box thanks Sal Fasano for his time.