I caught up with Doug Davis, the Blue Jays minor league field coordinator, to talk about the short season teams and some of their players.
BB: Tell me about Shane Opitz and why you sent him to Vancouver?
DD: Well we needed middle infield help in Vancouver and Opitz is just a very solid, steady baseball player. I don't think there is any one thing that stands out other than the fact that he just knows what he is doing, he makes good decisions. He is an average quality defender, throws well, and from an offensive standpoint he has a knack for being able to put the ball in play. It's pretty good for a first year player out of high school to go that league and do what he has done so far.
BB: Could you compare him in any way to Tyler Pastornicky?
DD: No because speed was a big factor for Pastornicky, Opitz has probably average speed or even a touch below average. But from the standpoint of quickness, first step quickness and hands that's what he does have. Tyler used his speed more and that made him a different player. If I look at Opitz I'd compare him to Geoff Blum from a big league standpoint.
BB: With Burns being promoted to Vancouver Opitz is playing second, is that for flexibility or a permanent move?
DD: No that's for flexibility, his ability to learn both positions at any early age will benefit him.
BB: Justin Nicolino appears to be the most advanced of last years high school pitchers drafted by the Jays. Is that due to his fastball command?
DD: I would say it's his ability to command all three of his pitches. Some of the guys can command their fastball but sometimes the secondary pitches take some time. Justin has the knack to command all three. The curveball and the change will get better but he can throw them in the strikezone which makes his fastball more competitive, but he is a great competitor, he pitches inside with his fastball What he has done in going to that league and having success its above and beyond our expectations for him.
BB: You recently promoted Noah Syndergaard to Vancouver. We know he can throw hard, how are his off speed pitches coming along?
DD: That's a work in progress, but he has progressed and that's why he's up there (Vancouver). But he does have a power arm and typically that works just about everywhere. The higher up he gets the more important the secondary pitches will be for him, and he will continue to work on them, but he has shown the ability to learn and the sky is the limit for him.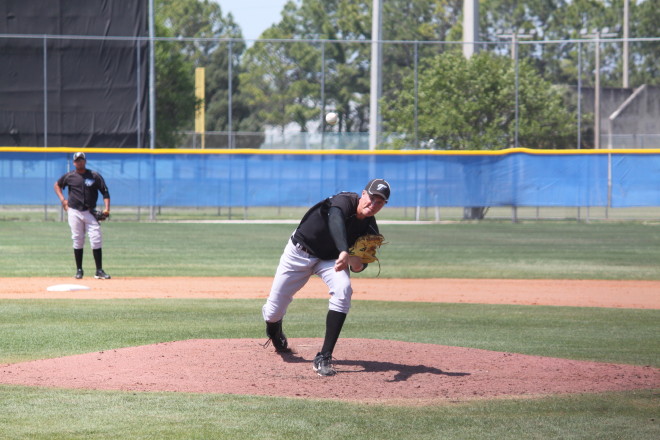 BB: Moving to Bluefield can you give me a scouting report on Chris Hawkins?
DD: Chris Hawkins has had a great year as well. Coming in last year out of the draft he had some things that we felt we really needed to address, which we did. But we didn't change the kind of player he was, the biggest thing about Chris is his makeup, his makeup is tremendous. he is another guy who loves playing the game. When you look at him he is a big kid, but he runs well. He uses his speed in a lot of different ways, he uses it on both sides of the ball, on offense and defense. And that has helped him offensively with the extra base hits. You expect a guy who is big like that to hit home runs but he can hit triples too and when he is on the bases he can steal a base for you too. He has been one of the more productive players on that club and typically you expect your older players to be that.
BB: You moved Gustavo Pierre down to Bluefield and he is hitting well but he is mainly DH'ing. Is a move to third base in the cards for him?
DD: I think at this point in time we will keep him at shortstop. The biggest thing for Gus was to get him something in the second half of the season for him to build on. That's why we wanted to eliminate the defensive side of the ball and focus on his offense because we all think he will be an offensive player. He has tremendous bat speed, he will have power and he runs well too. That's the reason behind it, to focus on the offensive side and to see if we can make some progress there, which we have, and not to keep him totally off the field but get him in there maybe twice a week defensively. I think it has worked out so far, the way we wanted it to.
BB: Aaron Sanchez seems to have a couple of good starts then a bad one, does it all come back to command for him?
DD: Oh yeah. Sanchez has tremendous stuff, a very lively fastball and a very good breaking ball. But it's all about command for Aaron, and normally for a lot of young kids that's the way it is. As you say he has some great starts and some not so good ones but that what it's all about, he is progressing.
BB: Mitchell Taylor seems to have found his stride. He is a lefty like Nicolino, are they similar or very different?
DD: They are similar in that they are both fastball, curveball guys. I think Mitchell goes to the curveball more whereas Nicolino uses his fastball more. That's just the way he was when he came into the organization, he's got plenty of fastball and the change-up will continue to improve. I am not sure if people think he will be a starter or a quality reliever but for now he is a great strikeout guy. But we will keep progressing him and eventually we will find out.
BB: Dalton Pompey just made his debut with Bluefield yesterday, after a slow start he seems to have made a lot of strides this season.
DD: Dalton really puts the barrel on the ball, he can drive the ball to all fields, he is a switch hitter with a little power which is only going to get better. You look at Dalton and he looks very young and you realize he is still a very young individual but he is a very competitive baseball player, he is a smart kid, he learns very quickly, picks up things and makes adjustments. That's why he is in Bluefield, he has learned as he goes along and he made adjustments in the GCL, the results got better for him and it was time to get him up there under the lights.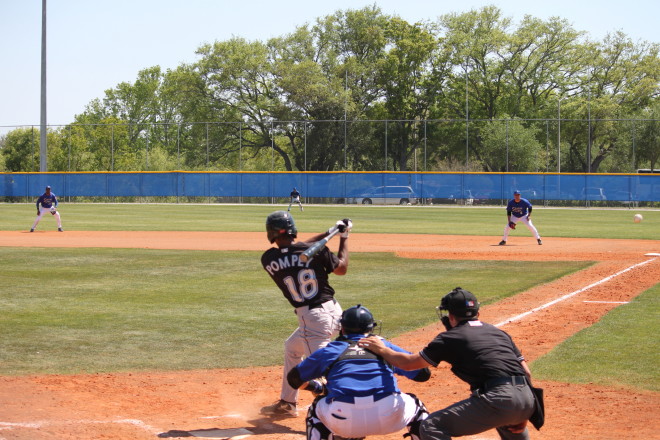 BB: So because he has power and speed, plays centre and can hit could he be a 5 tool guy?
DD: Yeah, I think he could be, absolutely. Stature wise he doesn't look like a Michael Crouse or a Marisnick, you look at him and he has so much room for development and growth, he could become a five tool guy.
BB: Moving down to the GCL what have you seen in Dickie Thon?
DD: Well we are happy that Dickie has been able to get on the field and play. But Dickie is a different guy than what we saw last year. despite the adversity he had he has gotten bigger and stronger, he is more confident and it shows up on the field. He has had a very good summer in the GCL. We have limited his playing time but when he has been out on the field he has contributed very well, he has shown the ability to drive the ball and drive it for power and he has played well at shortstop.
BB: Even though he is bigger and stronger do you still see him as a shortstop?
DD: Well I think you leave him there until he shows you he can't play that position. So far he's been great.
BB: Also playing shortstop is a guy named Chino Vega-Rosado. He is a short guy but has played well for you.
DD: Yes he has. He is a kid out of junior college, he is a mature player, mature body, very strong, but also has some speed and quickness. He has played very well for us. I think he is a middle infielder, he can play short or second, he does have usable speed and some power. Players like that when you see them in the GCL it can be difficult to determine what they are but when he moves on we will find out.
BB: What have you seen so far in Adonys Cardona?
DD: A lot of improvement. Dane and his staff worked a lot on trying to clean up the delivery a little bit, not necessarily trying to change the arm slot but getting him in a more stable position. That cleaned up the arm slot for him. He is a power arm too, he can really produce velocity with his fastball, he can spin his breaking ball but command is an issue, but he is very young. We are very pleased with how much he has been able to progress this summer.
BB: Pitching today for you in the GCL is Joe Musgrove, have you seen him pitch?
DD: I have not but those guys like him because he has a power sinker.
BB: How is Santiago Nessy doing this year?
DD: Nessy is doing very well, he is swinging the bat, I think he found himself a little bit. He is catching on a consistent basis which in that league can wear you down. He is a big strong kid and again he is very young but the whole package is getting progressively better as we go. I think we all think he is going to be an offensive guy, he has shown some of that this year, he has hit and hit with power. The catching part has come along very well for me, the throwing part is something we are continuing to work on.
BB: Do you have any concerns over his body being too big to be a catcher?
DD: No, not at all, that's just who he is, he is a big catcher and there is plenty of them out there.
BB: Is Kellen Sweeney going to get back on the field this year?
DD: I think so, right now he is just starting the swinging process but he has been on the field taking ground balls and getting his work done. The last thing is the swinging and he is starting that.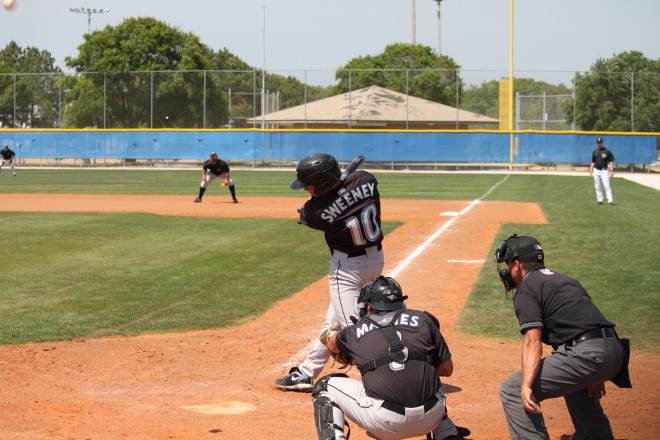 BB: Finally, Alvarez was promoted to the Jays, and Nestor Molina is taking his spot. Are you promoting someone from Lansing to take Molina's spot?
DD: Not at this time. We are trying to leave that team alone as much as we can because they are in the playoffs.
----------------------------------------------------------------------------------------
Batters Box thanks Doug Davis for his time.