The Associated Press
says long-time Baltimore Orioles pitcher and former Blue Jay
Mike Flanagan
was found dead
outside his Maryland home yesterday. He was 59.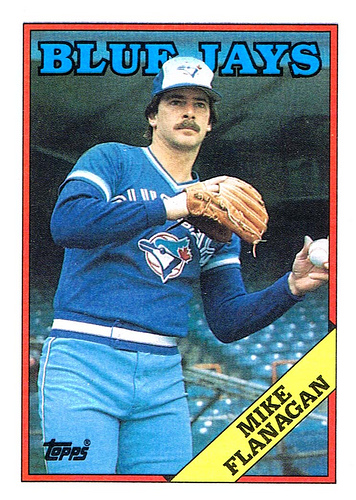 Mike Flanagan
was a member of the Blue Jays from 1987 to 1990.
Mike Flanagan
arrived on the major league scene with the Baltimore Orioles in 1975, just two years after being drafted in the seventh round out of the University of Massachusetts Amherst. Beginning in 1977, the lefty rattled off double-digit victory seasons in seven of the next eight campaigns with the strike-shortened 1981 campaign being the only exception when he won 9 games. He was an All-Star in 1978 but his best season came in 1979 when he won 23 games and the American League Cy Young award. Flanagan won two of his three starts in the post-season as the Orioles beat the Angels in the ALCS before losing to the 'We Are Family' Pittsburgh Pirates in the World Series. He would earn a World Series ring in 1983 by getting a victory in the ALCS against the White Sox before Baltimore beat Philadelphia in the Fall Classic.
Flanagan stayed with Baltimore until August 31, 1987 when the Blue Jays acquired him for pitchers
Oswaldo Peraza
and
Josť Mesa
. Flanagan won his first three starts with the Jays and pitched his heart out in his final start of the season when he lasted 11 innings against the Detroit Tigers on the penultimate day of the season. However, the Tigers pulled it out in the 12th inning and went on to snatch the AL East flag from under the Blue Jays noses. Flanagan re-signed with the Jays and went 13-13 in 1988 before helping the Jays get back to the playoffs in 1989 by going 8-10 with a 3.93 earned run average. Flanagan's lone start in the ALCS did not go well as he surrendered a 500-level blast to
Josť Canseco
in Game 4 as Oakland went on to win the ALCS in five games before winning the World Series.
Flanagan was released by Toronto early in the 1990 campaign. He would return to Baltimore in 1991 and stayed there until his final season in 1992. Flanagan remained in the Orioles family by working in the front office and in the broadcast booth.
ESPN's Tim Kurkjian
shares his memories
of Flanagan.
Condolences to the family and friends of
Mike Flanagan
.