Welcome to the Batters Box top 30 Blue Jay prospects for 2011. Eight of your trusted minor league correspondents pooled their votes to come up with the list. The same trusty eight shared the task of writing the prospect descriptions you see below.
In total, forty-two prospects received at least one vote. Twenty of the top thirty were named on all eight ballots. There can be plenty of debate as to who should have made it, particularly here, in the bottom 10. We hope the wisdom of our crowd has delivered a great top thirty.
As usual we have split the top 30 into three installments, running Monday through Wednesday. On Thursday we will look at some prospects that did not make the list but are favourites of one of our writers.
We hope you enjoy the list and the discussion.
30. Joe Musgrove | RHP
Year
Age
Level
G
GS
IP
H/9
HR/9
BB/9
K/9
ERA
2011

18

RK
9

7

24.2

7.1

0.4

1.9

6.7

4.01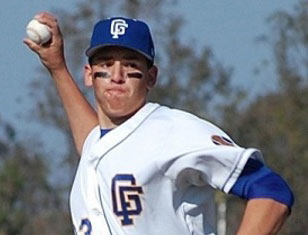 The Jays used their third pick of the 2011 draft (46th overall) to select the 6'5" righty out of high school in California. Musgrove signed quickly and was able to start seven games in the GCL and appear once in relief. Baseball America had Musgrove ranked 90th heading into the draft but admitted it's easy to see what the Jays liked in him. Musgrove sits 91-94 MPH and has been clocked at 98. He also features a change that needs work and an above average curve. He is said to have an easy delivery and uses his size to his advantage. Musgrove currently sits 30th in our rankings but it wouldn't be surprising to see him vault a few spots. He will likely start the year in extended spring training before joining one of the short season clubs. He turns 19 in December.
29. Eric Arce | LF/DH
Year
Age
Level
AB
2B
3B
HR
BB
K
SB
CS
AVG
OBP
SLG
2011

19

RK
172

7
3
14

40

52

1

1

.267

.427

.587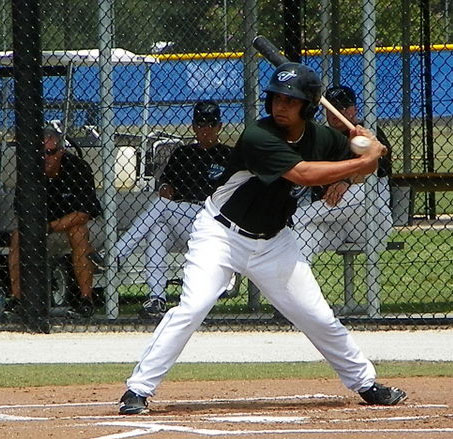 Arce took a strange route to pro ball. An FSU commit, Arce lost his scholarship and a year of experience due to some off the field problems. This didn't scare off the Jays who selected him in the 25th round and he rewarded them with a GCL record 14 homers and an OPS north of 1.000. Arce didn't crack Baseball America's Top 20 GCL prospect list as scouts were mixed on his tools other than power. Arce profiles as an all-bat player and at 5'9", 205 pounds his mobility is in question. His power potential will keep him moving up the organizational ladder however. He is expected to start the 2012 season in extended spring training.
28. Dickie Joe Thon | SS
Year
Age
Level
AB
2B
3B
HR
BB
K
SB
CS
AVG
OBP
SLG
2011

19

RK

121

3

0

3

23

44

6

2

.223

.369

.322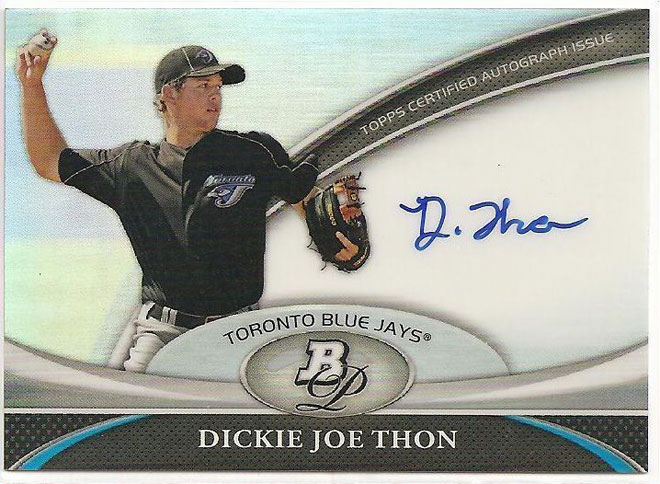 It was a trying rookie season for the son of Dickie, the 15 year major league veteran shortstop. Rated the 16th best prospect in the Jays farm system by Baseball America, the 19 year-old Thon was diagnosed with a blood disorder after undergoing a physical exam during Spring Training. The 6-foot-2, 175 pound shortstop did begin the season with the Gulf Coast League Blue Jays on time. However, Thon wound up sharing time at short over 31 games and was a designated hitter for 13 games. As a result, the right-handed hitter barely averaged over 2.5 at-bats a game over 45 contests.
Thon batted .348 during 8 games in June and hit .269 with three homers in July, though he slumped badly in August with a .109 batting average. Thon had just six extra base hits but does have the potential to grow from his current gap power to home run power as he matures. He struck out nearly 30 percent of the time of did show his potential for being a top of the order hitter by averaging a walk in just over 15 percent of his plate appearances. Thon also stole six bases in eight attempts, lending credence to his above average speed and BA's claim he could steal 25 to 30 bases a year in the majors. With the leather, Thon is said to be a solid defender with a strong arm, soft hands and decent footwork. Other pluses said to be in his favour are his maturity and work ethic.
Thon was a high school track champion in the 200 metres in his native Puerto Rico and was also a member of the Puerto Rican youth volleyball team. He turned a down a scholarship at Rice University to sign with the Blue Jays after being taken in the 5th round of the 2010 amateur draft. Thon got a $1.5-million dollar bonus as the 156th overall pick, well above Major League Baseball's slot recommendation of $161,100. His agent is former Blue Jay Jose Cruz Jr. Dickie will turn 20 November 24th. He could be headed to Bluefield or Vancouver in 2012.

27. Sean Nolin | LHP
Year
Age
Level
G
GS
IP
H/9
HR/9
BB/9
K/9
ERA
2010

21

R

1
1
2

4.5

0.0

4.5

18.0

0.00

2010

21

A-

6
6
19.1

11.6

0.0

4.2

10.2

6.05

2011

22

A

25

21

108.1

8.5

0.8

2.6

9.4

3.49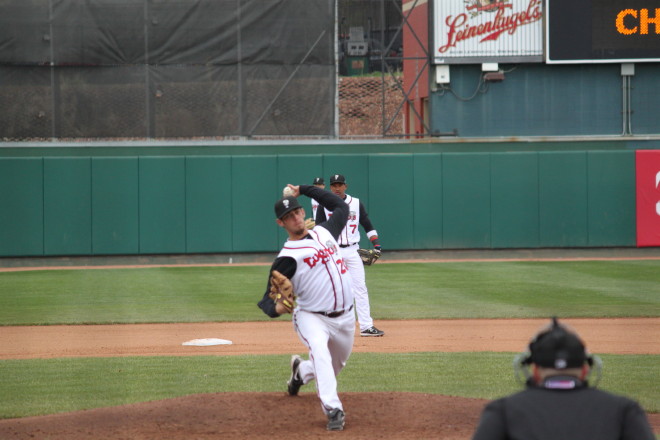 Sean Nolin is only one of a multitude of 2010 draftees to make a mark on our list, a sign of the strong first draft the Jays had under the Anthopoulos regime. After being drafted in the later rounds but not signing in 2008 and 2009, Nolin became the twelfth Jay of the 2010 haul as a 6th round pick, signing out of JuCo in Texas for $175,000. Coming out of college Nolin was a massive 6'4 220 lbs; a picture from an interview Gerry conducted with Nolin towards the end of last year really shows his girth. Nolin evidently decided to get in shape though, and he lost a ton of weight over the off-season, dropping some 40 pounds. In this video of Nolin warming up before a game earlier this year you can see a noticeable difference. His over the top delivery also looks nice and repeatable, and his fastball was sitting around 89-90 earlier in the year. He also throws a good change, and has a work in progress curve ball. In addition to cutting weight, Nolin also refined his control in 2011, moving up to the Midwest League from then-affiliate Auburn and cutting his walks from 4/9 IP in his brief stint in 2010 to just over 2.5/9 IP. He also maintained his stellar strike out rate, whiffing over a batter an inning. He also kept the ball in the park, allowing fewer than a home run a game. All of this made for a fine 2011, and Nolin should be encouraged entering 2012, where he figures to start in Dunedin, or at least quickly make the jump.



26. Michael McDade | 1B


| | | | | | | | | | | | | | |
| --- | --- | --- | --- | --- | --- | --- | --- | --- | --- | --- | --- | --- | --- |
| Year | Age | Level | AB | 2B | 3B | HR | BB | K | SB | CS | AVG | OBP | SLG |
| 2008 | 19 | A- | 191 | 8 | 1 | 3 | 22 | 53 | 1 | 0 | .257 | .333 | .287 |
| 2008 | 19 | A | 216 | 13 | 0 | 2 | 11 | 63 | 0 | 0 | .194 | .236 | .282 |
| 2009 | 20 | A | 408 | 27 | 1 | 16 | 32 | 109 | 0 | 0 | .277 | .336 | .466 |
| 2010 | 21 | A+ | 480 | 22 | 1 | 21 | 27 | 141 | 2 | 0 | .267 | .315 | .448 |
| 2011 | 22 | AA | 484 | 37 | 0 | 16 | 28 | 104 | 0 | 1 | .281 | .328 | .457 |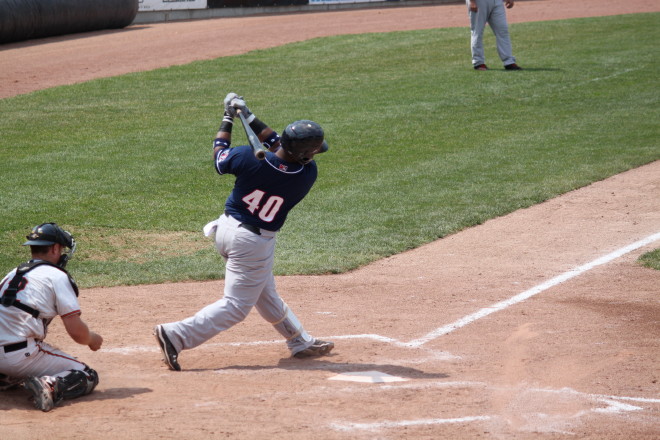 Known affectionately by some as "man mountain" Mike McDade, this outstanding fielding and switch-hitting first baseman is a double threat, in the field as well as the plate. His penchant for power is well known in the Eastern League, with 16 HRs and 37 doubles for New Hampshire this year, despite suffering knee injuries late in the season. He batted .281 with a .785 ops. In the past he had battled his weight, but came into training camp this year more trim than many had seen him before. His other strength is his award winning and almost acrobatic fielding. He fielded .993 this year, one of the strongest percentages in the Jays organization for a first baseman. Provided he works through injuries, look for McDade to contribute with a solid future at 1B for the Jays.
McDade was born on May 8, 1989 in Las Vegas. Next year McDade should get a chance to play in his home town at the age of 22, still young for a AAA player. McDade was a 6th round draft choice back in 2007.
Batters Box interviewed McDade in June.

25. Mitchell Taylor | LHP


Year
Age
Level
G
GS
IP
H/9
HR/9
BB/9
K/9
ERA
2011

19

Rk

13

8

55.1

8.13

0.81

2.28

9.92

4.23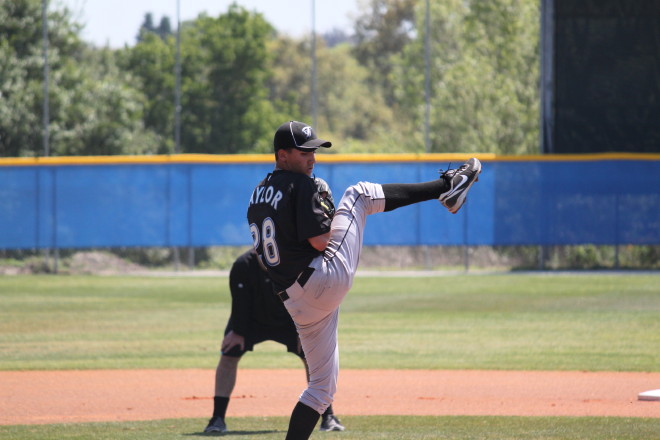 One of the least heralded, or underrated, prep pitchers from the 2010 draft, Taylor opened some eyes in 2011. Prior to the draft, the southpaw was ranked as the 22nd best draft-eligible prospect in the potent state of Texas. Overall, Baseball America ranked him as the 170th best player in the entire nation and said this about him: "... he boosted his stock more than any pitcher in the top 10 rounds... He's polished for a high schooler, throwing strikes and exhibiting good mound presence." The Jays organization drafted him in the seventh round and gave him an above-slot deal for just under $370,000 to pry him away from his commitment to the University of Houston. It looks like a smart decision as Taylor showed good control (2.28 BB/9) and posted an above-average strikeout rate (9.92 K/9) thanks to his breaking ball. He throws an 87-93 mph fastball, as well as a changeup and the aforementioned potentially-plus curveball. Taylor's ERA sat at 4.23 but he had a little bit of bad luck as witnessed by his 3.15 FIP. At one point, he allowed just four earned runs over a stretch of 32.1 innings (seven appearances). One caveat to Taylor's prospect ranking is his maturity. He faced some minor disciplinary action from the organization at the end of 2011 and also faced a suspension in his senior year of high school, which actually caused him to slip a bit in the draft. If he shows up fully committed to his career and the organization in 2012, Taylor could open the year in low-A Lansing.



24. Jacob Anderson | OF


Year
Age
Level
AB
2B
3B
HR
BB
K
SB
CS
AVG
OBP
SLG
2011

18

RK

37

2

0

2

4

8

2

0

.405

.476

.622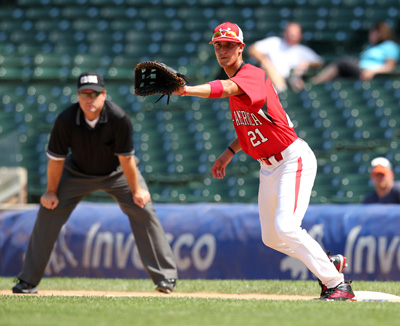 The 6-foot-4, 190 pound outfielder was the first position player taken by the Jays as they grabbed him with the 35th overall pick in the supplemental first round of the 2011 amateur draft. The Jays were able to convince the Chino, California native to forego a scholarship offer from Pepperdine by giving him a $990,000 signing bonus. Anderson displayed an all-around game by batting .485 with Chino High to go along with 11 doubles, nine triples, seven homers, 31 runs batted in and 24 stolen bases. The 6-foot-4, 190 pound right-handed hitting Anderson showed off a quick, powerful and balanced swing by winning the Home Run Derby during the 2010 AFLAC All-American game at Wrigley Field.
Anderson is said to have good speed and line drive power and has played first base and third base in addition to the outfield. Some scouts believe first base may be his eventual position where he has soft hands and quick feet but others believe he can stay in one of the outfielder corner spots.
Anderson got a brief taste of pro ball by joining the Gulf Coast League Blue Jays in August. He recorded a hit in seven of his nine contests and ended the year with a six game hitting streak that included five multi-hit efforts. Though he struck out nearly 20 percent of the time, he did draw a walk in nearly 10 percent of his plate appearances. More impressively, his isolated power was an impressive .216. Anderson will turn 19 years old November 22nd. He may be headed to Bluefield in 2012.
23. Chad Jenkins | RHP
Year
Age
Level
G
GS
IP
H/9
HR/9
BB/9
K/9
ERA
2010

23

A

13

13

79.1

10.0

0.6

1.5

7.2

3.63

2010

23

A+

13

13

62.1

10.5

0.9

2.6

6.0

4.33

2011

24

A+

11

11

67.1

9.5

0.4

1.9

5.9

3.07

2011

24

AA

16

16

100.1

8.3

0.7

2.4

6.6

4.13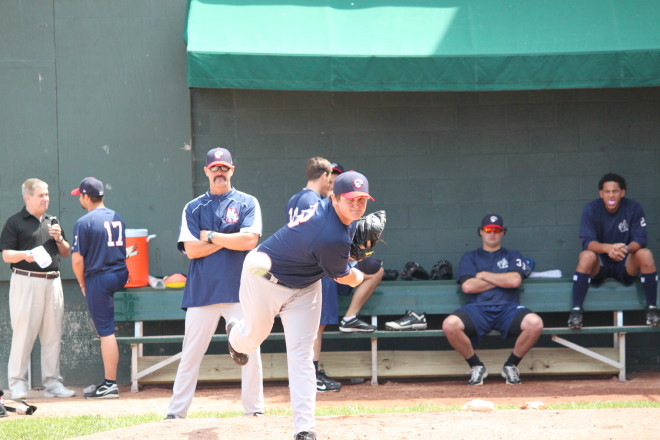 Chad Jenkins has been a steady faller through the Jays prospect hierarchy over the last couple of years. He was our number 3 Jays prospect in 2009, dropping to number 15 in 2010 and now 23. This fall is in part due to the increased depth in the system, but the primary reason is the mixed numbers Jenkins has put up, not something you hope for from a first round collegiate pitcher. A sinkerballer with a fastball that runs in the low 90s, with a good slider and a change-up, Jenkins succeeds by keeping the ball down, something he wasn't able to do to the same degree in AA this year. Where Jenkins excels is in keeping the ball in the park and limiting his walks. He hasn't allowed more than a home run every ten innings at any stop so far, and he walked just under 2.5/9 IP in 100.1 innings in New Hampshire. While Jenkins is pretty decent all around, he doesn't really excel in any particular area of the game, and he doesn't strike out a ton of batters (6.64/9 in AA this year), which makes him extremely reliant on his sinker working. While he projected as a 2/3 starter coming out of college, Jenkins doesn't appear to have the raw stuff to be anything more than a back end starter at this point. He'll likely start 2012 in New Hampshire again, but is already being lapped by Henderson Alvarez, Drew Hutchison, Nestor Molina and Deck McGuire, who are all 2-3 years younger than Jenkins but who have been promoted more aggressively and have outpitched him. At this point his best hope may be to move to the pen.

See also: BB interviews with Jenkins in 2010 and 2011.

22. Asher Wojciechowski | RHP


Year
Age
Level
G
GS
IP
H/9
HR/9
BB/9
K/9
ERA
2009

20

NCAA

12

12

69.2

7.9

0.4

4.4

9.7

4.39

2010

21

NCAA

17

17

125.2

8.0

0.7

2.3

11.1

3.58

2010

21

A-

3

3

12.0

4.5

0.0

3.0

8.2

0.75

2011

22

A+

25

22

130.1

10.8

1.0

2.1

6.6

4.70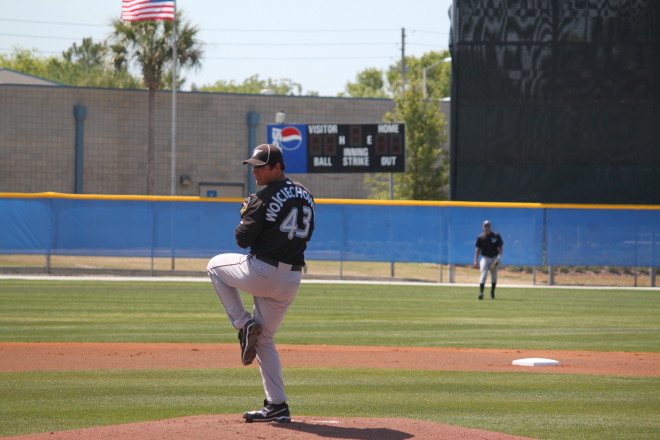 The 41st overall selection in the 2010 draft, Asher Wojciechowski is a big, strong right-hander who pitched at The Citadel, where Wojciechowski was on the same strict schedule as all non-athlete recruits. He didn't have the typical childhood of a first round pick, as he grew up in Michigan and then played baseball during his Little League years in Romania for a couple of years after his parents moved to Bucharest to perform missionary work. When they returned to the US, the Wojciechowskis moved to South Carolina for Asher's high school years so he could play baseball year round, but he wasn't drafted out of a Beaufort high school.
Wojciechowski chose to attend The Citadel, where he burst burst onto the scene in the summer of 2009 after a couple of solid but unremarkable seasons at The Citadel. He earned All-American honours and was named the Southern Conference pitcher of the year. Wojciechowski was drafted on the basis of a fastball that sits 93-95 and a plus slider (it has been called a slurve by Keith Law) that sits at 80-82 that he can command to both left and right-handed batters.
This year was Wojciechowski's first real exposure to professional baseball. It wasn't a terrible year, but Wojciechowski was quite hittable and gave up his share of homers. He was one of three 22-year-olds to get regular starts for the Blue Jays along with Deck McGuire and Nestor Molina and he allowed the most H/9, most HR/9 and the least K/9 of the group (finishing ahead of McGuire in BB/9 allowed).
Minor league stats can be misleading, as prospects may be working on a particular skill or pitch to the exclusion of another, which could lead to a worse statistical performance than relying on their more developed skills and strengths would. The optimistic interpretation would be that Wojciechowski was working on developing his change-up this year, which explains his struggles after a very strong April. However, Kevin Goldstein reports that, in fact, the opposite occurred and Wojciechowski became too reliant upon his fastball, which Florida State League hitters were able to sit on. If that's the case, hopefully this year serves as a lesson to Wojciechowski that he needs to continue to throw and develop his second and third pitches, as he perhaps can't ride his fastball like he did in college.
On draft day, many analysts thought Wojciechowski's future lay in the bullpen given his two plus pitches and lack of a third option. He may find his home in the bullpen eventually, but I expect and hope the Jays continue to give Wojciechowski every chance to stick as a starter, given that he possesses the upside of a number 2 or 3 starter if those pitches do develop and he was able to go deep into games in college while maintaining his fastball velocity. He might begin 2012 in Dunedin again, but he should spend at least the second half of the year in New Hampshire.

21. Kevin Comer | RHP


Year
Age
Level
G
GS
IP
H/9
HR/9
BB/9
K/9
ERA
2010
18
HS

-

-

42.1

-

-
2.8
13.4
-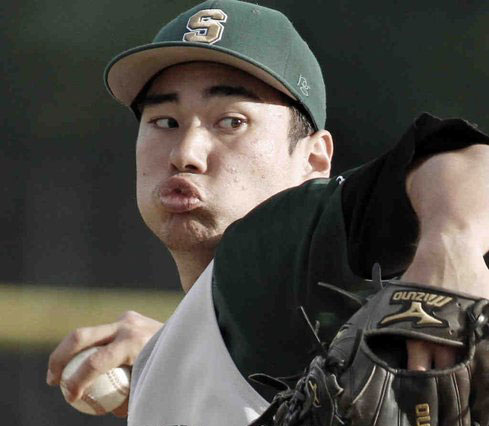 Kevin Comer was selected with the 57th overall pick in the 2011 draft, in the first supplementary round. Comer was selected before Daniel Norris, although Norris was thought to be a harder sign. Comer did sign on deadline day for $1.65M, thereby giving up his Vanderbilt scholarship.
Comer is a big 6'4", 210 pound right handed pitcher from southern New Jersey. That part of New Jersey is Philly country and reportedly he likes watching Roy Halladay pitch. Comer's father played NCAA football and his mother played professional basketball so there might be some growth left in that body.
Comer throws a low to mid-nineties fastball, a good curveball and a developing change-up. Last season for his high school, Comer went 5-0 in his state tournament games. Comer struck out 63 with just 13 walks in 42 1/3 innings and led his school to the state title.
There were mixed reports on Comer coming into the draft. He had pitched very well in 2010 but he missed time in 2011 due to a class trip and he had to leave another game early according to Baseball America so scouts questioned his drive and interest in turning pro. The Blue Jays obviously were less concerned.