Former St. Louis Cardinals pitcher
Bob Forsch
passed away
Thursday after an aneurysm in his chest. He was 61.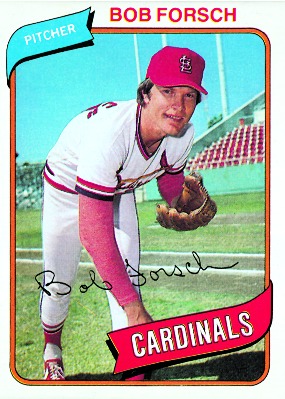 Bob Forsch
, who threw two no-hitters with the St. Louis Cardinals, threw out the ceremonial first pitch for Game 7 of the World Series.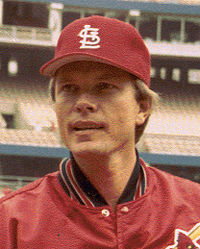 Bob Forsch
was taken in the 26th round of the 1968 amateur draft by St. Louis as a third baseman out of high school in Sacramento. That was eight rounds after his older brother Ken was taken by the Houston Astros. The younger Forsch only started pitching in 1970 but he managed to make his big league debut with the Cardinals in 1974. The 6-foot-4 righthander went 7-4 with a 2.97 earned run average in the first of 14 seasons with the Redbirds. In 1975, he more than doubled his win total by finishing 15-10 with a 2.86 ERA. Forsch endured a hiccup in '76 with an 8-10 mark and a 4.48 ERA but he reached the 20 win plateau total in 1977 by going 20-7 with a 3.48 ERA. The Sacramento native would reel off six more straight seasons of double digit victories. Highlights included a no-hitter against Atlanta in 1978 and going 15-9 record with a 3.48 ERA during the Cardinals World Series winning season of 1982. Forsch was the winning pitcher during Game 1 of the National League Championship Series against Atlanta as part of a three game series sweep. He was tagged with two losses during the World Series against Milwaukee but the Cards still prevailed in seven games.
After firing another no-hitter against the Montreal Expos in 1983, Forsch would pitch in two more Fall Classics with the Cardinals in 1985 and 1987. He suffered a loss in Game 5 against the Royals in '85 but earned a victory in relief during Game 4 against the Twins in '87. However, St. Louis wound up on the losing end twice in game sevens. Forsch would be dealt to Houston, the place where his brother pitched for 11 seasons, at the August 31 deadline in 1988 for
Denny Walling
. He ended his big league career with the Astros in 1989. Despite a career total of 168 wins and a 3.76 ERA, Forsch never made it to an All-Star Game. However, he was pretty good with the bat as he won a pair of Silver Slugger awards in 1980 and 1987. He was a lifetime .213 hitter with 12 home runs. He was still involved in baseball as he served as a pitching coach in the Reds system with the Billings Mustangs.
Condolences to the family and friends of
Bob Forsch
.