Here they are!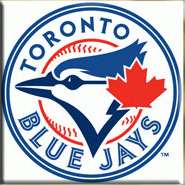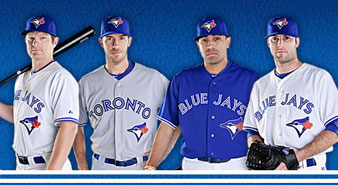 The new "Logo For Life" and new uniforms for your
Toronto Blue Jays
in 2012. Two thumbs up!!
Update @ 3:15pm
: New images added!
BlueJays.com
highlights today's unveiling and provides
a video
of the team's new look.
CP24
also provides
coverage
with an
Adam Lind
interview.
Sportsnet's Jamie Campbell
was the master of ceremonies and highlighted the main theme that "the blue is back in Blue Jays". The adjectives by Campbell to describe the logo were simple, traditional, relevant and modern. President/CEO
Paul Beeston
also mentioned that designing the new uniforms and logo was a two-year process. Beeston added the players and manager
John Farrell
had input into the design. As he succinctly put it, "We're not the Jays, we're the Toronto Blue Jays." He also says the red Maple Leaf in the primary logo is an important part of the team's history in that the team represents Canada and are proud of it. Beeston also commented on the split lettering in an effort to connect the team's past with the future, mentioning the names of
Doug Ault
,
Ron Fairly
,
Bob Bailor
,
George Bell
,
Dave Stieb
,
Joe Carter
,
Robbie Alomar
,
Jose Bautista
and
Ricky Romero
. He admits there was debate and heated arguments among team officials before arriving at the final design. Beeston also says the new logo is modernized and energized from the original logo back in 1976 and that the difference can be seen when they are put side by side.
During the video prior to the unveiling of the uniforms,
J.P. Arencibia
says the modernized look is what he "grew up knowing - the bird, the uniform.
Brett Lawrie
says the different look will "turn some heads" and believes 2012 will be their year. GM A
lex Anthopoulos
says the new look "merges the greatness of the past" from the
Pat Gillick
/
Paul Beeston
era.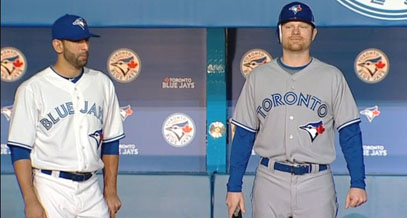 Jose Bautista
and
Adam Lind
model the home white and road gray uniforms respectively.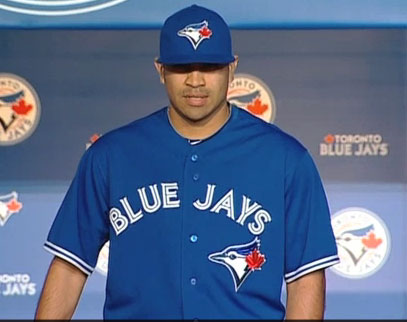 Ricky Romero
dons the alternate blue jersey that will be worn at home and on the road.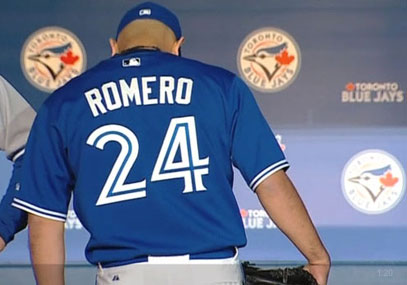 Romero shows off the back of the alternate blue jersey.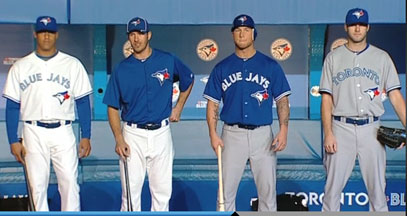 Yunel Escobar
in home white,
J.P. Arencibia
shows off the batting practice uniform while
Brett Lawrie
and
Brandon Morrow
wear the road gray pants with their jerseys.
---
Also today, there is a
special autograph session
at the
Jays Shop
at Sears (Yonge at Dundas) today from 5:00 to 6:00 p.m.
Ricky Romero
,
Adam Lind,
Brandon Morrrow
and
J.P. Arencibia
will be doing the scrawling and scribbling. Get there early. The lineup will probably begin at the
Air Canada Centre
! ;D
It's a good day to be a Jays fan, isn't it? I love the new look and I hope
Mrs. Brumfield
will get me some merchandise to update my wardrobe. I can't wait for Opening Day.