See how many future major leaguers you can spot in these photos from my minor league archives.† These are not the greatest quality of photos but the winner who figures out who is who will get a highly coveted, limited edition photo of
Pedro Florimon Jr.
† Runner-up prizes are a photo of
Eric Fryer
and one of my cats because it's Christmas!†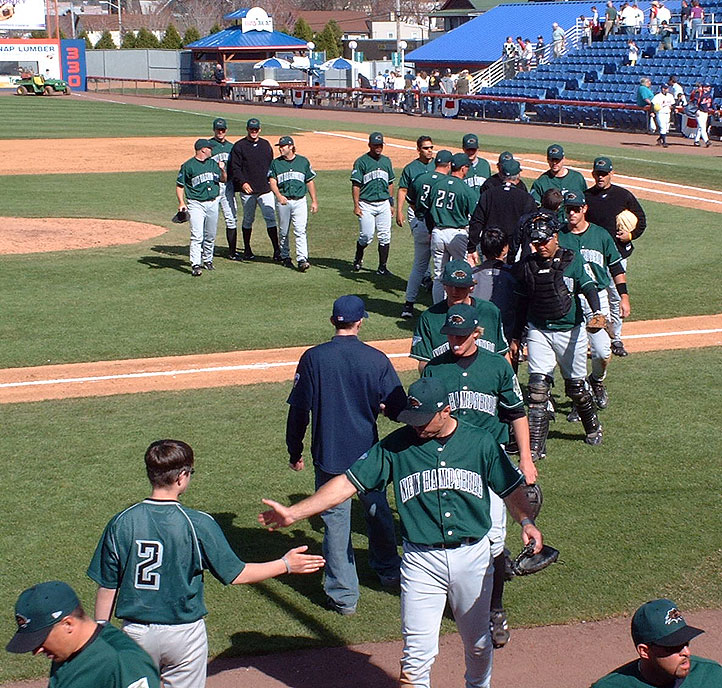 The
New Hampshire Fisher Cats
celebrate a victory in Binghamton over the Mets affiliate.† Spot the future big leaguer in the crowd.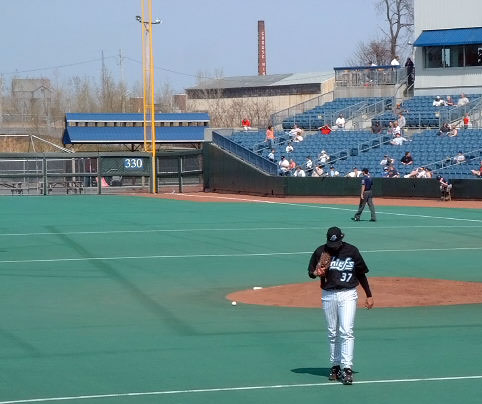 He was in the bigs before but returned for good not too long after a stint with the Syracuse Chiefs.† Bonus Batter's Box points if you can identify the umpire in the background.
The
Jacksonville Suns
sporting bright gold uniforms for
Jimmy Buffett Night
.† There are three future big leaguers here among these "sharp-dressed" men and proof will be provided.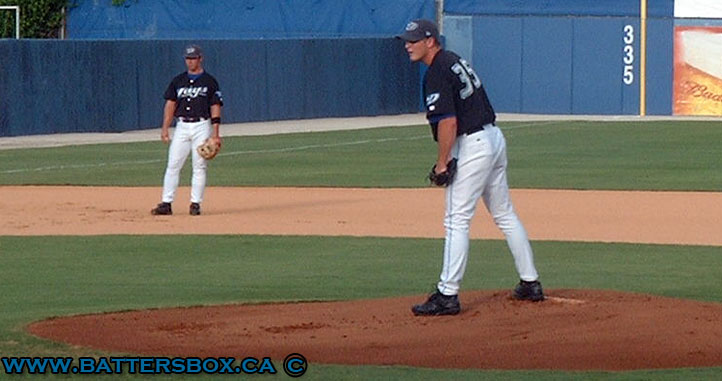 This
Dunedin Blue Jay
has had a brief cup of coffee in the bigs and his brother was a fairly recent first round pick.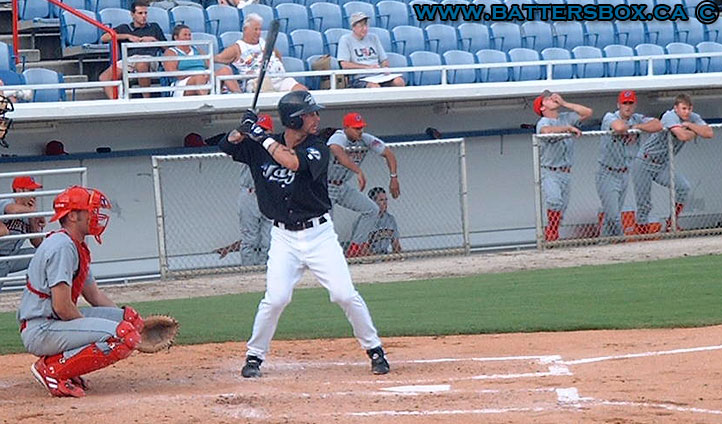 The tattoos should give this one away.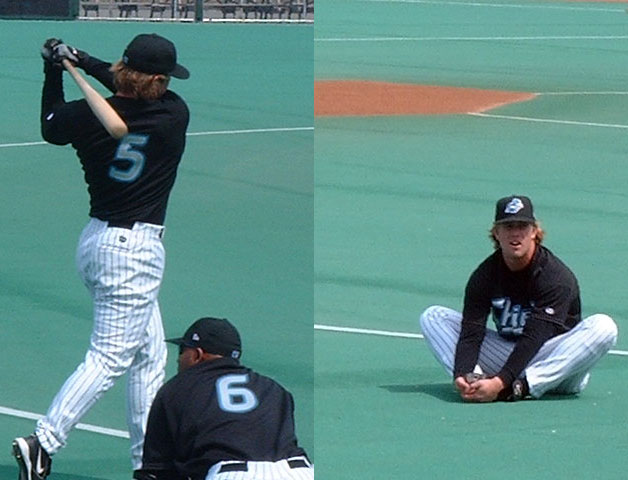 This should be a slam dunk.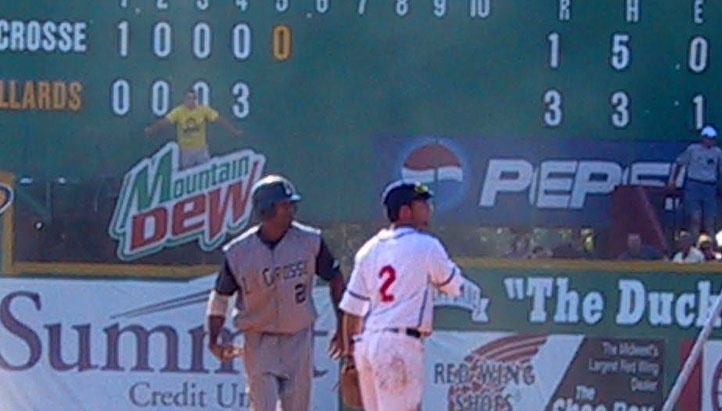 This piss-poor shot is actually from a summer collegiate game in the
Northwoods League
in 2007 in the state of Wisconsin but there is a future big leaguer here and I will provide proof when I reveal the answers.
---
Contest closes Saturday, December 15, 2011 at 11:59 p.m. Eastern Time.† No purchase necessary.† Limit one prize per person per household.† Prizes must be accepted as is.† No substitutions.†
Other disclaimers that may or may not apply...
Use unleaded fuel only.
For office use only.
Not affiliated with the American Red Cross.
Drop in any mailbox.
Edited for television.
Keep cool; process promptly.
For sale by prescription only.
Post office will not deliver without postage.
Return to sender, no forwarding order on file, unable to forward.
Not responsible for direct, indirect, incidental or consequential damages resulting from any defect, error or failure to perform.
At participating locations only.
Not the Beatles, just an incredible simulation.
Penalty for private use.
See label for sequence.
Your mileage may vary.
No part of this publication may be reproduced in any form or by any means without the prior written permission of the publisher.
Substantial penalty for early withdrawal.
Do not write below this line.
Lost ticket pays maximum rate.
Your cancelled check is your receipt.
Place stamp here.
Avoid contact with skin.
Sanitized for your protection.
Be sure each item is properly endorsed.
Sign here without admitting guilt.
Items sold separately.
Slightly higher in California.
Employees and their families are not eligible.
Contestants have been briefed on some questions before the show.
Limited time offer, call now to insure prompt delivery.
You must be present to win.
No passes accepted for this engagement.
No purchase necessary.
Processed at location stamped in code at top of carton.
No riders.
Shading within a garment may occur.
Use only in well-ventilated area.
Keep away from fire or flame.
Replace with same type.
Approved for veterans.
Any rebroadcast, reproduction, or other use of the pictures and accounts of this game without the express written consent of Major League Baseball is prohibited.
Booths for two or more.
Check here if tax deductible.
Some equipment shown is optional.
Don't try this at home.
Dispose of properly.
No Canadian coins.
Not recommended for children.
Prerecorded for this time zone.
Reproduction strictly prohibited.
Do not immerse.
No solicitors.
No alcohol, dogs, or horses.
Restaurant package, not for resale.
List at least two alternate dates.
First pull up, then pull down.
Call toll free before digging.
Driver does not carry cash.
Some of the trademarks mentioned in this product appear for identification purposes only.
Record additional transactions on back of previous stub.
No bills over $20 accepted.
Price does not include taxes, title, destination charges, or dealer prep.
No pepper games.
This is not a competition, it is only an exhibition.
No wagering.
An equal opportunity employer.
Published simultaneously in Canada.
List was current at time of printing.
This supersedes all previous notices.
This information is subject to change without notice.
All rights reserved.
I think that covers it.