The Jays have announced that
they acquired
outfielder
Ben Francisco
from the Phillies for minor league LOOGY
Frank Gailey
. This trade has quite a few questions surrounding it.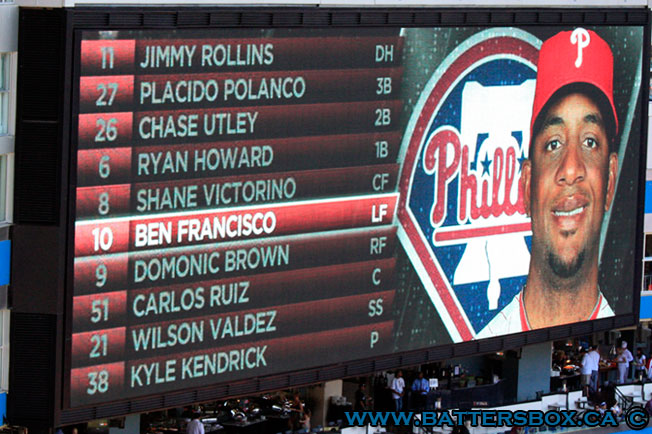 Ben Francisco
on
JaysVision
prior to the Canada Day game between the Phillies and Blue Jays at the Dome.
Why acquire him? Yes the Jays have two left handed hitters vying for the left field slot, but Francisco has negative splits. In 2011 he had a tOPS+ of 109 vs a right handed pitcher and 88 against a left handed pitcher.
Does this mean Edwin Encarnacion's days in left field have ended before they began?
Does this mean a trade of one of Eric Thames or Travis Snider is close?
What about Mark Teahen in left field?
Is there room on the roster for another part time hitter? Rajai Davis is the backup outfielder, we don't have room for another.
Francisco made $1.2m in 2011, I assume he will be well above that for 2012, not that the money matters to this franchise.
Francisco recently turned 30 years old. Are his best days behind him?
Pitcher Jesse Chavez, who was picked up earlier in the off-season, has been designated for assignment to make room.
And in other news, third baseman Aramis Ramirez is expected to sign a three year deal with the Brewers today. That will end well.
More to come I am sure....