Jays left fielder
Eric Thames
is part of the team's Winter Tour that is sweeping through Eastern Canada this week to spread the Blue Jays gospel. He had a few interesting things to say during an interview on
TSN 1050
in Toronto Thursday afternoon.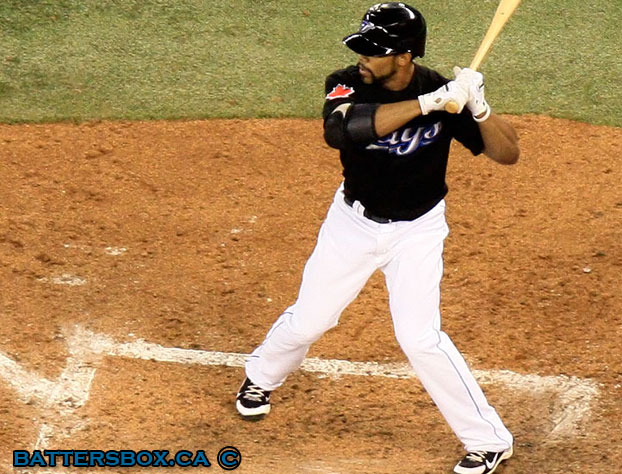 Eric Thames
batted .262./.313/.456 with 12 home runs, 24 doubles, five triples and 37 RBI over 95 games with Toronto in 2011.
---
On
Cybulski & Company
Thursday, Thames made the following comments:
He is not sure why the pronunciation of his last name is different from fellow major leaguer Marcus Thames, believes it may have to do with the latter's Mississippi roots.
He believes he will win the left field job and is not worried about the competition (that's the way it is every year)

Has been working on his swing and his defence
Plans on using a lighter bat by going to one that is 34 inches and 31 ounces instead of the 34" 34 oz. bat he used last season
Feels the lighter bat will give him a quicker swing, more time to react to pitches and allow balls to get deeper in the strike zone
Says he had to swing earlier with the heavier bat
Believes the Jays will compete in 2012 by pointing to the team's lineup, the addition of Sergio Santos as closer and Brett Cecil being in great shape.
Enjoys the special camaraderie that exists with the club.
The audio
can be found
on this podcast page but you will have to dig around for it.
Also this week, the Blue Jays invited some of their prospects to Toronto for a Rookie Camp.
Sportsnet The Fan 590
spoke to four players in center fielder
Anthony Gose
, infielder
Jonathan Diaz
and pitchers
Evan Crawford
and
Drew Hutchison
. Here is a quick recap of the key comments.


Anthony Gose
enjoyed his playing experience in Venezuela and called it the most fun he has had in baseball (even better than winning the Eastern League title in 2011?)
trying to focus on his consistency at the plate, dealing with offspeed pitches, working on bunting and improving his two-strike approach
excited about the opportunity to play with Brett Lawrie one day, noting the impact and excitement he brought to the Jays last season
patterns his game after Juan Pierre and Kenny Lofton, also mentions Jacoby Ellsbury and Carl Crawford as players he would like to emulate offensively and on the basepaths
gives interviewer Kayla Harris a hard time about being a Yankees fan (I like Gose even more!)
The Toronto Star
also
has a feature
on Gose.
"There came a disturbing report in November from a scout that saw Gose in the highly regarded Arizona Fall League where all 30 teams send their top four or five prospects for final seasoning. The negative report said that Gose was not running hard on routine grounders, a red flag for scouts. However, that report has been trumped, in hindsight by the fact that after the AFL campaign, Gose asked if he could go to Venezuela and play winter league ball. Thereís a kid who wants to play."


Jonathan Diaz
spoke of the car accident in Las Vegas in which he and his-then fiancee (now wife) were involved with last season in which they suffered concussions and were out cold about four hours in hospital but are now okay.
appreciated the invitation to Rookie Camp as it shows the organization knows who he is
admits playing on the infield in Las Vegas is a challenge but adds it's the same for both teams and it will make him a better player in the long run
Evan Crawford
excited and surprised to be added to the 40 man roster
enjoyed celebrating the last pitch of the season with teammates old and new during New Hampshire's championship season
learned a lot from manager Sal Fasano and pitching coach Pete Walker, who Crawford says did a good job of keeping the pitcher loose
on the prospect of pitching in Las Vegas, he notes a lot of pitchers have come back frustrated but he is looking just to work hard and improve
likes being a member of the bullpen and adds being a reliever is a lot like being a position player as he has the opportunity to pitch almost every day

Drew Hutchison
appreciates the praise he has received from the organization but does not focus on it or look for it
enjoyed competing against the Phillies in spring training as a last-minute starter, said it was a lot of fun and that it was a learning experience
enjoyed playing for three winning teams last season (Lansing, Dunedin, New Hampshire)
not worried about where he will pitch in 2012
learned a lot from Sal Fasano and tried to be within earshot of him when he spoke
he was not worried about being a late round pick and was just thankful the Jays gave him an opportunity
The audio for these interviews can be found right here.
Also, The National Post has more coverage of the 2nd annual Jays Rookie Camp. Assisant GM Tony LaCava says the goal is to demystify the major league experience for the prospects. He points to Drew Hutchison as an example:
" 'Itís his first trip out of the U.S., so he had to go through Customs. He had to exchange some money. Thatís kind of good. The more they can experience those things, the less they have to worry about when they get here in terms of the day-to-day stuff.' Ē
The National Post story also points out Cuban shorstop prospect Adeiny Hechavarria was invited to the camp but Visa issues are preventing him from leaving the U.S.