We are in the depths of a baseball-less winter but pitchers and catchers will be reporting to camp in less than 30 days. The minor league camp won't start until March but let's start thinking about the lineups for the 2012 season. There is no hurry so we will do this over the next week or so. Today I will look at the catchers. Infielders, outfielders and starting pitchers will follow over the next few weekdays.
Catcher placement for 2012 are the easiest spots to fill. Most of the Jays catchers had strong seasons in 2012 and promotions are obvious.
Las Vegas
Travis d'Arnaud will be the catcher and he has a few questions to answer with his play:
1. Is he fully recovered from his thumb injury? d'Arnaud injured his thumb in the off-season laying for team USA. He had surgery and everyone claims he is fully recovered but is there any lasting impact on his play?
2. Can he maintain his performance at AAA? Alex Anthopoulos is often asked about his upcoming catcher battle and what he will do. To downplay the battle and play for time, AA often mentions that JP Arencibia needed two years in AAA before he was ready for the big leagues. I don't expect d'Arnaud to need two years in AAA, d'Arnaud is a different prospect than JPA, he is more selective at the plate and he has a good two strike approach. I expect d'Arnaud to be ready by the end of the year. Unless there is an injury, I wouldn't expect to see d'Arnaud in the majors until September.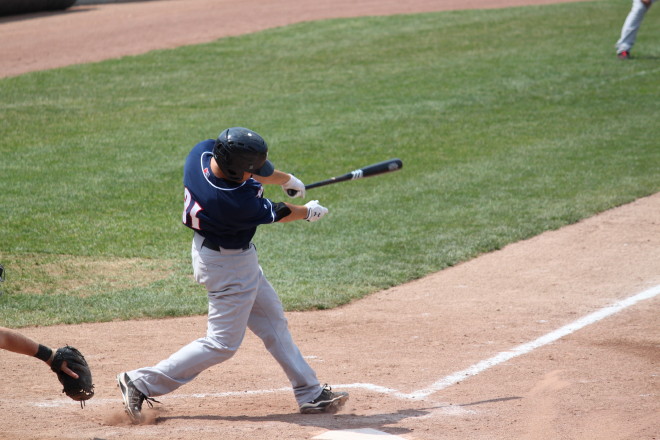 Brian Jeroloman is back, after a brief escape, to provide the backup duties in Las Vegas. Time is almost run out on his major league prospects so he needs to make a name for himself in 2012 to at least make him attractive to another team.

New Hampshire
AJ Jimenez will move up from Dunedin to New Hampshire to learn more catching insights from Sal Fasano. Fasano and Jimenez were together in Lansing in 2010. After a good 2010 Jimenez enjoyed a break-out 2011 showing good defense and a better eye at the plate. As we know the offensive bar for catchers is quite low, Jimenez's ability to hit will be highly valued assuming he can keep it going in 2012. AJ had better offensive numbers at Dunedin than did Travis d'Arnaud the previous year. However Travis took a big leap forward in 2011, it would be a lot to expect Jimenez to do the same in 2012.
Yan Gomes is likely to return to AA as the backup.
Sean Ochinko is the wildcard. Ochinko played reasonably well in Dunedin splitting time between catcher, first base and third base. Third base could be full in New Hampshire but he could get time at first base.

Dunedin
Carlos Perez will be the catcher in Dunedin, remaining paired with his manager from 2011 former major league catcher Mike Redmond. Perez had an up and down 2011, he started strong, struggled in the middle and finished a little better. In 2012 he will be back in the heat of Florida which might help his performance. Perez's star dimmed somewhat in 2011 and the Jays hope the better hitting comes back in Dunedin.

Lansing
This is the most uncertain of the catching jobs. The closest catcher to being a top 30 prospect is Santiago Nessy but I am not sure if he is ready for the Midwest League yet. Nessy just turned 19 and played last season in Bluefield. The next logical step for Nessy is Lansing but it might wait until he is 20.
There are a raft of other catchers who could claim the Lansing jobs. Guys with experience above short season ball include Jack Murphy, Joe Bowen and Luis Hurtado. Guys with lower level experience include Pierce Rankin, Garrett Maines, Cody Bartlett, Aaron Munoz, Chris Schaeffer, Tim Mahler, George Carroll and Alexsys Rodriguez. Murphy could be assigned to Dunedin to back up Perez. Some combination of Hurtado and Bowen is most likely with Rankin or Maines being the next best bet.
Tomorrow we will have a look at first base.