The Blue Jays
have signed
right-hander
Rick VandenHurk
to a non-guaranteed split major league deal. Fellow righty
Alan Farina
, reocvering from Tommy John surgery, has been put on the 60-Day Disabled List to make room.
Rick VandenHurk
pitches against the Blue Jays at the Dome September 10, 2011.
---
Born in Eindhoven, Netherlands,
Henricus Nicolas VandenHurk
was signed by the Florida Marlins as a free agent in 2002. The 6-foot-5, 215 pound righty made his major league debut with the Marlins April 20, 2007 and allowed just one run in 4 2/3 innings in a no-decision against Milwaukee. The start was cut short by a rain delay. His first major league decision was a loss in New York against the Mets April 19 but he earned his first win with six shutout innings in Atlanta June 5 in which he allowed just one hit and two walks. That hit was a leadoff double by future Jay
Yunel Escobar
in the seventh inning. For the season, VandenHurk struck out a batter an inning with 82 over 81 2/3 innings but went 4-6 with a 6.83 earned run average and a WHIP of 1.783 over 18 apperances (17 starts). He was sent down to the minors and earned the win in the All-Stars Futures Game.
VandenHurk had a shorter stay with the Marlins in 2008 by going 1-1 with a 7.71 ERA over four starts in which he struck out 20 batters over 14 frames. However, his WHIP was an unsightly 2.143. In 2009, he made 11 starts in 2009 with the Fish and posted a 3-2 record with a 4.30 ERA and brought down his WHIP to a more respectable 1.330 while striking out 49 hitters over 58 2/3 innings. VandenHurk made two relief appearances with Florida in 2010 that consisted of 1 1/3 innings and a 6.75 ERA before being traded to Baltimore for lefty
Will Ohman
at the July 31 trade deadline.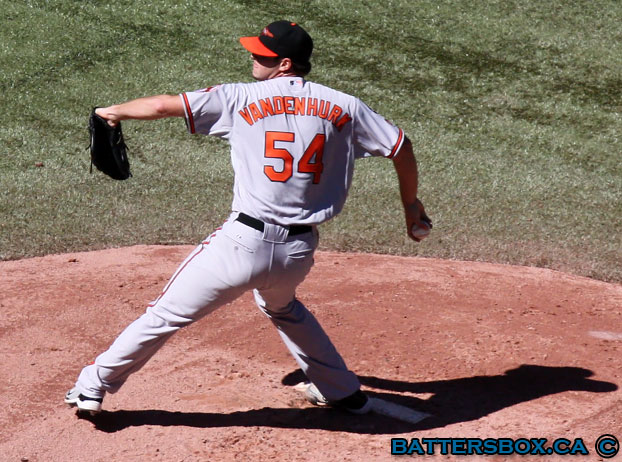 Rick VandenHurk
made his American League debut against Texas at Camden Yards August 22, 2010 and struck out two and walked one in his scoreless inning of relief.
---
VandenHurk's longest outing with Baltimore in 2010 was 5 1/3 innings against the Jays September 13 and allowed an
Edwin Encarnacion
solo home run among two hits while whiffing a batter in a game the Orioles won 4-3. However, the Jays would exact some revenge on VandenHurk by handing him his first American League loss as they got to him for three runs over four innings in a 5-2 win. His combined season with the Marlins and Orioles saw him go 0-1 with a 5.09 ERA but he racked up 18 Ks over 17 2/3 innings.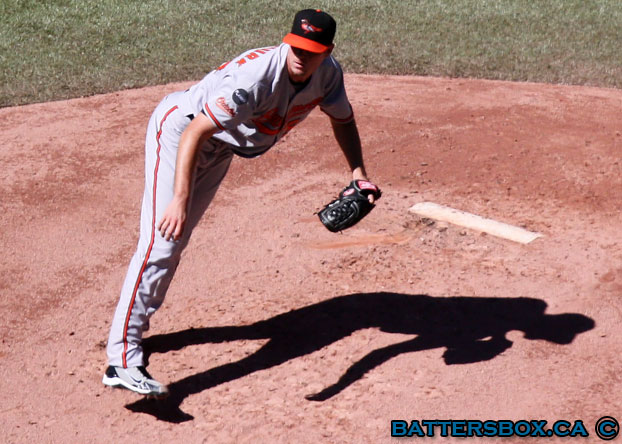 Rick VandenHurk
has made four career appearances against Toronto, two in 2010 and two in 2011.
---
VandenHurk spent most of 2011 in the minors before making two starts and two relief appearances for the Orioles in September. He pitched 1 1/3 shutout innings against the Jays at Camden Yards September 1 despite giving up a hit and a walk but he did pick up one strikeout. He got the start in Toronto on September 10 but lasted just 2 1/3 innings and gave up three runs (homers by
Jose Bautista
and
Brett Lawrie
) in what turned out to be a 5-4 Jays victory. His 2011 big league totals were 0-0, an 8.00 ERA and a WHIP of 2.222. However, he struck out seven batters in nine innings and the Jays hope he can sustain his ability to strike out hitters while cutting down on hits and walks allowed.
FanGraphs.com
shows VandenHurk has a
four-pitch mix
with a fastball, slider, changeup and curve. His fastball is clocked at 92-93 miles per hour with a slider around 81 MPH, a changeup around 84 MPH and a curve that drops in around 82 MPH. VandenHurk will turn 27 on May 22.