The National League Central is the home of the defending World Series Champions and two of the four teams that reached the playoffs in 2011. Ergo, it's the best division in baseball! ;D This preview will ask 12 probing queries and maybe provide some insight of what you can expect in 2012.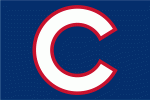 Chicago Cubs
Will a change of scenery work for
Ian Stewart
?
The 10th pick of the 2003 draft was traded to the Cubs with reliever and 2007 first rounder
Casey Weathers
for outfielder
Tyler Colvin
and infielder
D.J. LeMahieu
last winter. Stewart was sent down to Triple-A Colorado Springs early in the season and wound up hitting just .156 with zero homers and six RBI in over 48 games with the big club. Battling knee, hamstring and wrist injuries last season, Stewart is having a hard time staying healthy this spring because of a nagging
wrist injury
from August.
Baseball America
's number four prospect in 2004 has a career .261 average at Wrigley Field, 25 points above his lifetime average. He hopes to celebrate his 27th birthday by manning the hot corner on Opening Day against the visiting Washington Nationals April 5.
When will the
Anthony Rizzo
era begin?
The one-time Red Sox and Padres prospect will spend the beginning of 2012 at Triple-A Iowa. If spring training
statistics
were the only criteria, it should be
Bryan LaHair
starting the year in the minors instead. However, the Cubs want to give the Pacific Coast League MVP and home run king of 2011 a closer look before turning the reins over to RIzzo. The one thing working in Rizzo's favour is the faith that Cubs GM
Jed Hoyer
and director of scouting and player development
Jason McLeod
have in him. The duo drafted Rizzo while they were with the Red Sox and traded for him with the Padres in the
Adrian Gonzalez
deal before getting him again for the Cubs in a deal that sent pitcher
Andrew Cashner
to San Diego. Rizzo had an OPS of 1.056 at Triple-A Tucson but struggled in a pair of stints with the Padres, batting just .141 with one homer in 48 games. The 22 year-old Rizzo has faced greater adversity as he was able to recover from Hodgkin's lymphona four years ago.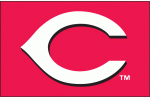 Cincinnati Reds
Can
Zack Cozart
handle the fine art of playing shortstop?
Cozart made his major league debut last July and hit .324 with an OPS of .811 in 11 games before going down with Tommy John surgery on his left elbow as a result of a collision at second base with the Braves
Nate McLouth
. Still, the production from Cozart was much better from what they were getting from
Paul Janish
and
Edgar Renteria
and his OPS was .825 at Triple-A Louisville at the time of his call-up. That was a 99 point jump from his OPS with the Bats in 2010. The 25 year-old has been
getting advice
from Hall of Famers
Barry Larkin
and
Joe Morgan
this spring and the Reds hope it will pay off. Cozart did not make an error during his brief stint and is said to have the tools to get the job done at short according to
Baseball America
, who rates him the third best prospect in the Reds system.
Could this be
Scott Rolen
's final year?
Battling shoulder woes on and off since the 2005 season, Rolen had a down year with the bat in 2011 by hitting just five homers and slugging .397 - a full 100 points below his 2010 campaign when he homered 20 times and drove in 83 runs. He wound up missing the final three months of last season. In a
conversation
with fellow former Jay Dan Plesac, Rolen says he is as healthy as he has ever been as the AC joint in his left shoulder has been cleaned out to give him more range of motion. If spring training is any indication, Rolen should have a good season as the 2012 campaign marks the final year of his contract. In his 16 year career, Rolen has won nine Gold Gloves with three different teams - the Philadelphia Phillies, the St. Louis Cardinals and the Reds in 2010. The only team he didn't win one with - the Blue Jays. Only
Edwin Encarnacion
remains in the deal that sent Rolen to Cincinnati from Toronto during the 2009 season. Reliever
Josh Roenicke
was claimed on waivers by the Rockies last season while starter
Zach Stewart
was dealt to the White Sox in the mega deal involving
Colby Rasmus
.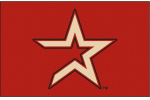 Houston Astros
Can
Brett Wallace
bounce back with the bat?
The one-time Jays prospect hit just five homers with the Astros and slugged .369 in 379 trips to the plate in 2011. The 25 year-old was also demoted to Triple-A Oklahoma City in August before being called back up in September. Coming into camp, Wallace has lost 15 pounds and is
trying to prove
he can handle third base, where he played during his college days at Arizona State. The Astros are looking to move
Carlos Lee
from the outfield to first base, so Wallace finds himself competing with
Chris Johnson
for time at the hot corner. With a spot on the major roster not yet guaranteed, it looks like the Blue Jays sold high on Wallace when they acquired him for outfielder
Anthony Gose
two seasons ago. It's been a fall from grace for the 13th overall pick by St. Louis in the 2008 draft.
Could
Brad Mills
be the first manager fired this season?
The Astros head into their 50th anniversary season trying to avoid triple figures in the loss column for only the second time in franchise history. The first time happened last season, when they lost 106 games. That shattered the previous high of 97 losses that was set in 1965 and equaled in 1975 and 1991. The Astros even underperformed their Pythagorean record of 62-100 by six games and last year's 56 wins marked a drop of 20 from Mills' rookie season in 2010. Mills is
under contract
for this season plus an option. However, with
Jeff Luhnow
replacing
Ed Wade
as general manager and
Jim Crane
taking over for
Drayton McLane
as owner, the former Expo could be shown the door if the team gets off to a rough start.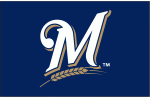 Milwaukee Brewers
Will
Nyjer Morgan
repeat his success of 2011?
The 31 year-old Morgan and his
alter ego
Tony Plush
batted a career high .304 and helped the Brewers win their first playoff series since 1982 by driving home the winning run in Game 5 of the National League Division Series against Arizona. His OPS spiked 150 points from 2010 from Washington and after being caught stealing 17 times two years ago, he had just 17 stolen base attempts with the Brewers but was successful on 13 of them. However, the Brewers hope he will tone down his act off the field after calling
Albert Pujols
"Alberta" during a heated late season series with the Cardinals. In a shining example of karma, the Cards got their revenge by beating the Brew Crew in the NLCS. Morgan was plunked in the head by a
Barry Zito
curveball this spring but as a former Regina Pat, he was able to shake it off and return to action a few days later. Morgan is expected to get the lions share of playing over
Carlos Gomez
in center field.
Can
Shaun Marcum
recover from his disastrous post-season?
Marcum matched his career high of 13 wins and reached 200 innings for the first time in helping the Brewers clinch the Central. However, the former Blue Jay appeared to run out of gas as he had an ERA of 5.17 in September before nearly tripling that mark in the playoffs. The 30 year-old righty tossed his glove in the air after giving up a home run to
Paul Goldschmidt
in Arizona during Game 3 of the NLDS and then lost Games 2 and 6 of the NLCS to St. Louis. Marcum has
experienced tightness
in his shoulder and only recently pitched for Triple-A Nashville. He is on track to have four appearances before being ready to pitch in the regular season. Having worn #28 with the Blue Jays, he has opted not to wear the #28 left behind by
Prince Fielder
and continue with the #18 he wore last season.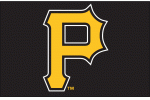 Pittsburgh Pirates
Can
Nate McLouth
buck the trend again?
McLouth was
more than happy
to return to the place where his big league career started. He joined the Bucs in 2005 and was there until early in the 2009 season when he was traded to Atlanta for pitchers
Charlie Morton
and
Jeff Locke
and outfielder
Gorkys Hernandez
. He hit a combined 20 homers that year with the Pirates and the Braves in 2009 but only managed 10 more over the last two seasons while struggling to hit over .200. His banner year came in 2008 when he became an All-Star and Glove Gold winner by hitting 26 homers and 46 doubles while adding 23 stolen bases. Right now, the 30 year-old McLouth will be an extra outfielder behind the trio of
Alex Presley
,
Andrew McCutchen
and
Jose Tabata
. He is also battling a bruised foot but he can provide some sock off the bench as evidenced by a recent home run this spring to help the Bucs beat the Red Sox.
Will a certain pitcher who bunted a ball into his face this spring get back on track?
This hurler landed a major free agent contract with the Yankees after a 2008 season in Toronto that saw him set career highs with 18 victories and 220-plus innings pitched. Though he won 34 games in three seasons with the Bronx Bombers and added three more wins in the post-season, he was considered to be such a disappointment after posting 5-plus ERAs over the last two seasons. That's why the Yankees decided to eat $20 million of the remaining $33 million left on thet 35 year-old's contract in a deal that saw the Pirates give up two low-profile prospects. However, a bunted ball below his eye last month is expected to keep him out for the first part of the season. The Arkansas righty is supposed to throw a
simulated game
this weekend. When he does make a full return, he'll have former Jays teammate
Rod Barajas
to pitch to.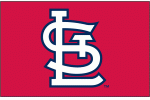 St. Louis Cardinals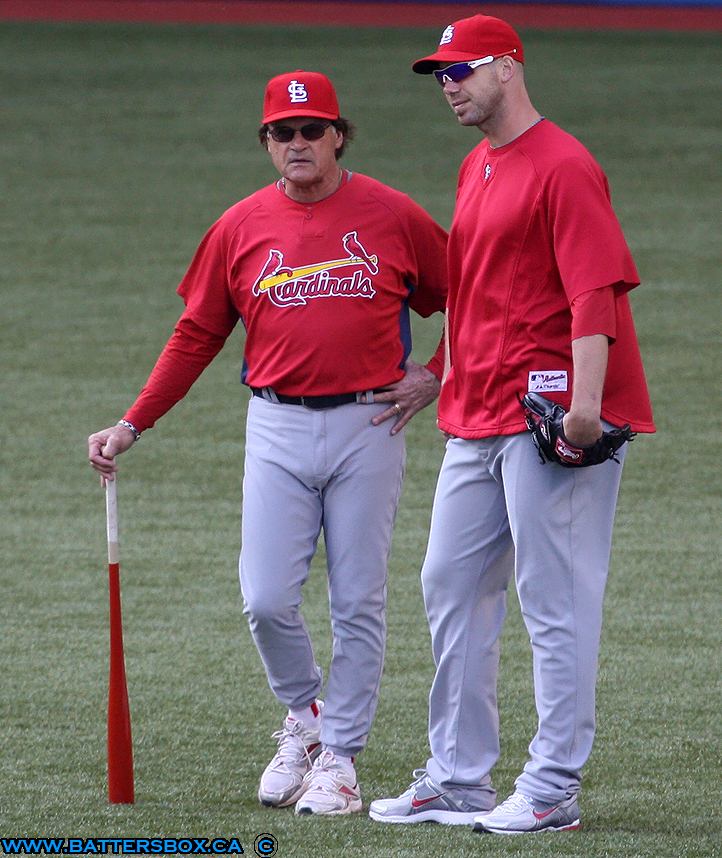 What do
Tony La Russa
and
Chris Carpenter
have in common? They will not be around on Opening Day thanks to La Russa's retirement and Carpenter's shoulder woes.
How much does
Chris Carpenter
have left in the tank?
It appears the one-time Medicine Hat Blue Jay will begin the 2012 campaign on the disabled list after recently
experiencing weakness
behind his right shoulder and neck. Turning 37 next month, the New Hampshire native has battled various injuries in the past by missing the entire 2003 season with a torn labrum and all of 2007, save for one start, and most of 2008 with Tommy John surgery on his right elbow. The Redbirds already plan to start
Kyle Lohse
on Opening Day in Miami April 4. That's a bit of a drop-off from the man who came up big in the 2011 post-season by outduelling
Roy Halladay
in his own back yard in the deciding Game 5 of the National League Division Series and winning Game 7 of the World Series by pitching on three days rest. The pressure will be on
Adam Wainwright
, who was out all of last season with Tommy John surgery, to fill the void. He is slated to start the Cardinals home opener against the Chicago Cubs April 13.
How will
Mike Matheny
fare in replacing "The Genius"?
Going by the Cardinals Spring Training mark of 10-6, he'll do just fine. By maintaining the current .625 winning percentage, that would put the Cards win total in the regular season to just 101 wins. That would be better than
Tony La Russa
's victory totals during his World Series winning seasons in 2006 and 2011 when St. Louis won 83 and 90 games respectively. The 41 year-old former catcher will enter 2012 as the major leagues' youngest manager. Like
Chris Carpenter
, Matheny's fortunes took a turn for the better after leaving Toronto. Batting all of .215 with the Jays in 1999 after a five season stay in Milwaukee, Matheny won three Gold Gloves with St. Louis and one more with San Francisco before hanging up the tools of ignorance after the 2006 season due to post-concussion syndrome. Despite having no managerial experience anywhere, not even in Rotisserie Leagues, the Cardinals brass are confident the team will not
miss a beat
under Matheny.
---
The predicted order of finish in the National League Central Division for 2012...
1. Reds
2. Cardinals
3. Pirates
4. Brewers
5. Cubs
6. Astros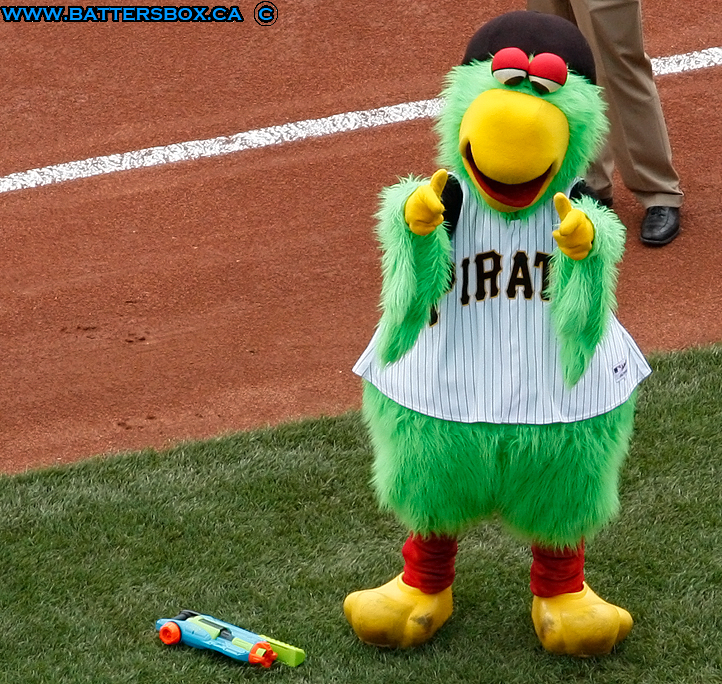 The
Pirate Parrot
hopes his club can break the .500 barrier in 2012.