I was in Lansing last week to see four Lugnut games. Lansing is drawing a lot of fan and scout attention this year because of their young group of starting pitchers and the teams performance on the field has more than lived up to expectations. This scouting report summarises what I saw in my four days in Lansing.
Remember this is the end of the first month of the season for the players, many of whom are playing in full-season ball for the first time. There is a lot of teaching going on. While I was in Lansing, in addition to the regular team coaches, these other "teachers" were in town: Pat Hentgen, roving pitching instructor; Mike Mordecai, infield instructor; Rick Miller, outfield instructor; and Steve Springer, quality at-bat instructor. The manager/coaches room was like grand central station.
And as usual I saw these pitchers throw once, maybe twice for a reliever. I saw position players have fifteen at bats, or less. Maybe they were in a slump when I was there, maybe they were hot. Use this scouting report as a guide, not as definitive. Also I am not a scout although I play one on the internet. I have however coached up to midget level ball in Ontario (16-18 years old) and I am familair with being on a field.
Pitchers
Noah Syndergaard
Syndergaard is tall and has what could be described as an ideal pitchers body. On this day Syndergaard threw his fastball at 92-94 but apparently that was a mile or two slower than normal. It was a very cold night in Lansing. He did command his fastball well and generally kept it down in the zone. Syndergaard also threw a curveball and a change-up. Both were inconsistent, some good ones offset by some poor ones. The two hardest hit balls off Syndergaard were both off change-ups that were left up. I did talk with a scout who was impressed by Syndergaard. Although the off-speed pitches were inconsistent the scouts opinion was that he showed that he had them and eventually they could be good. At 19 years old, Syndergaard has time to make those pitches better. It can be very difficult to develop those pitches if you don't have them already. The change-up doesn't move a lot at this point, the curve is loopy, I was told by Vince Horsman that the velocity of the curve needs to improve from 70 mph to around 77.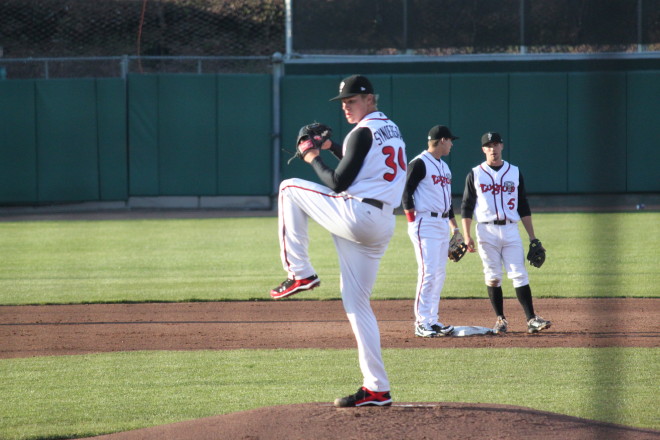 In summary, Syndergaard has a plus fastball and a developing curve and change-up. Syndergaard's fastball is good enough to overpower A level hitters but he will need the other pitches to improve to succeed at higher levels.
Anthony DeSclafani
DeSclafani is around 6 feet tall and has a nice easy delivery. His fastball is around 91-92 mph and he mixes in a good slider and a change-up. DeSclafani was also around the zone and showed good command.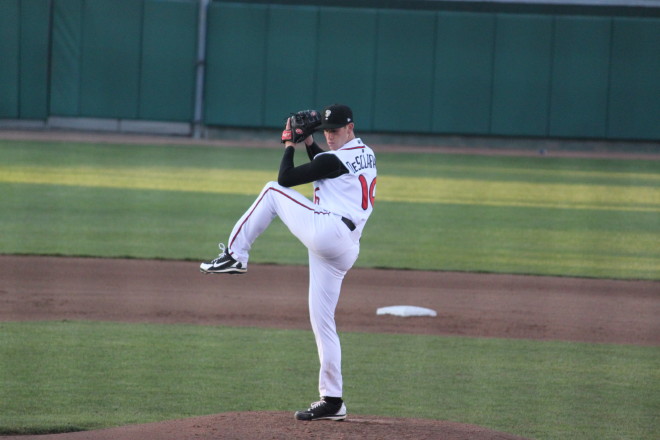 Summary: DeSclafani is a "pitchability" pitcher. His slider is probably the best pitch I saw on this night but in general he will have to mix his pitches and hit his spots to succeed.
David Rollins
Rollins is a short lefty, approx. 5' 10" or 5'11". On this night Rollins mainly went with his 89-91 mph fastball and a change-up. Rollins fastball command is not great and he tended to pitch up in the zone a lot. At this level he was able to get a number of strikeouts with the hitter chasing high fastballs, that won't work at AA, or maybe in the FSL.
Summary: Rollins needs better fastball command a third pitch.
Marcus Walden
Walden is another shorter pitcher, around or just under 6 feet, and is a sinker, slider type of pitcher. Walden's fastball sat 93-94 in his first inning and broke down and in with lots of hard movement to the hitter. Walden was very effective in keeping the ball down and missed low when he did miss. Walden also threw a change-up and a slider or cutter. If it was a slider it didn't move much. Walden's velocity dropped a bit by the later innings, down to 89-92 by the fifth.
Summary: I thought Walden could make a good reliever where he could max out over short periods. If he can develop a real good change-up to go along with the moving fastball and a cutter/slider he could be effective in short stints. I say that because the sinker/slider pitchers, like Walden often struggle when they get to AA, but Walden has more velocity than most sinker, slider pitchers.
Justin Nicolino
Nicolino is a tall lefty, about 6'3", with a good solid build. Nicolino threw a fastball at between 88-91 with the normal lefty run, a plus change and a curve with a big 2-8 break. Nicolino showed good command but I only saw him throw around 30 pitches because that's all he needed to get through his three innings. Nicolino gave up two hits, one of which was a swinging bunt. The other was to the leadoff hitter when Nicolino went strike one, FB to the outside corner, then tried to throw a FB to the inside corner. He didn't get it in far enough and the hitter pulled a ground ball inside third base for a double.
One of the opponents best hitters had nightmares after this sequence: FB outside corner, strike one; change, outside corner strike two, curve across the plate, strike three. The hitter looked shell shocked.
A scout I was sitting near said Nicolino's delivery reminded him of Cliff Lee. The easy lefthanded delivery with the varied offerings created this impression.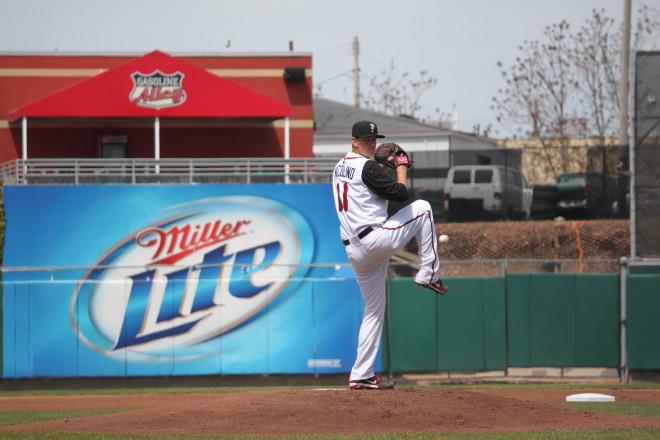 Summary: With just 30'ish pitches it was hard to judge but Nicolino looked to have a plus change and a plus curve with a league average fastball, for a lefty. His command was good which has earned him the plaudits so far.
Aaron Sanchez
Sanchez was the last of the six starters I saw on this trip and they kept the best until last. A 95-96 mph fastball with sink; a plus, plus change-up; and a strong 11-5 or 10-4 curve that Sanchez appeared to throw at two speeds with different breaks. To me that makes three plus pitches and a potential #1 starter. The knock on Sanchez has been his command of his pitches but that seems to be getting better. I would say that Syndergaard's command of the fastball was better but Sanchez's was harder and moved more.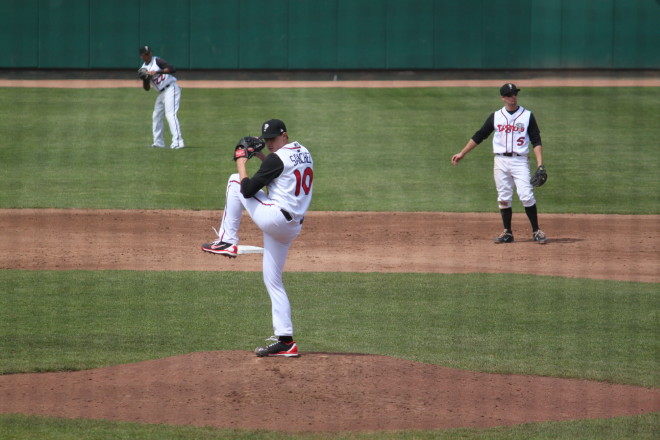 Summary: Call me impressed
Tyler Ybarra
Ybarra is an average height lefty who has a short arm action, behind the back, hides the ball well, then whips his arm through quickly. Ybarra was like two different pitchers on Thursday. In his first inning his fastball sat at 91-92 with a good changeup whereas in the second his fastball was down to 88-89.
Ybarra pitched again on Sunday with similar results, first inning very good, second, and third not so much. The issue could really be pitching with men on base. Ybarra seemed to struggle with his delivery with men on base. I assume it is a mechanical issue he has right now that needs to be corrected. Ybarra also showed a nice curveball on Sunday, he does have potential if he can get the delivery issues corrected.
Javier Avendano
Avendano is a solid bodied right hander who the Jays picked up in the minor league rule 5 draft in the off-season. Avendano's fastball sat at 88-89 and he complemented it with a good curve. According to pitching coach Vince Horsman, Avendano's fastball was "off" on this night and normally he is around 90 mph. Avendano probably needs a third pitch to keep hitters off his fastball which the hitters hit on the nose a few times.
Brandon Berl
Berl is a shorter right handed reliever. with an 85-86 mph fastball, a slider and a curveball.
Kramer Champlin
Champlin is a tall righty who threw a 85-86 mph fastball and a big breaking slurve. Champlin threw that slurve over 50% of the time and it can fool hitters at this level.
Ajay Meyer
Meyer is the closer for the Luggies. Like Champlin, Meyer is a tall righty who throws a lot of junk. Meyer throws from a low 3/4 and drops his arm down to sidearm from time to time. Meyer's fastball sits between 86-89 depending on the arm angle.
Blake McFarland
McFarland is another tall righty and as befits a former starter he has a range of pitches. McFarland is an extreme over the top pitcher with an 89-90 fastball; a change and a 12-6 curveball that he threw relatively hard.
Hitters
Carlos Perez
I thought Perez looked better to me this year than last. His defense was excellent in this series, i don't remember a ball getting by him and he limited the running game of the opponents. Perez has the good line drive stroke and never looks overmatched at the plate. Perez was sent back to Lansing to work on his defense but it looked good to me.
KC Hobson
Hobson is a good sized left handed hitter. I still don't see an ideal swing, he has an undercut that cuts down on the line drives and limits his ability to hit the outside pitch.
Kevin Patterson
Patterson is a big, solid left handed hitter who muscles the ball. Patterson appears to be looking inside and has trouble right now with the outside pitch.
Jon Berti
Berti is a nice looking, short, second baseman. Berti has a good line drive stroke, is fast and a good fielder. Berti fills the description of a scrappy white guy. His abilities should take him higher in the system and whether that takes him to the major leagues depends on his ability to develop.
Andy Burns
Burns is a tall (6'1") athletic shortstop who can also play third base. Burns plays very good defense and is smooth but not flashy and makes all the plays. As a hitter Burns has some good pop in his bat. To me Burns looks like he is still trying to find the right consistent swing. At times he lines the ball around the field and at other times he looks to have too many moving parts. But as he finds his swing he should push up through the system. Burns sat out the 2011 college season after being red-shirted.
Shane Opitz
Opitz only played one game but I like his swing. His sitting on the bench for 3 out of 4 games shows he ranks behind Burns and Berti in the eyes of the organization.
Kellen Sweeney
First, Sweeney is a very good fielder at third. He showed good range, a good glove, athleticism, and a strong arm. As a hitter has a quick bat and a very patient approach at the plate, perhaps too patient at times. Sweeney missed most of last season and while he hasn't had results at the plate here, he doesn't look overmatched. I would give him a mulligan on the first two months and see how he hits in the back half of the season. I think he is better than he has shown in the stats so far.
Chris Hawkins
Hawkins has an unusual swing, I find it hard to describe it. Basically he starts with his hands low and extended and whips the bat through until its up and in. He has very good contact skills and is a free swinger. His swing looks different but he barrels up a lot of balls. He is also aggressive and can hit almost any pitch, he had more one pitch at-bats than any other hitter. Hawkins low walk and strikeout numbers support this observation. In case you didn't get it, Hawkins has great hand-eye coordination but an odd swing.
I spoke to a scout about Hawkins swing. In his opinion, at higher levels Hawkins will be vulnerable to 2 seamers away, pitches that drop away from his swing plane and to pitches down and in. In his opinion it would be too hard for Hawkins to remake his swing, it is too ingrained in him now. He said when he first saw Hawkins he thought this guy can't be a prospect but having seen him over five games, he thought he could succeed because of his hand-eye coordination. He said "not all swings in the major leagues are pretty ones". But he will have holes in his swing and he would be vulnerable to certain pitches. If he can learn to lay off those pitches and try to get his pitch he has a chance to be a major leaguer.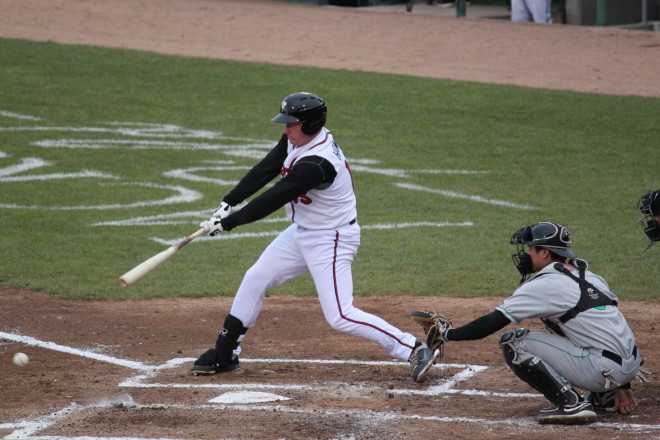 Hawkins is a big guy, a left handed hitter in case you didn't know, and doesn't look smooth in left field. Partially because of his size he appears to lumber after the ball although he picks up speed once he gets going. In what I saw Hawkins didn't have a great arm, definitely a left fielders arm to me.
Kenny Wilson
Wilson is no longer a switch hitter, he is exclusively a right handed hitter now. Unfortunately I did not see much from Wilson in the three games he played.
Kevin Pillar
Pillar is short for an outfielder, he is listed at 6' but is more likely 5'10" or 5'11". Pillar is fast and can play all three outfield positions but he may not have the range to play centre at the major league level. Pillar also showed a plus arm. Pillar showed a nice swing but he did end up with only one hit in the four games. To me Pillar's potential is a Reed Johsnon type, a player not quite good enough to play centre field every day, not powerful enough to mash enough to be an everyday outfielder; but a guy who can give you a bit of everything. But let me note that there is a long way from here to there and while Pillar does have a nice swing he was struggling by the time I left Lansing and looked very discouraged at the plate.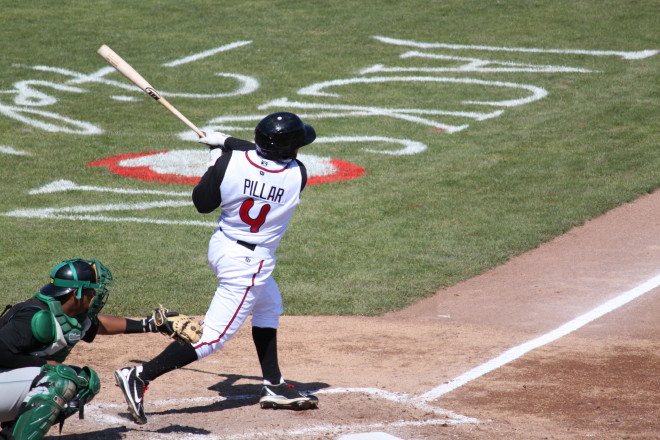 I do have more photos and some video that I will share over the next week or so.
I did also note in Lansing that the Blue Jays have installed a pitch f/x system, or rather they have contracted with a supplier to install a pitch f/x system. I believe they have one at each full season park now. The reports on the pitchers from all home games can be shared with the front office and with the coaches. I have reached out to the Jays to see if they have anything further to add to this.