92-93 shares with us his observations from the final game of the Las Vegas 51s first half (follow 92-93, and see more pictures, at @NorthYorkJays):
With the caveat that it's ridiculous to draw conclusions based on any one game, here're my thoughts from the 51s game I attended, with some shoddy iPhone video/camera links.
1. Adeiny Hechavarria can play in the majors today, but you don't want him starting for your team if you fancy yourself a contender. He had 3 hits and all 3 were groundballs that either didn't leave or barely left the infield. His pitch recognition didn't look all that great, but there's enough athleticism there that you hope with more experience and reps he can become a competent hitter at the big league level. I wouldn't read anything at all into his 2012 hitting line, because he's probably benefiting a ton from the hard, dry, and extremely fast infield in Vegas.
Bill Murphy watering the grounds before the game: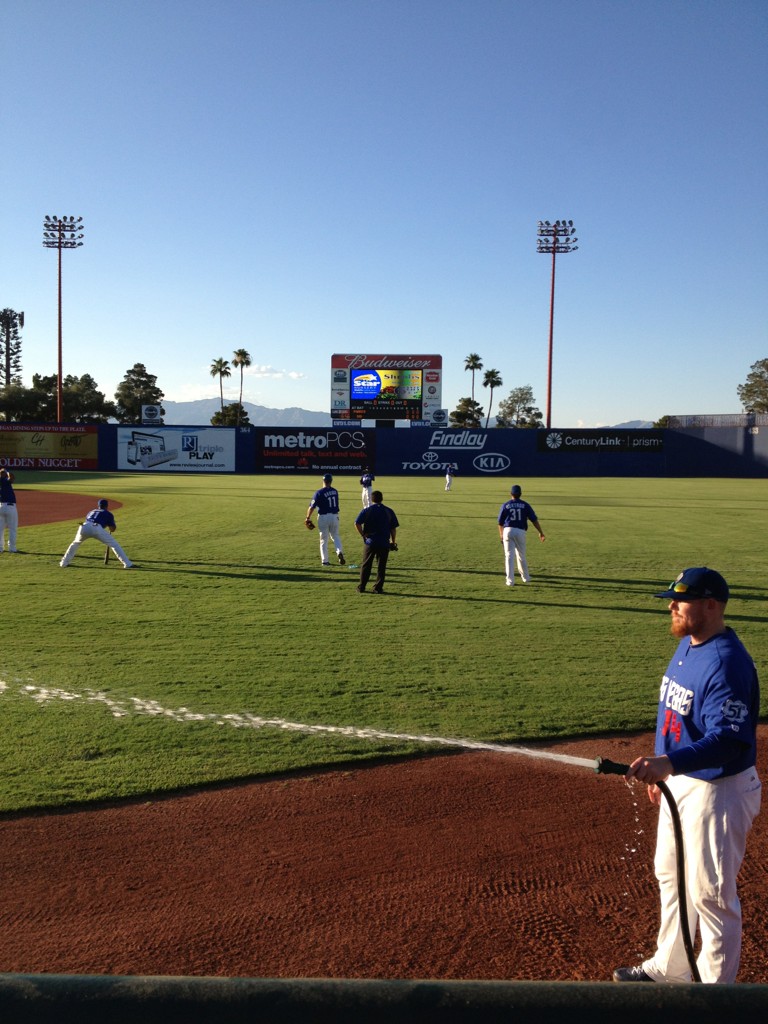 For now I'd be looking to integrate him as a utility infielder and go from there, because the glove is as good as advertised. I only saw him make 3 plays, 2 of which were routine, but on the 3rd he went wide to his right on a well-struck ground ball and had enough time to plant and throw a seed to first base. I did, however, pay close attention to his warmups before the game and in between innings and you can see easily see why he has such a good defensive reputation; he looks very fluid out there. He reminded me a lot of Yunel Escobar in that he does a lot in the field in between pitches to keep himself busy and prevent himself from losing focus.
Here
's an 8 second clip of Hechavarria's 2nd hit; I wanted to film more but as they say you don't walk off the island.
2. Unless the ball really carries way more in the Vegas air, the park is absolute murder for HR hitters. The wall appears to be around double the height of the one in the Rogers Centre, so even though the gaps are only 365 it's considerably harder to hit a HR there. David Cooper had really good ABs all night and drove 2 balls deep to each gap that went for doubles, both of which I think would have carried out of the Rogers Centre. CF in Vegas is 433 feet with an enormous wall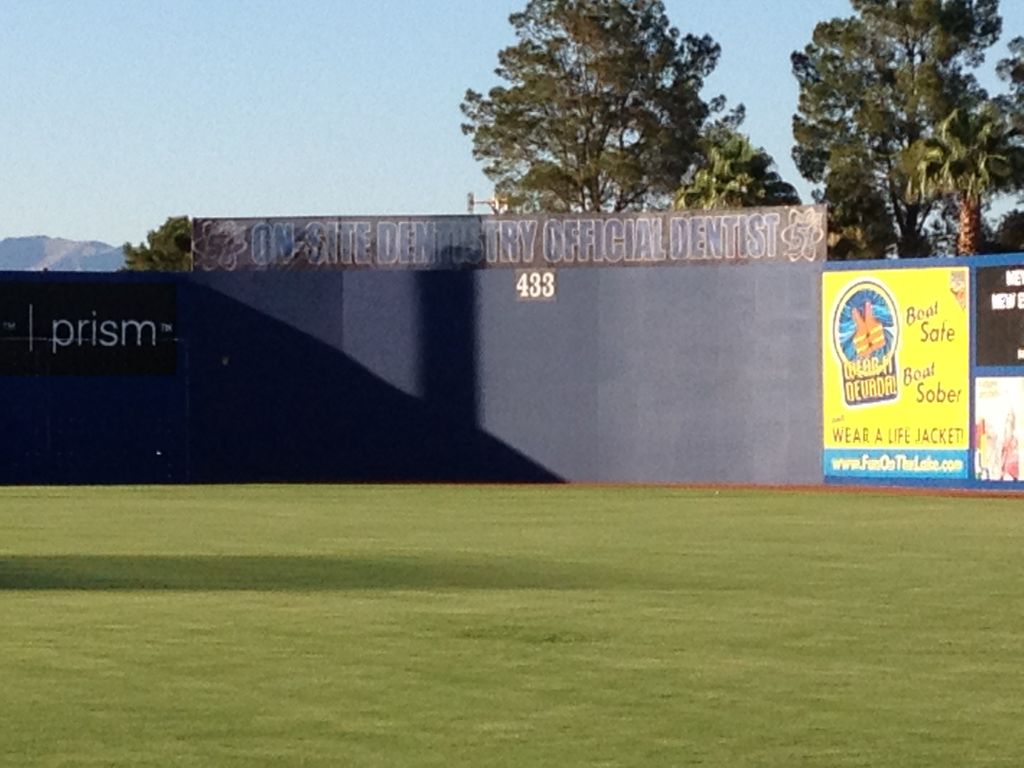 so if you're going to take one out without pulling it right down the line you're really going to have to earn it. Some guy on San Diego's team named Sawyer hit an absolute moonshot that must have travelled at least 440ft because it cleared the right-centre wall fairly close to dead CF. Seeing the dimensions in person makes me less worried about somebody like David Cooper's low HR total and excites me about the fact that d'Arnaud mashed 9 HRs in 36g there.
3. I'm not a fan of Travis Snider's new batting stance. He drew 3 walks in the game so it appeared he was seeing the ball well and had good control of the strike zone (a problem of his in the past), but I don't like seeing a player keeping his hands so low in the zone to start off his swing. It reminded me a lot of Alex Rios, actually.
This
2:45m Snider AB followed the Hechavarria one. Snider touched the ball once or twice in RF all game but looked good doing it, and his throws back to the infield as well as in warmups appeared to be strong.
4. We may be seeing Shawn Hill this year. I got to the stadium at around 6:45, right about the time Hill started his warmups with Yan Gomes down the RF line. After he got his arm loose and before he took the rubber we had a brief conversation and he verified my Toronto-ness by my pronounciation of Mississauga, something he said his pen mates just can't get right; very nice guy. I watched him throw off the mound and he was doing a good job of moving his fastball to the 4 different quadrants of the strike zone. To me it looked like his only off-speed pitch was a slider, but when I asked him after what breaking ball he was throwing he said there were 2 different ones, a slider and a curve. To me they looked indistinguishable, so if he is throwing a curveball it didn't have huge break and looked more slurvy to these untrained eyes. There were 2 scouts videotaping Hill from start to finish and one who had his gun situated on him most of the night.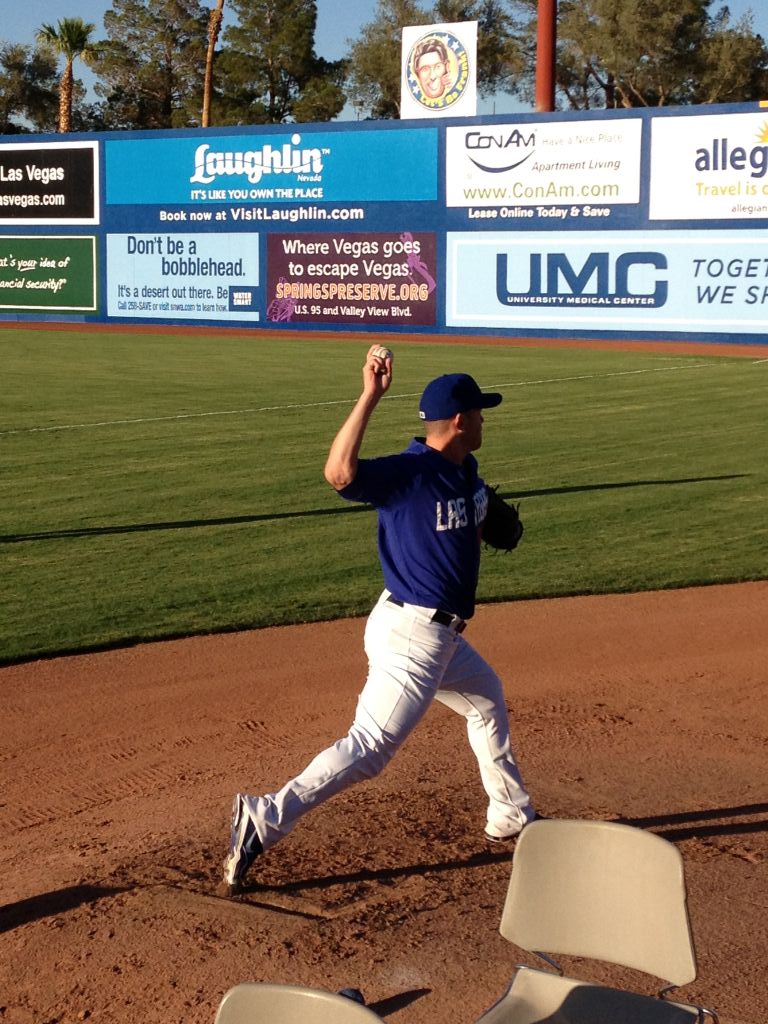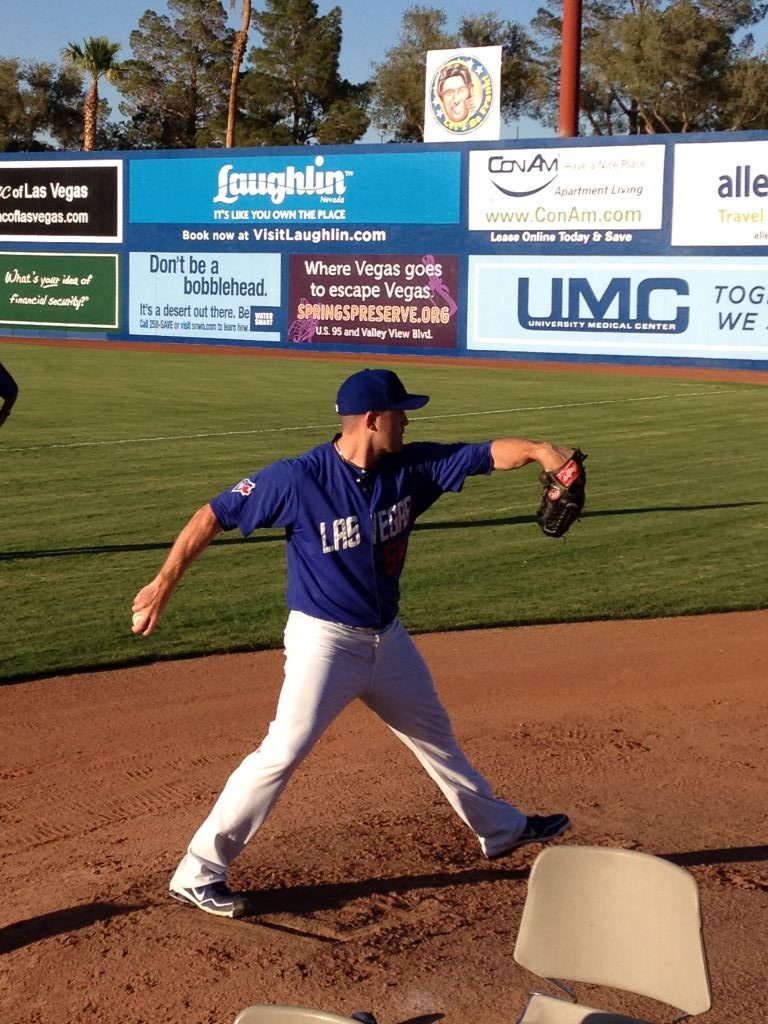 5. I really like Yan Gomes. He doesn't have any tools that jump off the chart other than maybe a strong throwing arm, but he appears to be a comfortable receiver and had good ABs all night. He's really put himself on the map over the last calendar year and will allow the Jays to go as slow as they want with d'Arnaud and to not hesitate about trading Arencibia because there's depth at the C position. Gomes' versatility should go a long way in helping him carve out an MLB career.
6. Eric Thames is just a guy. I tried not to be biased watching him, but he really didn't stand out at all and didn't seem to be a huge part of the team camaraderie. He kept to himself before the game and I forgot about him the rest of the night.
7. Chris Woodward is a pro's pro. He hit the ball hard a few times (I believe one for a ripped double down the line) and fielded anything that came his way with ease. He was chatting with Jon Diaz & Adeiny Hechavarria quite a bit and is probably the 51s version of Omar Vizquel, a player-coach who can be an asset to have around.
8. Bobby Korecky delivered my favourite line of the night. Before the game started Marty Brown strolled down to the bullpen and told Korecky "I'm gonna need you tonight". Korecky's response = "I need you to need me, Skip."
9.
The bullpen has a lot of fun
. Much of what they discussed was not suitable for children's ears, and it was funny to see them clean up their act the minute Paul Phillips' wife showed up and sat down right in front of them with their son Ethan, who appeared to be the bullpen mascot. Ethan was spacing out and watching the game intently at one point and Evan Crawford remarked how he wondered what was going through Ethan's head as he watched. His father said it reminded him of when baseball was fun, to which Bill Murphy replied "Baseball still IS fun." I guess being 35 and kicking around in the minors for 15 years takes a toll on your perspective of the game. The bullpen boys spent a few innings trying to lodge the baseball fan in a catcher's mask and requiring that the catcher not blink.
10. I would have liked to see a bit of Moises Sierra, Anthony Gose, and Travis d'Arnaud, but Sierra had the day off, Gose was already on his way to the Futures Game, and d'Arnaud is hurt. I did sit next to Travis' grandfather for a little bit and he seemed to think that Travis' season was not over and there's still a chance we could see him in Toronto this year. I have my doubts.
This was my first minor league experience in at least 15 years and I feel like I've been missing out all this time. It was a good time and I enjoyed being able to get so close to the field with different viewpoints throughout the game without ushers breathing down your neck. I would definitely recommend stopping by if anyone chances upon the City of Sin, and plan on making some trips out to Lansing either this year or next to continue the minor league experience. Hopefully something like Ottawa works for the Blue Jays down the road.