It's time to find out what the 2012 edition of the Toronto Blue Jays is made of as they visit the Evil Empire for the first time this season.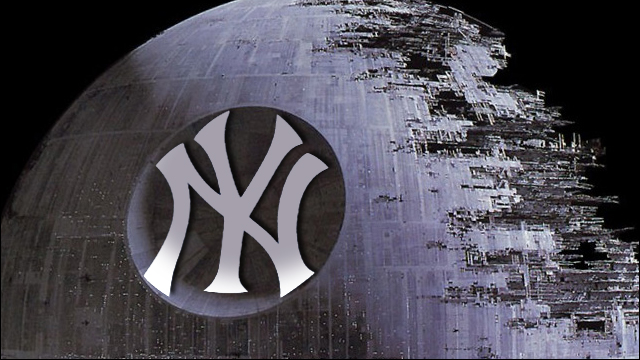 Monday - RHP Henderson Alvarez (5-7, 4.36) vs. RHP Phil Hughes (9-7, 4.33), 7:05 p.m. ET
The Yankees are 20-9 in series openers so far in 2012 and they look to the 26 year-old Hughes to keep that trend going.  The Jays have done alright against Hughes as he is 3-4 with a 4.57 ERA against them.  They beat Hughes at the Dome back on May 17 as part of a two-game sweep.  He has been pitching better lately as he has gone 8-3 with a 3.46 ERA over his last dozen starts, though he did lose to Boston in his last start during the Saturday doubleheader before the All-Star break. 
He throws a fastball around 92 miles per hour about two-thirds of the time.  He'll drop a curveball around 74-75 mph about 20 percent of the time, an 84 changeup nearly 10 percent of the time and the odd cutter around 86.  Hughes has walked just over two batters per nine innings to rank 6th in the American League. 
The Jays who have had success against Hughes are Yunel Escobar (2-for-4), Ben Francisco (1-for-2) and Edwin Encarnacion (3-for-11).  Jose Bautista is 4-for-15 with a home run and Adam Lind has gone deep against Hughes but is just 4-for-22.
Tuesday - LHP Brett Cecil (2-1, 6.75) vs. LHP C.C. Sabathia (9-3, 3.45), 7:05 p.m. ET
Sabathia is looking for an early birthday present as he turns 32 this Saturday.  This will be his first start since June 24 as he is coming off the disabled list after a strained groin.  He is 12-3 lifetime against the Jays and is undefeated against them in his last eight starts with a 7-0 record and a 2.73 ERA.  The lone no-decision was a Blue Jays win at the Dome on September 16 last season.  Elias Sports Bureau says Sabathia could join Scott MacGregor as the only pitchers to record a win against the Jays in nine consecutive seasons.  MacGregor's streak was from 1978-1986 while Sabathia started his in 2004.
His K/9 rate has increased the last three seasons with the Yankees, going from 7.5 in 2010 to 8.8 this season.  His groundout/flyout ratio has increased every year since joining the Bronx Bombers in 2009, going from 1.15 to 1.67.   Sabathia is throwing about 4 percent fewer fastballs and 6 percent more sliders this season compared to last.  His heater is around 92 and the slider checks in around 81.  He throws a changeup around 85-86 and with a curveball around 78.
Kelly Johnson is 4-for-10 against Sabathia and Lind is 3-for-8.  Bautista is just 1-for-19.
Wednesday - LHP Ricky Romero (8-5, 5.03) vs. RHP Hiroki Kuroda (8-7, 3.67), 1:05 p.m. ET
The 37 year-old Japanese hurler allowed seven runs over five innings against the Jays at the Dome May 16 in his lone career appearance.  Kuroda uses a fastball just over half of the time at 91 MPH and an 83-84 slider nearly 30 percent of the time.  He also throws a splitter around 86 and a curve around 76.  His strikeout rate is 6.9 per nine innings and is walking 2.5 batters per nine innings, not far off his rates of 7.1 and 2.1 with the Dodgers last year.  Kuroda has been prone to a few more gopher balls as he has surrendered 1.17 dingers every nine innings, an increase from 1.07 in 2011 when he allowed a career high 24 balls to go over the fence.  His home run per fly ball rate has also shot up nearly two percent to from 11.3 to 13.0.  To help offset that, Kuroda has increased his groundball rate by five percent from 43.2 to 48.4.
J.P. Arencibia is 3-for-3 with a homer and a double against Kuroda. Encarnacion is 2-for-3 with a dinger and Bautista is 1-for-2 with a tater.
Of Note...The Yankees took two of three from the Angels at home, losing the finale 10-8 Sunday...Second baseman Robinson Cano has an 18 game hitting streak after getting two more hits yesterday.  He's batting .403 during that span...The Bronx Bombers lead the majors with 142 home runs, Toronto is second with 130...RH reliever Joba Chamberlain pitched two scoreless innings against the GCL Blue Jays on Saturday.  Chamberlain is recovering from elbow, knee and ankle maladies...Rehabbing catcher Austin Romine also played the G-Jays Saturday, going 1-for-4 as the DH.  He's been out the entire season with a back injury...LH reliever Clay Rapada has not allowed an earned run over 10 innings covering 18 appearances...Russell Martin had the game winning hit against the Angels Saturday but the catcher from East York, Ontario is hitting just .178.
Advance Scout notes were culled from FanGraphs.com, Baseball-Reference.com and MLB.com.