It was five losses out of seven for the affiliates Saturday night and Blue Jays general manager
Alex Anthopoulos
was in the house to see one of them.
Tacoma 4 Las Vegas 1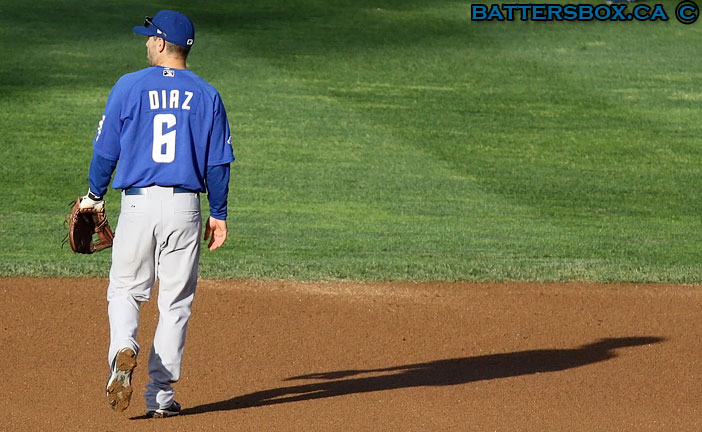 Jonathan Diaz
drove in the only Las Vegas run in Tacoma Saturday.
Tacoma, WA
- Lefthander
Brett Cecil
(1-2) was rained on for three runs on nine hits and two walks over seven innings. His strikeout total was six and his groundball total was five. The Rainiers also got to
Jim Hoey
for a run in the eighth inning on a hit and two walks.
A
Jonathan Diaz
sacrifice fly in the eighth inning prevented the Mariners affiliate from getting a shutout. Diaz had one of the four Las Vegas hits.
Luke
(don't call him Howard)
Hughes
and
Kevin
(don't call him Hughes)
Howard
had doubles and
Danny Perales
had a single.
Anthony Gose
was 0-for-3 with a walk and was caught stealing.
New Hampshire 4 New Britain 2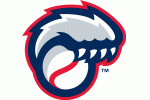 Manchester, NH
- Leadoff hitter
Adam Lind
(you read that right) started this one by belting a home run to right field. A wild pitch in the second led to New Hampshire's second run while
Jake Marisnick
singled a run home in the fifth to go along with a
Ryan Goins
sacrifice fly. Lind was 2-for-2 with an intentional walk and
Brian Van Kirk
was 2-for-4 with a stolen base.
Lefty
Sean Nolin
was nicked for an unearned run over four frames as he put up threes in the hit, walk and strikeout columns.
Joel Carreno
(2-4) supplied two scoreless innings of relief that saw him allow just one hit while striking out three.
John Stilson
grabbed a hold despite a run on three hits over two innings that included a strikeout.
Trystan Magnuson
worked a one-hit ninth and struck out a batter for his fifth save of the year.
Lakeland 8 Dunedin 3
Lakeland, FL
-
The Tigers scratched out six runs against
Jesse Hernandez
(1-4) over five frames with the damage done on nine hits, two walks and a hit by pitch. Hernandez gave up two long balls but struck out three and got half a dozen outs on the grass. Lefty
Willie Collazo
struck out three Bengals over two scoreless frames and only allowed one hit. Dustin Antolin endured an ugly eighth inning as he surrendered two runs on two hits and two walks while whiffing just one.
Alan Farina
decided to challenge himself by loading up the bases on two hits and a walk but emerged unscathed by striking out the side.

Marcus Knecht
's 30th double plated Dunedin's first run in the second inning and
Kevin Pillar
's two-run single in the fifth rounded out the scoring. Leadoff man
Kenny Wilson
was on base four times with a double, two singles and a walk and the number nine hitter,
Justin Jackson,
had a hit and two walks. Pillar had two hits while Knecht and
Oliver Dominguez
were both aboard twice with a hit and a walk.
Kevin Ahrens
was 0-for-3 with a base on balls.
Fort Wayne 7 Lansing 2

Lansing, MI
-
Aaron Sanchez
(8-4) only got through three innings and one of the two runs he gave up was unearned after
Shane Opitz
botched a grounder at short. He allowed four hits and a walk but struck out three. All five outs in play were on the ground,
Philip Brua
and
Shawn Griffiths
also went three innings each with Brua giving up three runs on three hits and an intentional walk while Griffiths allowed two runs (one unearned) on three hits and a walk. Brua struck out two and Griffiths whiffed four.
A
Chris Hawkins
groundout in the first inning gave the Lugnuts a 1-0 lead. A
Kevin Patterson
RBI single in the sixth accounted for the other run against the Padres affiliate.
Nick Baligod
scored both runs and had a two-hit night that featured a double and a walk.
Jason Leblebijian
had a single and a walk.
Gustavo Pierre
had the other Lansing extra base hit with a double.
Michael Crouse
was 1-for-4 and
K.C. Hobson
was 0-for-3 with a walk.
Boise 8 Vancouver 6
Daniel Norris
more than doubled his earned run average with Bluefield after his Vancouver debut on Saturday.

Vancouver, BC
- With Jays GM
Alex Anthopoulos
in the house, the Vancouver debut of
Daniel Norris
(0-1) was well...not very good. The lefty was rocked for eight runs on nine hits and three walks over 3 1/3 innings by the Cubs affiliate. He had a couple of Ks and three of his seven outs in play were on the ground.
Taylor Cole
was the polar opposite of Norris as he shut down the Northwest League's best hitting team over 5 2/3 innings, grounding the Hawks to one hit, one walk and one hit by pitch. He rang up four Ks and seven groundouts. It's a shame Norris had to start on a day that Cole was scheduled to pitch because Cole and Javier Avendano have been the C's two best starters and the C's need wins to secure a playoff berth. Yes, I realize it's all about prospect development first and winning second but Norris should have been given a non-Cole/Avendano day to start at the very least. Besides, his 7.97 ERA in Bluefield this year did not really merit a promotion to Vancouver. Rant over!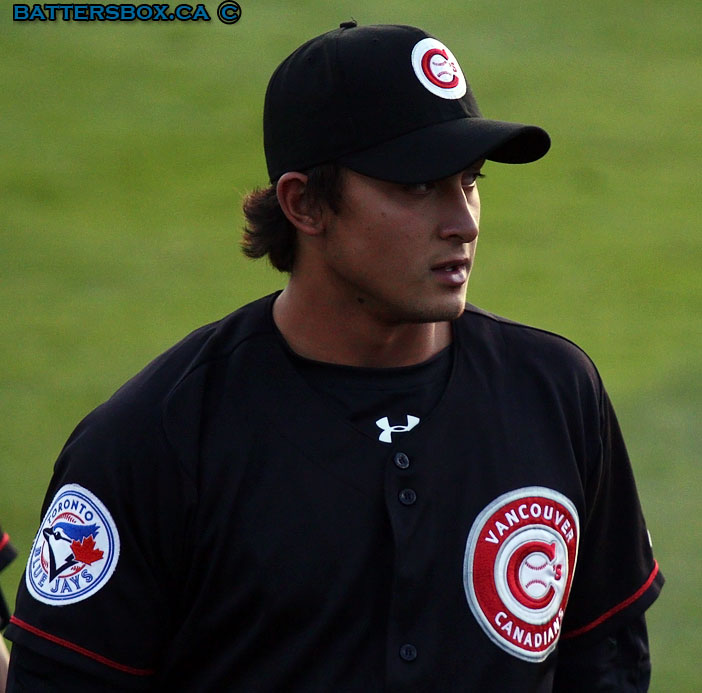 Christian Lopes
was one of two Vancouver players to have a three-hit performance Saturday.
The C's did have a 2-1 lead after a
Carlos Ramirez
home run in the second inning, his second big fly of the year. An
Ian Parmley
sacrifice fly and a Kellen Sweeney RBI double gave Vancouver two more in the fifth and they drew closer on a
Christian Lopes
double as part of a two-run eighth.
Balbino Fuenmayor
had a one-out double in the ninth to bring the tying run to the plate but the C's were shut down after that. Fuenmayor and Lopes had three hits apiece, including a double.
Jorge Flores
had a pair of hits and Sweeney drew a walk to go along with his double.
Santiago Nessy
was 0-for-3 with a walk.
Bluefield 7 Kingsport 0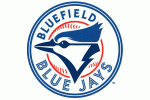 Bluefield, WV
- The Canadian connection of
Justin Atkinson
(Surrey, BC) and
Dalton Pompey
(Mississauga, ON) contributed RBI singles in the first inning.
Nico Taylor
doubled home two more runs in the third. An error led to a run in the fourth while
Emilio Guerrero
's sacrifice fly and
Jordan Leyland
's fielder's choice produced runs in the sixth and seventh. Atkinson, Taylor,
D.J. Davis
and
Jorge Vega-Rosado
had two-hit performances and only JVR did not have a double.
Jacob Anderson
was 1-for-1 and was hit by a pitch after replacing Pompey.
Matt Dean
was 1-for-4.
Lefty
Alonzo Gonzalez
(2-0) handcuffed the Mets on one hit and one walk over six scoreless frames. He struck out four and got seven groundball outs.
Brandon Dorsett
pitched the final three innings for his fourth save as he scattered two hits, a walk and a hit by pitch. He didn't strike out anybody but eight groundball outs did the trick.
GCL Phillies 2 GCL Blue Jays 0

Clearwater, FL
- The G-Jays capped off a 22-38 campaign by only mustering five hits.
Jesus Gonzalez
made it on base twice with a hit and a walk. The Jays struck out 16 times with
Josh Almonte
getting the golden sombrero while
Gabriel Cenas
and
Daniel Devonshire
picked up the hat tricks.
Yeyfrey Del Rosario
(1-5) took the loss despite yielding one run on four hits over frames while striking out seven. Lefty
Chase De Jong
was solid in relief by striking out four over two scoreless innings of one-hit ball. The brother of former Jay
Jordan De Jong
posted a solid 15-1 K/BB ratio over 12 innings in the GCL.
Mark Biggs
pitched a one-hit seventh but
Brady Dragmire
allowed a run on two hits in the seventh. None of the Jays hurlers issued a walk.
*** 3 Stars!!! ***



3. Kenny Wilson, Dunedin.
Wilson is hitting .325 with four doubles and eight walks over his last 10 games.


2. Adam Lind, New Hampshire
. Okay, call him up!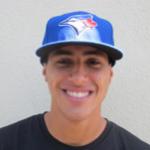 1. Alonzo Gonzalez, Bluefield.
Gonzalez has thrown 12 scoreless innings over two starts since being promoted from the Gulf Coast League, allowing just three hits and three walks with nine punchouts.