While I was in Dunedin I saw parts of six extended spring games. On the first two days there were intra-squad games at the Jays minor league facility. On day 3 the Jays played two games at the Yankee complex in Tampa. While there were six extended spring games played while I was there they were all doubled up. As I could only watch one game at a time I saw some of all six games. Call it the equivalent of three games seen by me.
Here are my notes on what I saw and remember I only saw a pitcher throw once, it might have been a good day for him or a bad day.
Who impressed me
Mitch Nay
Nay was the most impressive hitter in camp. He had consistently good at-bats. I saw him double over the centre fielders head off Ivan Nova in a Yankee game. I saw him wait on and drive a curveball. Nay is a big guy, probably 6'2" or 6'3". He is an average runner.
Nay's grandfather played in the major leagues. Lou Klimchock played parts of 12 years in the majors, from age 18 to 30. He has been coaching and throwing BP with Mitch since he was 4 years old. With his guidance he thinks Mitch is ready for the professional life and knows what to expect.
Zach Wasilewski
Wasilewski has been one of the pleasant surprises in camp. Wasilewski, a lefty, features a nice 91-92 fastball with a change-up and a slider. His command was pretty good.
Chase DeJong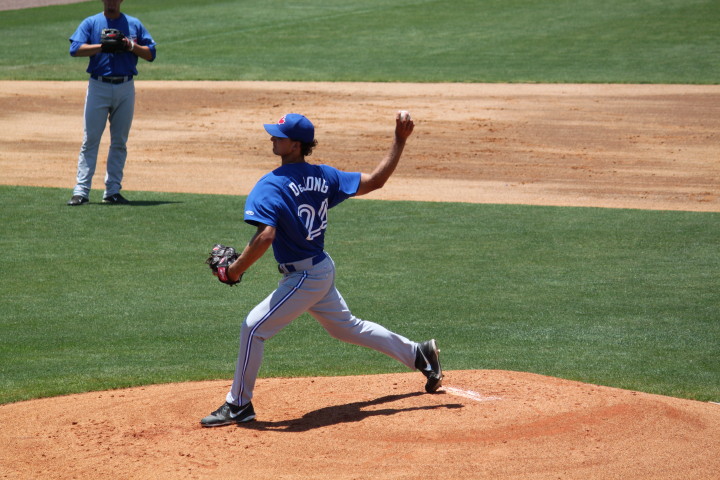 I saw DeJong pitch at the Yankee complex. At that complex the Yankees have gated off the areas behind home plate so my only views of DeJong came from behind first base. But from there I was very impressed. DeJong has a very smooth, easy delivery. He appeared to have very good command. DeJong showed a fastball, change and curve. He pitched five or six innings against the Yankees and only gave up a couple of hits.
Dawel Lugo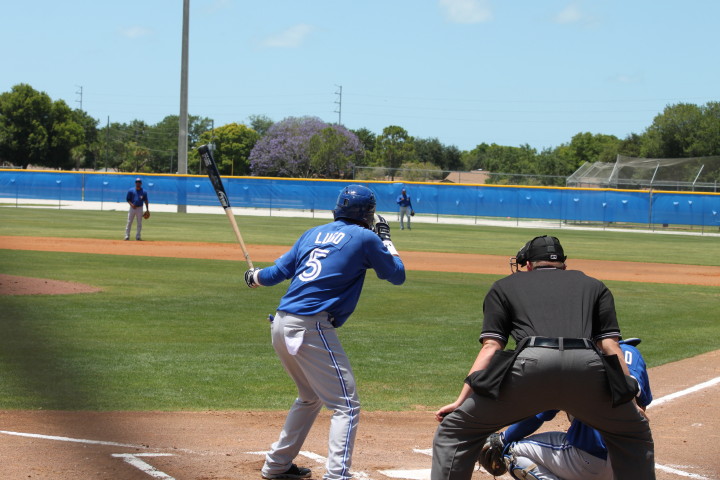 Lugo is a good sized shortstop who showed a good quick bat and appears to have the range and arm for shortstop.
Franklin Barreto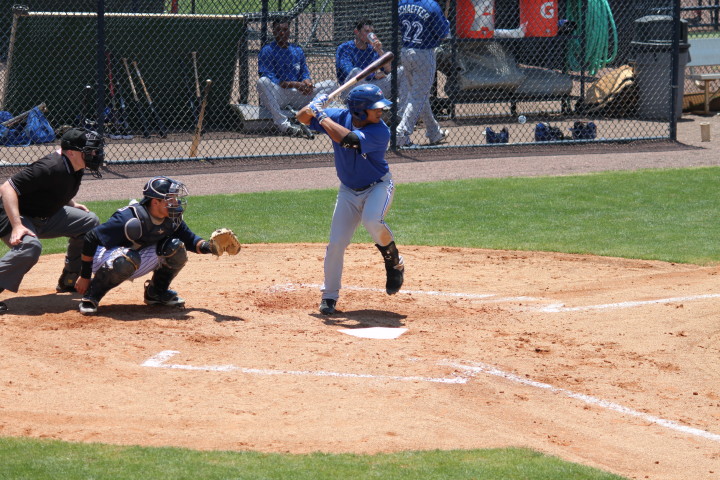 Barreto is a short but powerfully built shortstop. I saw him triple off the CF wall against the Yankees leading off the game. He is fast and appears to be a true shortstop. Barreto is either 16 or 17 so he looks good for his age.
Alberto Tirado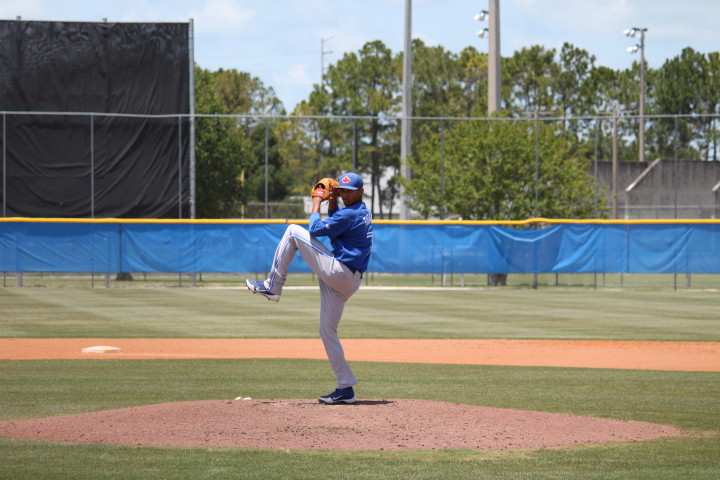 Tirado looked good. He has a skinny body off a 6 foot or 6'1" frame. He showed a very good fastball at 94 mph and a slider that he threw at 81-88 mph. Some times it looked like a curve, sometimes a true hard slider. He also threw a chage-up but his command of that pitch was not great. Tirado cruised through three innings but ran into trouble in the fourth and came out of his delivery. He seemed unhappy after he came out of the game and he spent some time talking with Dane Johnson and Antonio Caceres. It shows that players have to be physically and mentally able to handle the more advanced leagues. Tirado is still just 18 years old. If he was a North American kid he would be getting ready to graduate high school.
Other Players
DJ Davis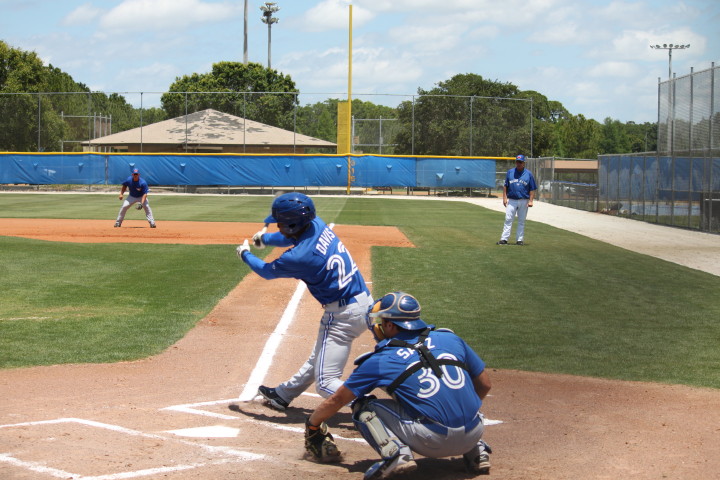 Davis is fast and he has a quick bat. But his pitch recognition still has a ways to go. Even though he is fast he was caught stealing twice against the Yankees, with poor jumps to blame both times. Davis does have a lot of potential but he is still raw. I had thought he might start the season in Lansing but now that I have seen him play I agree that he was not ready.
Gabriel Cenas
Cenas did not look good hitting, he appeared to be off balance. The Jays have decided to convert him to be a catcher. He seems like a disappointing international signing.
Matt Dean
Dean is a tall third baseman. I didn't see Dean do much at the plate.
Jacob Anderson
Anderson has a long swing. He swings and misses quite a bit too. I did see him hit a home run to right field off a high fastball that was up. Anderson did appear passive in a lot of his at-bats.
Dickie Thon
I didn't see Thon do anything of note offensively. Defensively he looked fine with a strong arm.
Tyler Gonzalez
Gonzalez has a real quick arm with good deception and the ball seems to get on the hitter quickly. However Gonzalez has had problems throwing strikes. The Jays currently have him working exclusively from the stretch to try and simplify the game for him. His fastball was 91-92 but played up with the arm action. I also saw one slider.
Adonys Cardona
I saw Cardona at the Yankee complex so again I had a view just from first base. Cardona threw two innings in relief. Cardona appeared to be throwing hard and I saw a fastball and a change. However Cardona's control was not very good.
Jairo Labourt
Labourt is a lefty with a fastball around 91 mph. His command was not good.
Yeffry DelRosario
Del Rosario is a big framed pitcher who looks like he should throw hard but his fastball sits 88, 89. He complements it with a change and a curve. He looks like a reliever to me.
Jesus Gonzalez
Looked to have a long swing, has power but free swinger plus long swing does not make for consistent success.
Andres DeAja, Rolando Segovia, Angel Rojas
This is just to note that these guys are playing in extended. DeAza has a big body and looks like a decent hitter. The other two are smaller infielders. All are young and need development time.
Rehabers
Dustin McGowan
McGowan looked good, he was throwing 91-94 with the fastball and a good slider. McGowan was in the middle of the plate with some of his pitches but it was a rehab outing.
John Stilson
Stilson threw one inning, 94 fastball with a good slider.
Marcus Stroman
Stroman threw a rehab start, fastball at 94, with a change, curve and slider. He looked good but it was against extended spring training hitters.
Danny Barnes
Barnes also looked good, 91-92 with the fastball with a good change.